April 25, 2023 | How safe are Fort Wayne's roads? • Local artists making it big • A nonprofit empowering women

Hey Locals,
We are SO excited to debut our new logo and newsletter header this week, designed by none other than the amazing (local) artist Matt Plett. Learn more about it on our Instagram!
This week, we examine the safety of Fort Wayne's roads and the role multimodal transit plays in calming traffic. Meanwhile, the City of Fort Wayne shares its climate change action plan and national placemaking reps visit town.
Here's what's ahead:
What's the role of cycling and multimodal transit in creating safer roads?
A local band earns fame via WWE
Local artist designs for Urban Outfitters
City shares climate action plan
Metro's discrimination report
School weapons meeting
A fun film project to watch
Meet Creative Women of the World
Start Fort Wayne's small-scale development meetup
Creator Space's second event
MKM's Fishbowl is back
PlacemakingUS visits the Fort
Liminal screening at Cinema Center
Trek the Trails returns
Now, let's get started!
---
"Our definition of creativity is: Seeing what is and imagining what could be."
-Lorelei VerLee, Founder of Creative Women of the World, shares how her team defines creativity in today's Local Spotlight.
---
Talk of the Week
The top story we're following.
What roles should cycling and multimodal transit play in Fort Wayne's roads?
That's a question being explored by residents in neighborhoods near Downtown.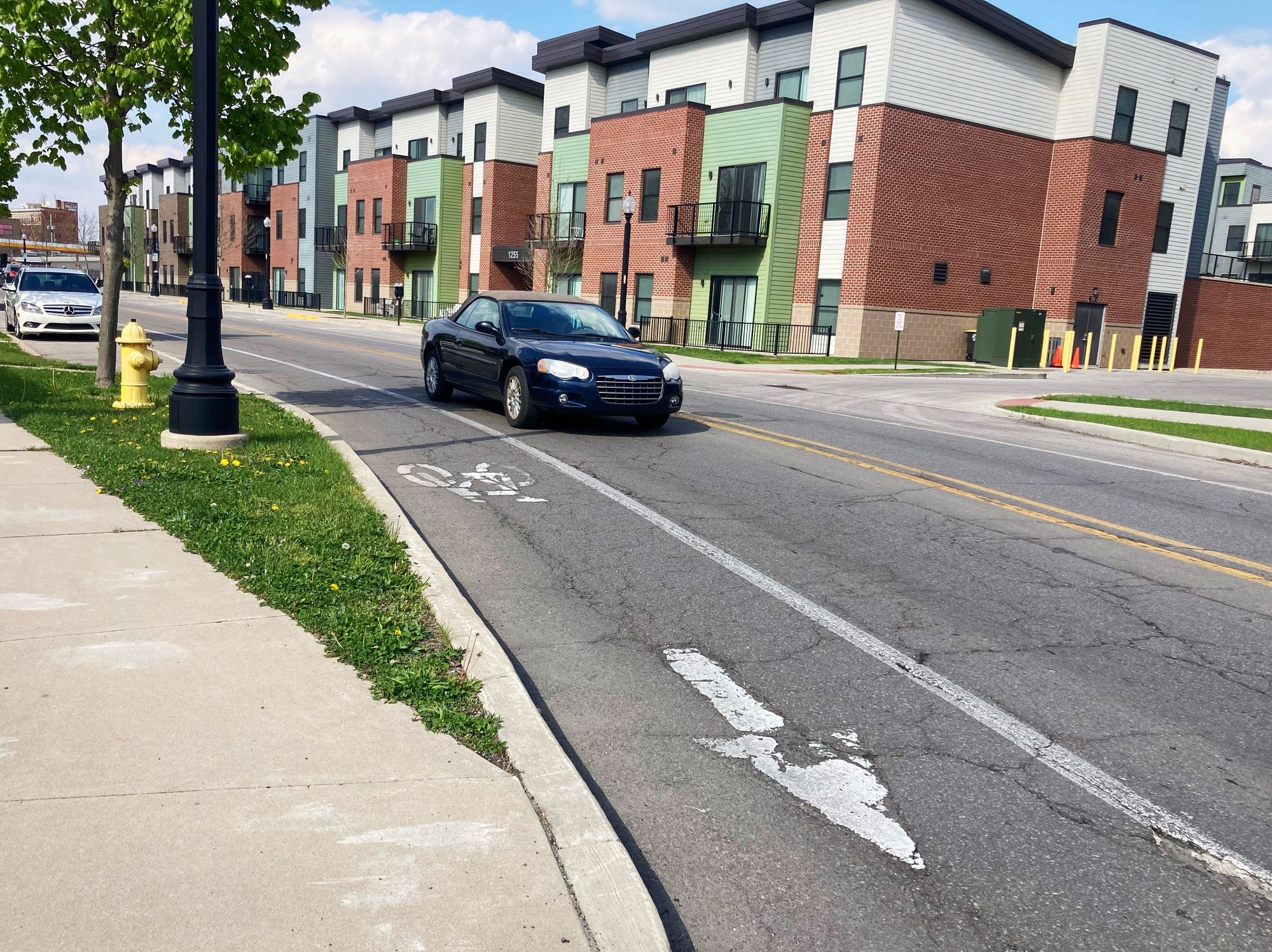 What's happening?
The City of Fort Wayne announced Public Works is spending a record $48.3 million this year on neighborhood infrastructure improvements, up nearly $10 million from last year. This includes $39.2 million for streets, roads, and bridges; $6.4 million for sidewalks and alleys; and $2.7 million for trails.
Even so: Neighborhood groups, like Three Rivers Active Streets, feel funding is too heavily focused on moving cars through the city, rather than encouraging safe, convenient multimodal transit—specifically in and around Downtown.
For example: Bicycle infrastructure is not mentioned in the plan.
What are people saying?
Director of Public Works Shan Gunawardena says Fort Wayne's trails are intended to serve all levels of bicycle users, and the City has surveyed community members, finding residents prefer trails to more bike lanes on streets or adding protected bike lanes, which tend to only be utilized by experienced cyclists. "Overwhelmingly, the community is pushing us toward trails over protected bike lanes," he says.
Trails and bicycle infrastructure may also be included in funding for road reconstruction projects, if roads have been slated for this infrastructure in City planning documents. However, by and large, Public Works typically rehabs existing streets and roads in neighborhoods, rather than reconstructing them. "We are not adding more infrastructure; just replacing existing infrastructure with something new," Gunawardena says.
One challenge Kevin Brooks of Three Rivers Active Streets sees is: The system defines the user, in many ways. If safer, on-street biking opportunities existed between collar neighborhoods and Downtown, perhaps more residents would be inclined to cycle. While trails are effective, they're also costly to implement (to the tune of $800k-1.2 million per mile).
As a result: He and others are proposing the city become more proactive about systematically implementing safe cycling infrastructure on streets by reducing driving lanes to widen bicycle lanes. They're also calling for Fort Wayne to join the National Association of City Transportation Officials (NACTO) for $12,000 per year. NACTO includes 96 major North American cities and transit agencies that exchange transportation ideas, insights, and practices and cooperatively approach national transit issues.
Why it matters
As Fort Wayne plans for the future, it's worth questioning why and how our infrastructure is designed, and where improvements can be made, taking cues from what's working in other cities.
Nationally: Forward-thinking cities are reorienting their streets and roads toward multimodal transit, and it's yielding multiple benefits. Perhaps most notable: Cities with wider, protected and separated bike lanes have many as 44 percent fewer fatalities than average, meaning improved bicycle infrastructure serves drivers and cyclists alike.
Just last week: A local father, husband and partner at Barrett McNagny LLP, in Downtown Fort Wayne was killed from injuries sustained by being struck by a truck while using the crosswalk on Main Street. The vehicle was turning left on Calhoun and was driven by an on-duty Fort Wayne police officer. This senseless tragedy speaks to the need to rethink traffic calming Downtown. The City of Fort Wayne also announced a goal to reduce the number of cars on the road as part of its new science-backed climate action plan. Mayor Tom Henry plans to ask City Council for $250,000 annually as part of this goal. Details here.
Citizens can email their City Council representatives about Fort Wayne calming traffic Downtown with wider, on-street bike lanes and/or joining NACTO to improve its multimodal transit and public infrastructure. Tax dollars are spent to fund public works projects, so citizens should have a voice in the matter. Find your City Council rep here.
The City's Active Transportation Coalition (ATC) is another free public meeting anyone can attend to learn more about transit in Fort Wayne. It meets on the third Wednesday of each month at Citizen's Square or virtually. (Message the group on Facebook to join its mailing list.) In the past, the ATC has conducted Community Led Traffic Calming Demonstrations, and they're currently working to implement "Complete Streets" guidelines in Fort Wayne, which could also improve transit.
Tomorrow: The Northeastern Indiana Regional Coordinating Council (NIRCC) is hosting a public transit open house from 4-6 p.m. at the Omni Room (Room #045) of Citizens Square at 200 E, Berry St. (The meeting is also available to attend virtually.) Residents can review NIRCC's Draft Fiscal Year 2024-2028 Transportation Improvement Program (TIP) and Draft Air Quality Conformity Document, along with project lists on regional transit, the 2040 Long Range Plan and the Ped-Bike Plan. See materials on the NIRCC's website or at its office. Public comment is open through May 5.
Take a look, and make your voice heard!
---
Small Talk
A few quick updates.
---
Local Spotlight
This Downtown organization is helping women near and far use their creativity to support their families and communities.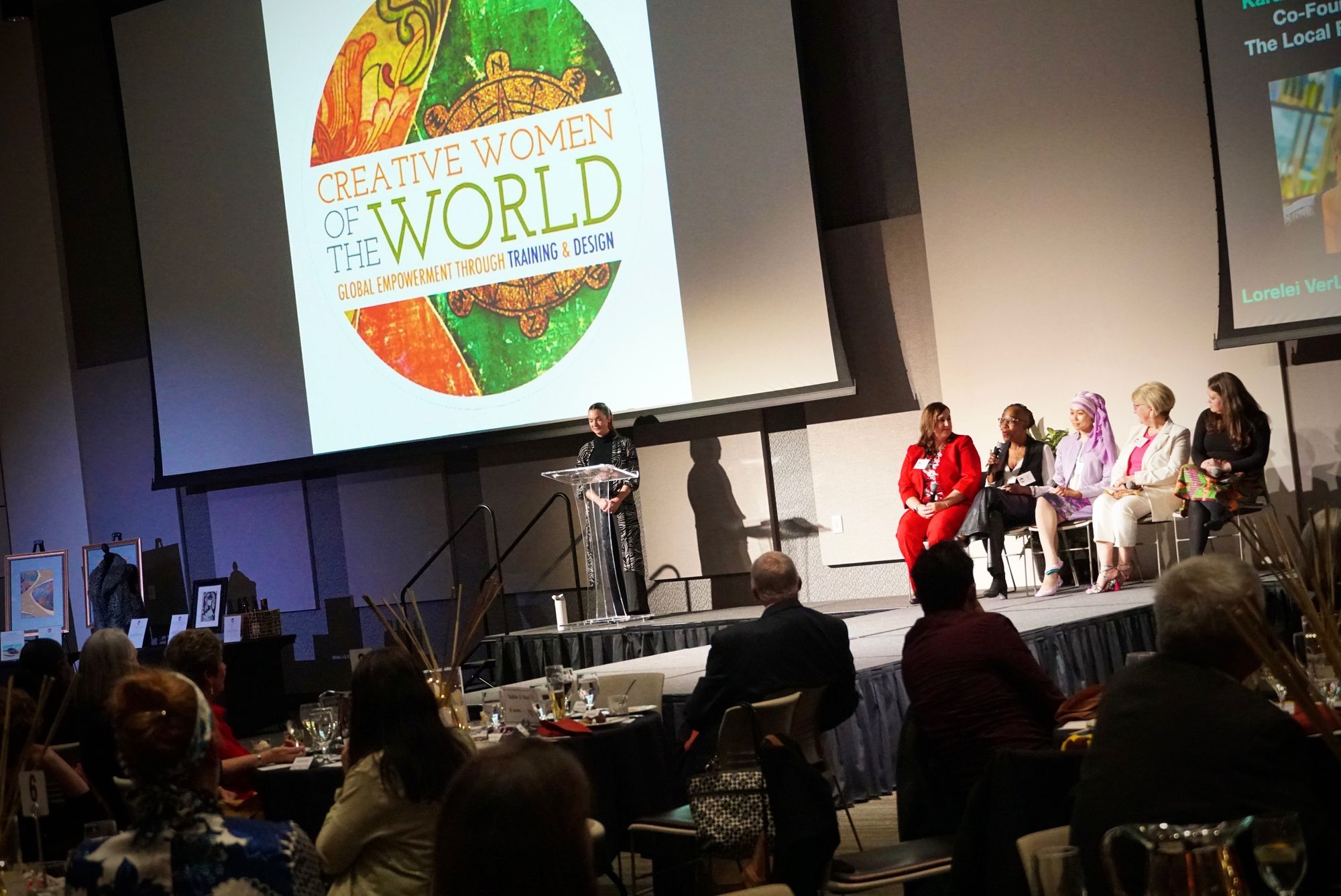 This weekend, I (Kara) had the honor of emceeing a fundraiser called Empower Her World for the organization Creative Women of the World (CWOW). If you haven't heard of them, they are a great local nonprofit to check out!
You might know: CWOW has a fair-trade shop Downtown next to JK O'Donnell's at 125 W. Wayne St. It sells everything from fair-trade spices and coffee to home goods, sustainable fashion, jewelry, toys, and more.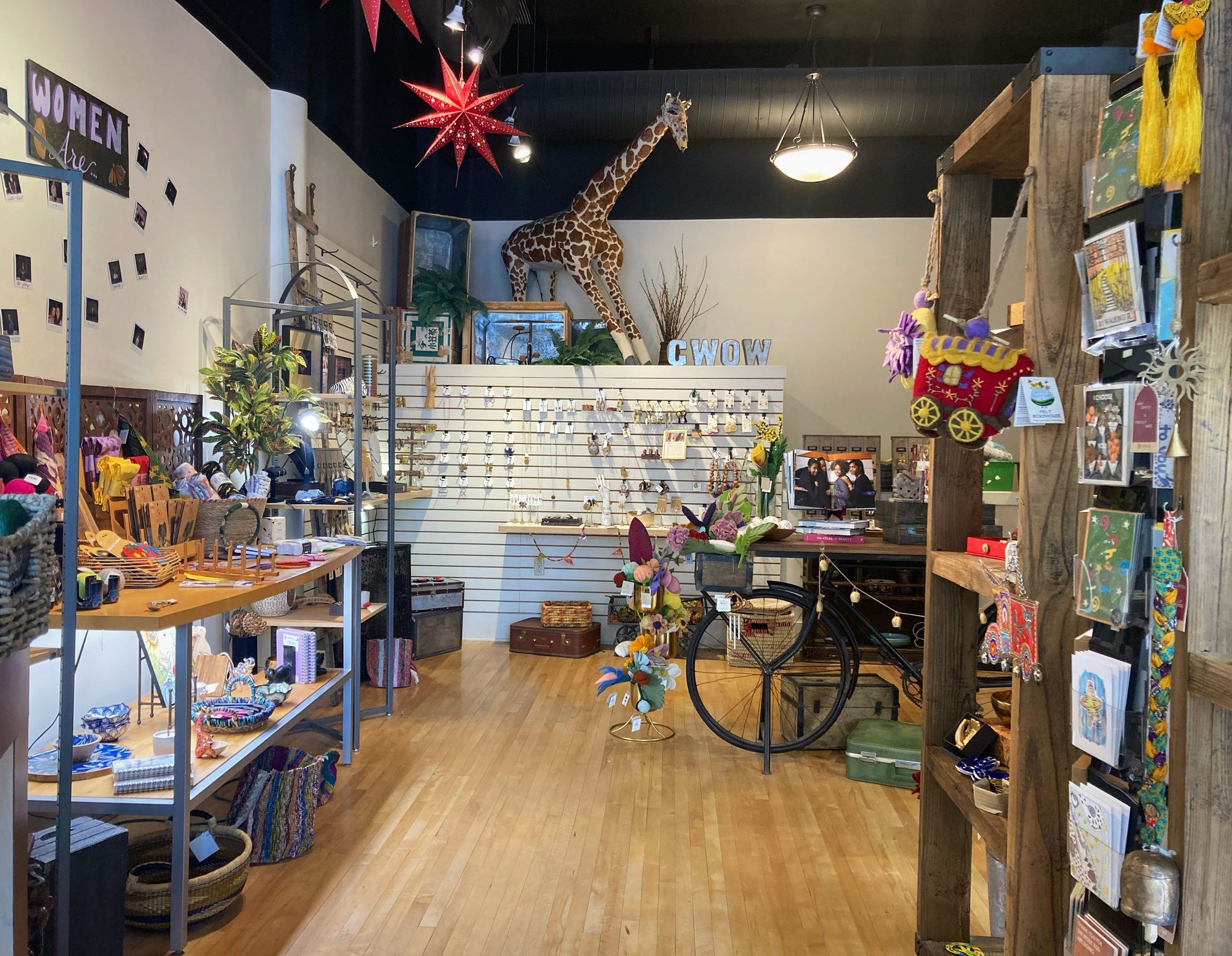 But did you know: CWOW also teaches hands-on business training for creatives in 11 countries and purchases affordable, mission-driven products from artisans in more than 50 countries to sell in Fort Wayne?
So far: More than 200 women have utilized CWOW's business training program to grow their small businesses and change their communities.
Even so: CWOW still has eight countries where its training is requested---hence, the need to raise funds to expand its programming!
One trainee doing amazing work is Patience Sombato of Ghana. She has utilized CWOW's training to design hand-sewn dresses, now sold in Fort Wayne to help her village establish more accessible amenities, like a grocery store, a pharmacy, and a clinic. See her dresses at CWOW's shop today!
While there: Learn about more artisans and communities CWOW supports by reading the tags on its products. Also, check out its LOTUS gallery, featuring about 20 local artists, including Cat People Press by Becky Stockert, Baskets by Janice Weaver, RELIC Emporium by Janelle Slone, Soul Dirt Stitchery by Christy Arbogast, Come Vibe With Me by Miranda Thomas and TwoFunTomatoes by Anastasia McNabb, just to name a few.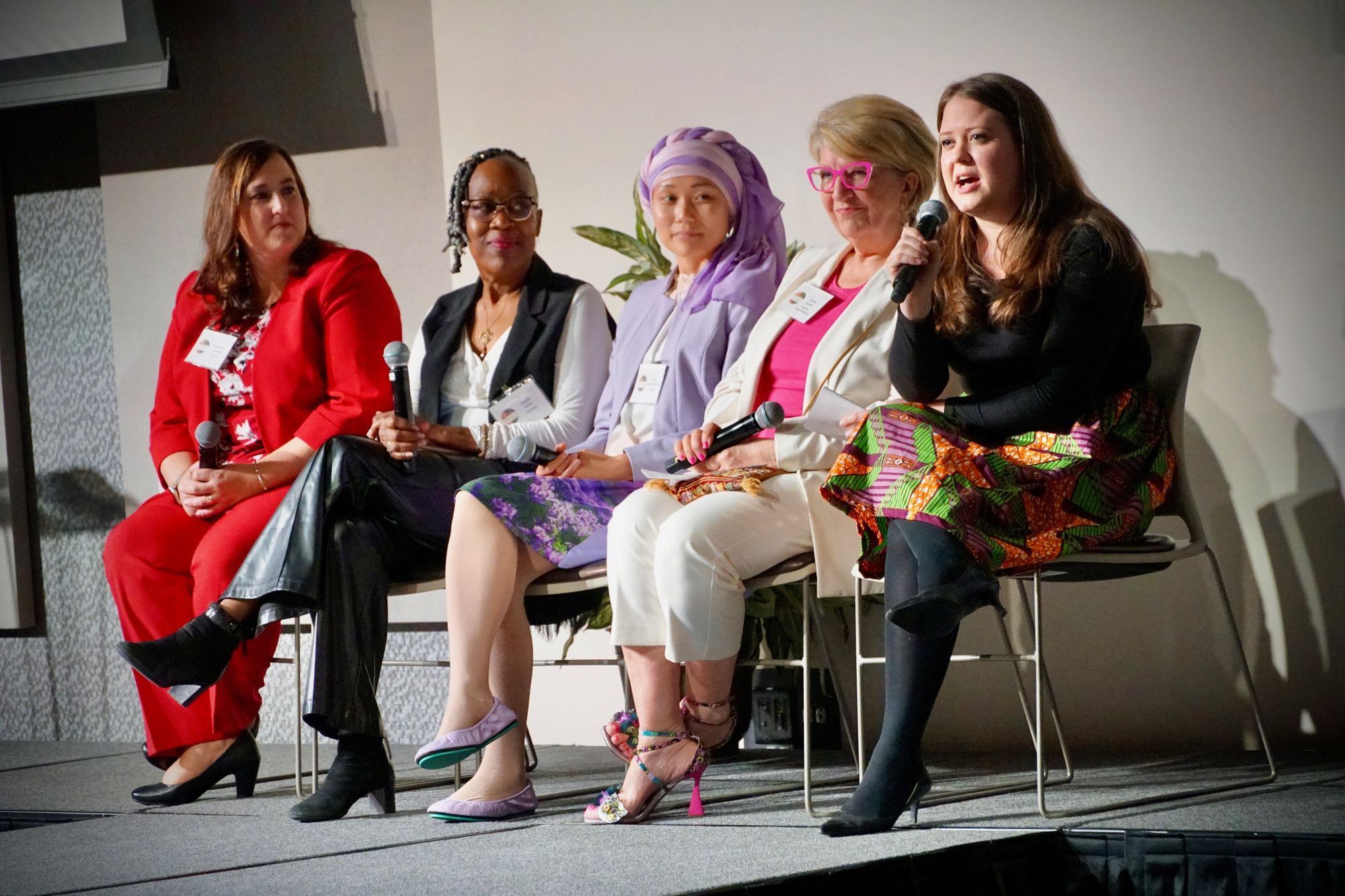 A few local women CWOW sees doing great work are:
Erin McCarthy, Executive Director of CWOW, and Lorelei VerLee, CWOW's Founder, of course! "We love doing this work," VerLee says. "Our definition of creativity is: Seeing what is and imagining what could be." McCarthy adds, "For women especially, creativity often serves as a means of challenging traditional gender roles and societal expectations. Similarly, CWOW believes that creativity is the spark needed to ignite the innovation and the empathy needed to establish a fairer future for us all."
Stephanie Crandall, Chair of the Economic Security Subcommittee of the Women's Fund of Greater Fort Wayne, Director of Intergovernmental Affairs at the City, and a candidate for City Council, At-Large this Spring. "Stephanie is an unstoppable force when it comes to empowering women, especially when it comes to civic action and community engagement," says McCarthy. "By helping other women amplify their voice, both at the ballot box and the town square, we are working toward building a more inclusive democracy that is representative for all."
Clydia Early, Founder of BIPOCA Incubator and Gallery located at Wunderkammer Company and Co-Owner of Green Hair Revolution LLC, offering education, engagement and empowerment revolving around hair, body, and self-image. "Clydia has been such a blessing to work with at CWOW," says McCarthy. "She truly understands the transformative power of creativity to bring people together to facilitate dialogue around important issues and greater opportunities for us all."
Mary Encabo-Bischoff, a professor in the Department of English and Linguistics and Outreach Director for Special Programs for University Research and Innovation at Purdue Fort Wayne. "Mary has a great intercultural understanding, and this Spring, CWOW is working with her English 131 Service Learning Class for all freshmen, exploring the intersection of community and culture, as well as the roles of storytelling and nonprofits," VerLee says.
Learn more about CWOW on its website, Facebook and Instagram @gocwow. You can volunteer and donate online, too!
---
Events
Our favorite events this week.
---
Love what we do?
Help us get the word out! Share our stories on social media, and tell your friends to subscribe to our newsletter.
---
Got a story tip or idea?
Let us know at thelocalfortwayne@gmail.com.
Have a great week, Locals!
-Your Editor, Kara Hackett