Seoul Garden shares a mother's love through authentic Korean food at Union Street Market
"My food is my service to you. It says: 'You are special; you are comforted.'"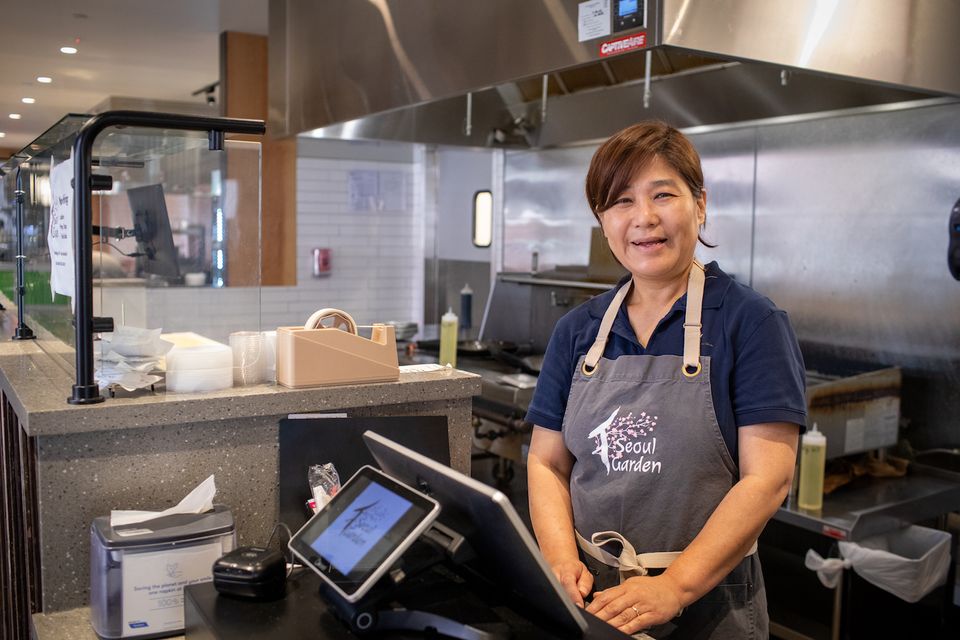 For Sophia Kim, food is a universal language.
As Head Chef at Seoul Garden, a restaurant formerly at 1820 W. Coliseum Blvd. that's now a merchant inside Union Street Market food hall at Electric Works, Kim sometimes struggles to keep up with fast-talking customers.
"My English and grammar on paper are good," she says. "But talking and hearing is not always easy. Many people have accents I cannot always pick up."
So oftentimes, Kim lets her food do the talking. And when it speaks, she hopes it shares her Korean culture in Fort Wayne, and more fundamentally, she hopes it tells her neighbors and her customers here that she cares about them deeply, like family.
"My mission here is making good food with a mommy's heart, like I'm taking care of my own children," Kim says. "Whenever people come here, they are my kids—my family—and I want to make them something that tastes good in their bellies and is good for them."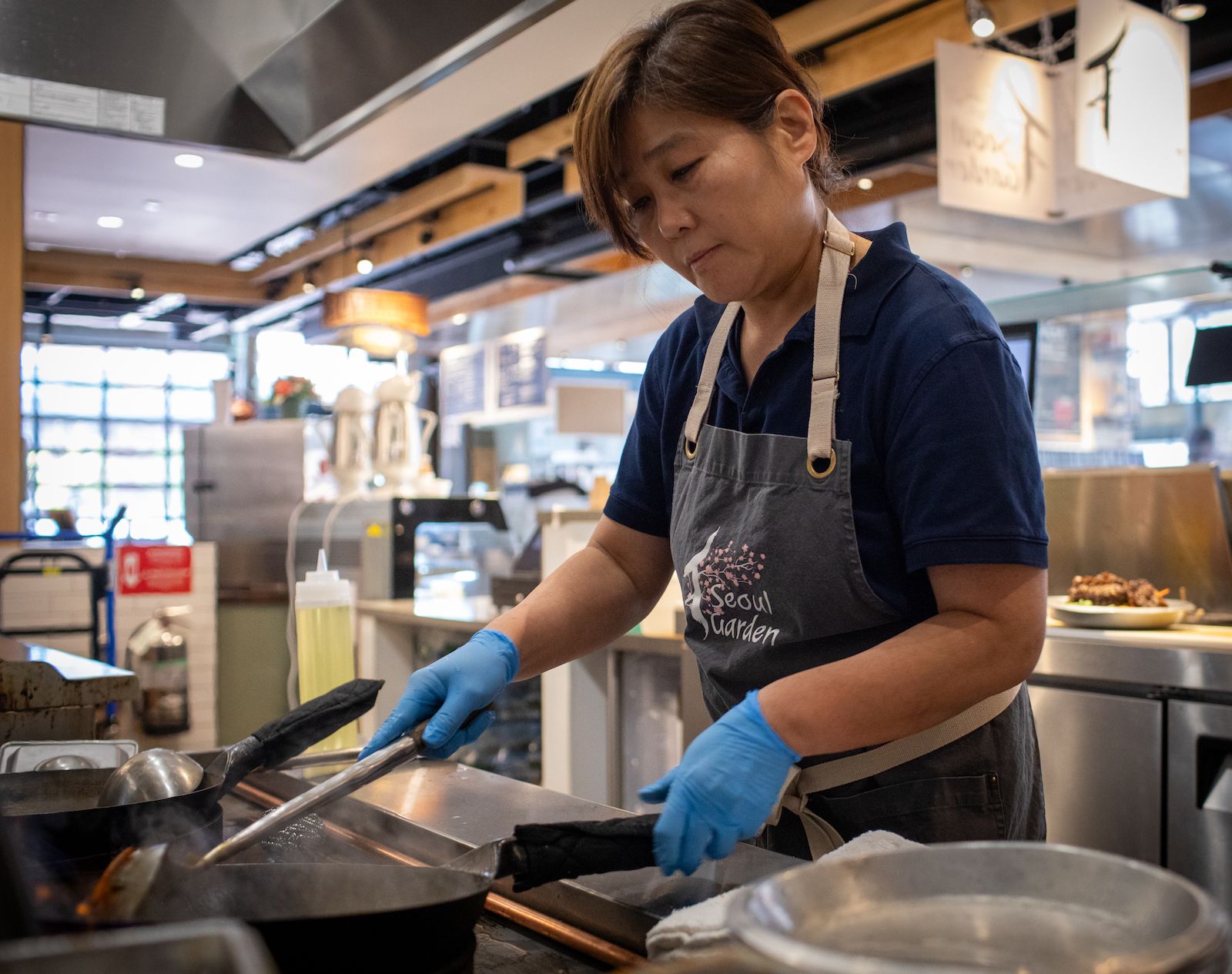 In many ways, Kim's nurturing spirit speaks to her roots. Before she moved to the U.S. with her husband and three children about 15 years ago, she was a school teacher in Seoul, South Korea. Since she needed to learn a new language in the U.S., she knew she wouldn't be able to maintain her teaching profession here. So she gave up her career in lieu of being a missionary with her husband.
To this day, more than a chef, she considers herself "a Pastor's wife." Her family originally moved to Dayton, Ohio, to work at church there and "serve God," Kim says. Over their years of service in Ohio and later, at a larger church in El Paso, Texas, she frequently cooked her Korean specialties for the sick and elderly.
"I used to deliver food to people who are sick and in need at the hospital," Kim says.
But while serving in Texas, she and her family felt discouraged to see how much of their church activities were being dictated by money.
"People at the church wanted my husband, a pastor, to be a servant of their money," Kim says. "I told them, 'No. My husband is a servant of God. We can make our own money. You cannot use money to make us a servant for you.'"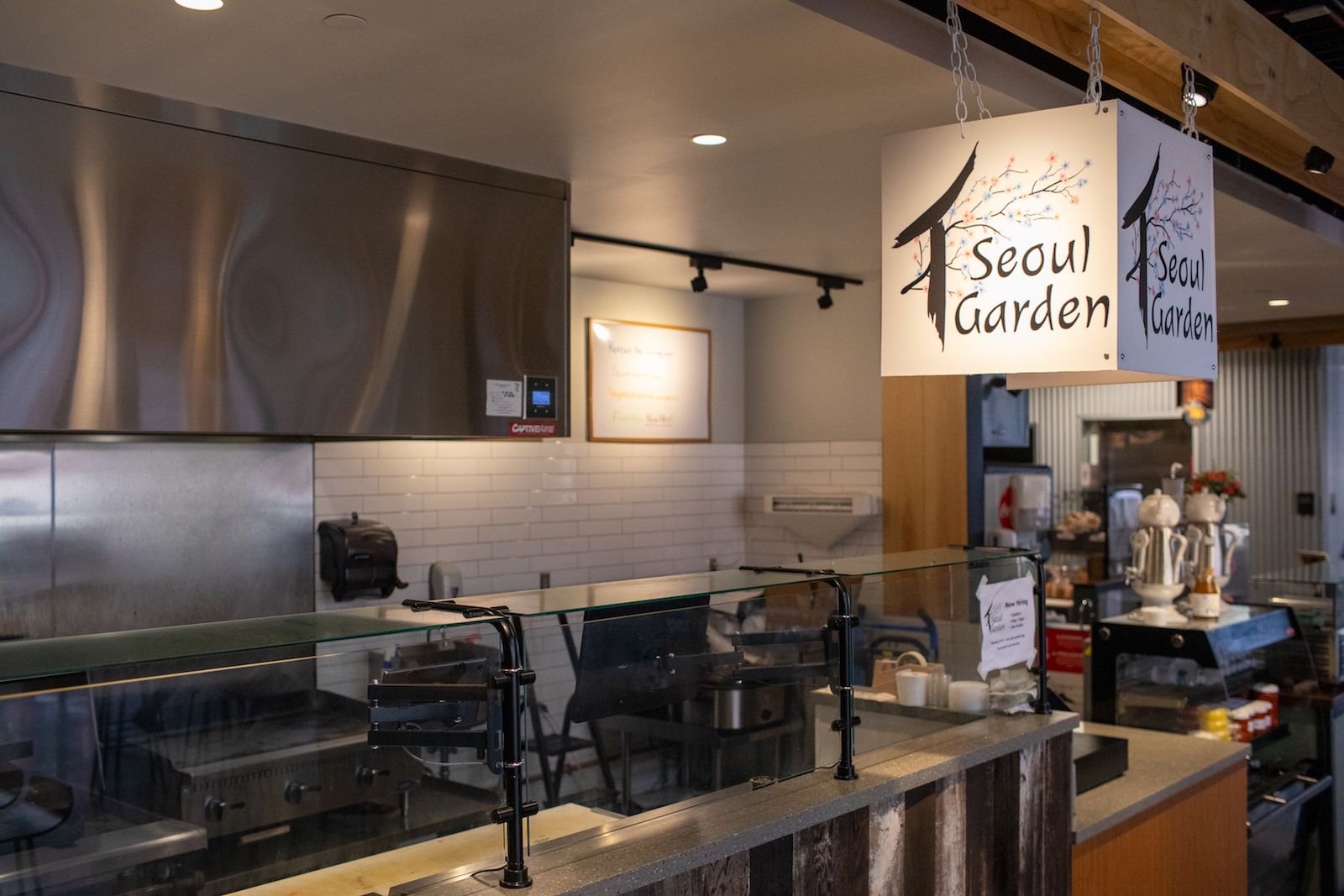 That's what brought the Kims to Fort Wayne about seven years ago and inspired them to free up their finances from their faith. They started a new, small church here, and Kim assumed the role of the family's breadwinner, launching Seoul Garden's first restaurant on Coliseum.
"I told my husband, 'You are a servant of God. You keep going,'" Kim says. "Money problem? I can do it."
---
Looking for an easy way to stay in touch with everything going on in Fort Wayne? Try our free newsletter! Each week we sift through Fort Wayne's news for you and break it all down in a simple, time-saving format so you don't miss a thing. Already subscribed? Keep on reading.
---
When Kim first started her business, she wanted to represent her Korean heritage well by preparing the healthiest meals possible for her customers at Seoul Garden, using organic foods and no MSG. Over the years, Kim says this focus on health first and foremost helped Seoul Garden earn a reputation among many loyal customers and even doctors in the greater Midwest region as a place they felt comfortable sending their patients.
"People come from many places, as far as Michigan and Ohio, to eat at Seoul Garden and get Sophia's meal," Kim says. "During the seven years there, my people, my customers come to recognize me and know my food. And if they have any special health needs, I can do it."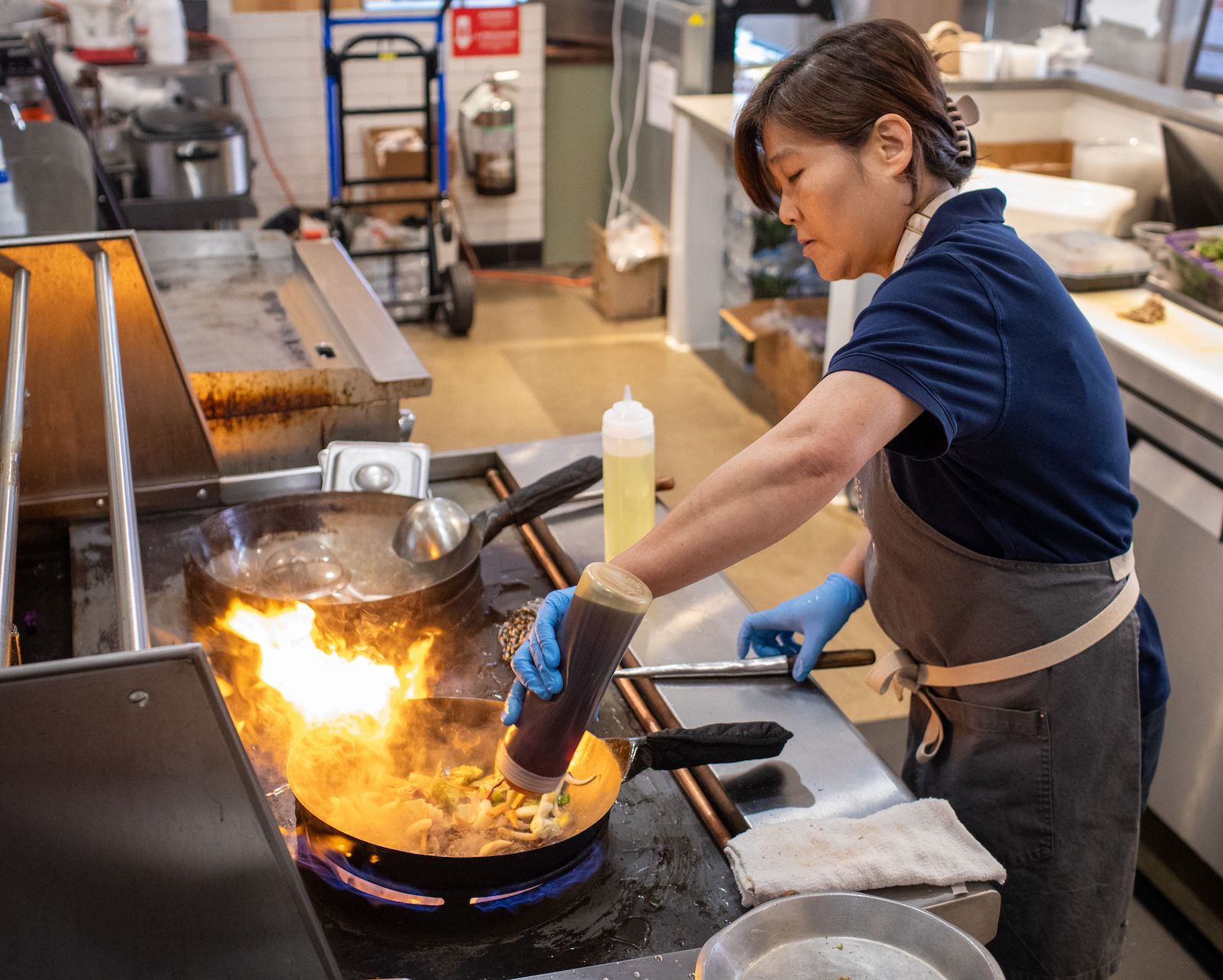 One such loyal customer was Austin Fergusson, the father of Fort Wayne area entrepreneur and investor Scott Fergusson, who owns Chapman's Brewing Company. Scott is preparing to open an art-centric brewery at Electric Works later this year, and he is a board member for the Union Street Market food hall.
It was through this serendipitous customer relationship that a new life for Seoul Garden began.
By the fall of 2022, Kim's husband had started volunteering with Calvary Baptist Church and working at the U.S. Postal Service. Her three children were attending college at Indiana University Bloomington, and she was getting tired of managing Seoul Garden's restaurant full-time.
As luck would have it, around this time, the new Union Street Market at Electric Works was opening and seeking an Asian food vendor, so the Fergussons made the connection.
"We met with Sophia formally last fall," Scott says. "I suggested that if we created a system and process around her, she could just focus on being a chef and cooking amazing food. So, the three of us started and launched Seoul Garden in Union Street Market at Electric Works. She closed the Coliseum location in late November, and we opened here in February."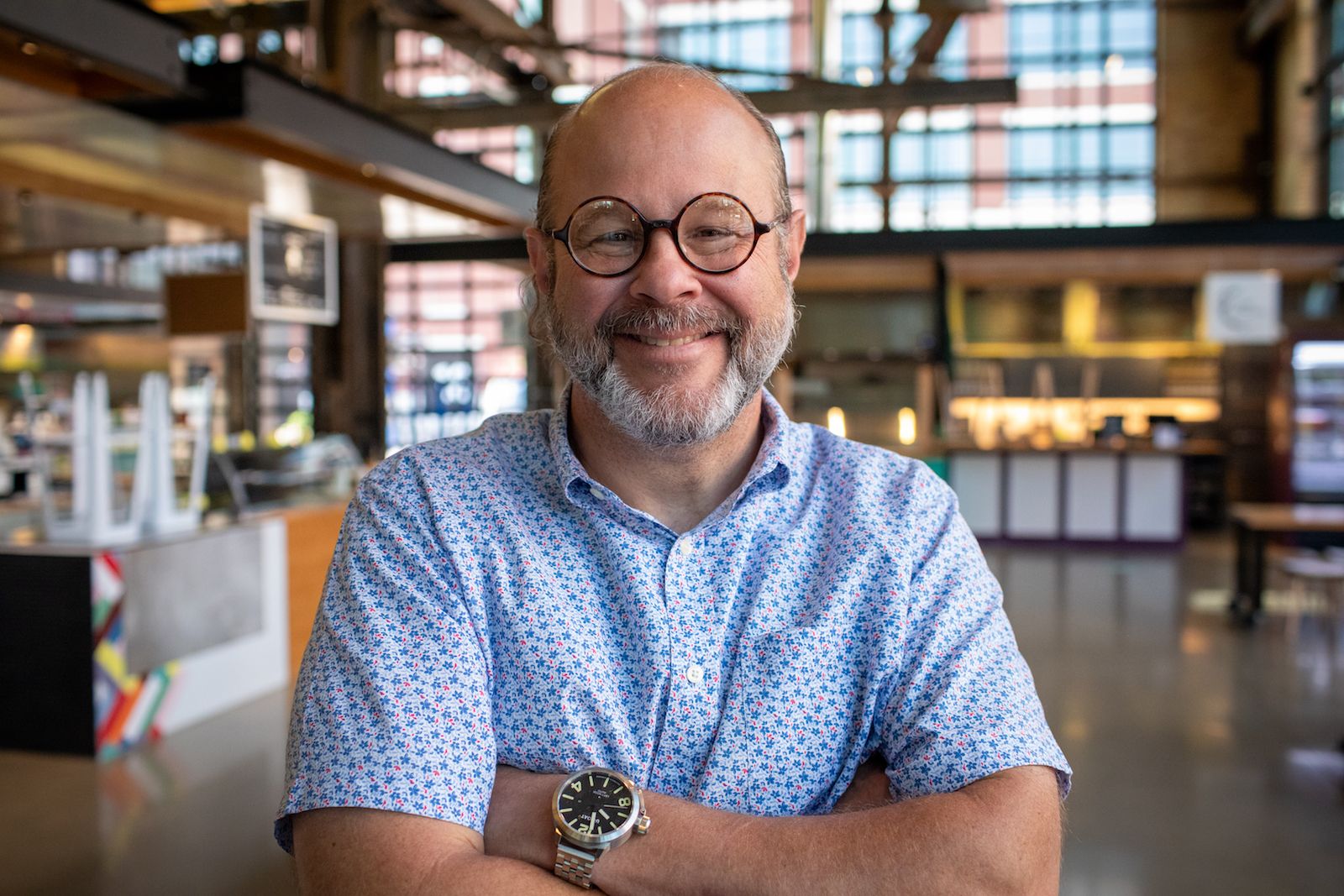 Today, Austin and Scott are partners of Korean Works, which licenses the Seoul Garden name from Kim and retains her as Head Chef. Along with having partners to manage her business, one perk of the deal for Kim is upgraded equipment.
"We had a special wok station brought in from New York," Scott says. "It can go from 'touch it' to 700 degrees in five seconds."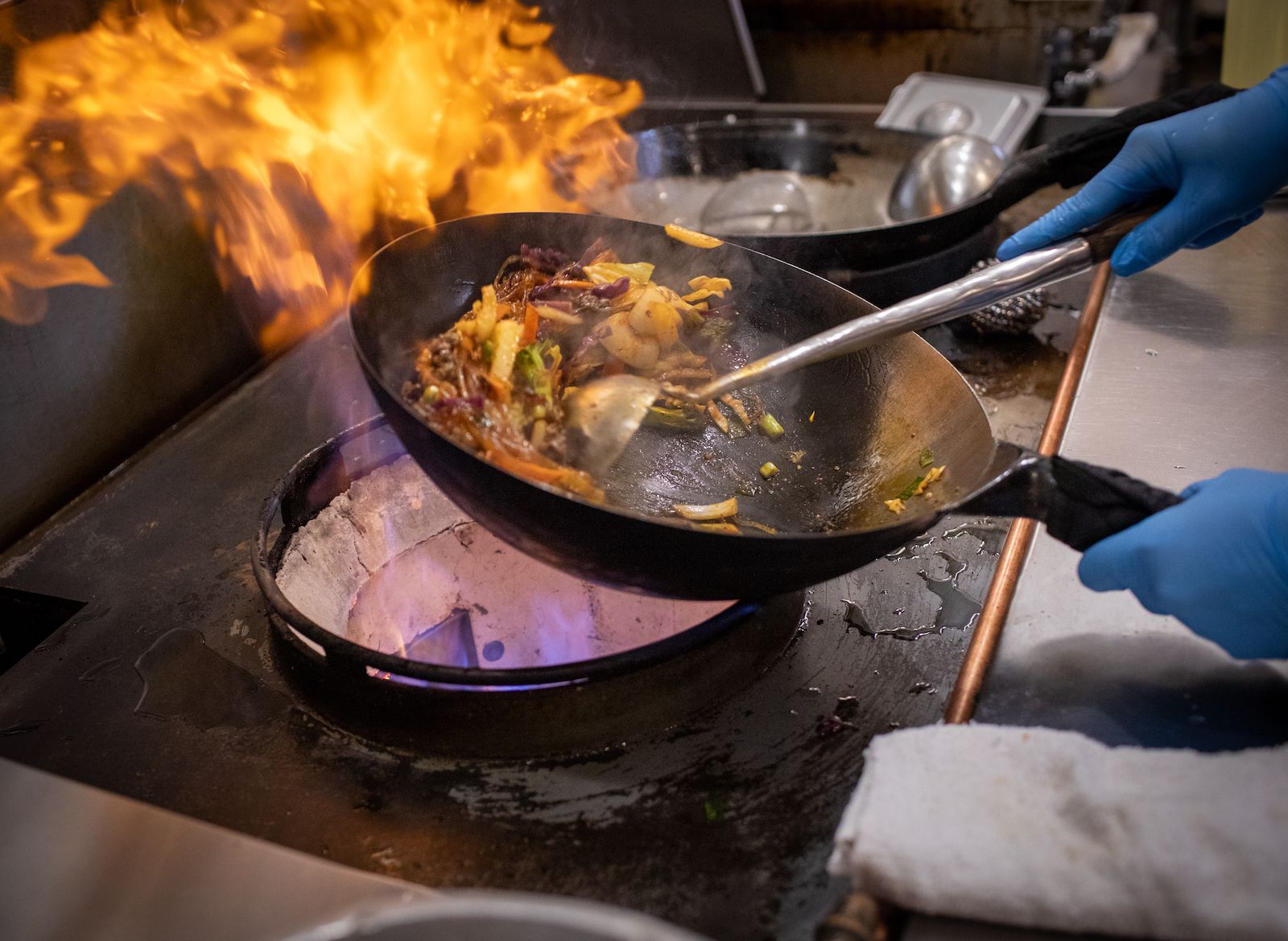 His brewery, Chapman's, is also developing a special Korean Pale Ale that will be on tap at Seoul Garden soon to compliment its flavorful dishes.
"It's a light lager that's refreshing and crisp," Scott says. "Korean beer is not like English or German beer. It's more straightforward. We're using Citra and mosaic hops to make it special, too."
Foodwise, Scott says the number one item Seoul Garden sells—by far—is Kim's famous Beef Bulgogi, a wok-grilled Korean BBQ made with carrots, white onions, green onions, rice, romaine lettuce, zucchini, and broccoli, all smothered in her famous Bulgogi sauce.
"My special recipe that nobody knows about," Kim says.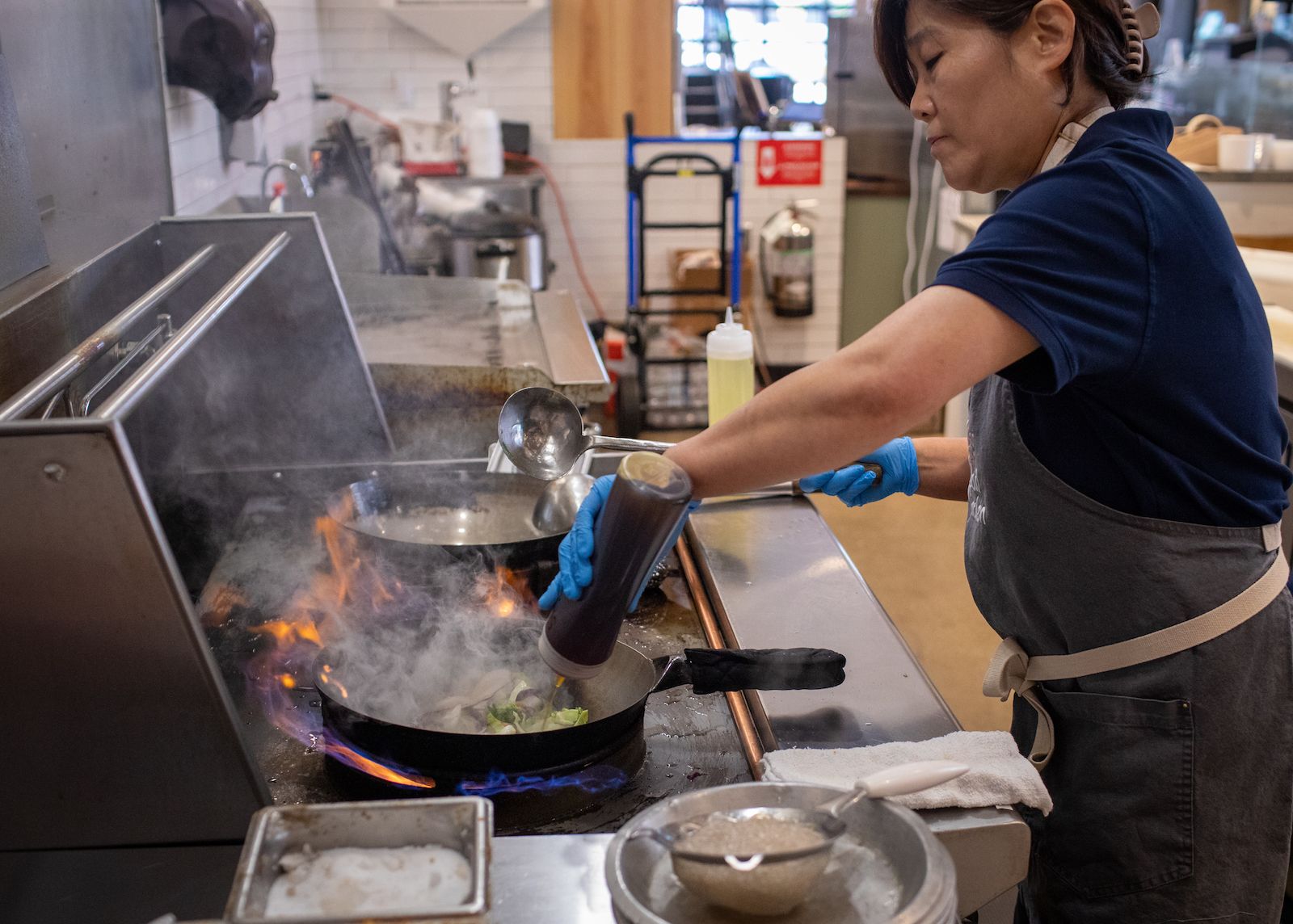 She explains that "bul" means "fire" in Korean, and "gogi" means "meat," and you can order the dish with pork or chicken instead of beef. As Head Chef, it's her job to design the dishes and train other cooks on staff, including Scott's 17-year-old son, Logan.
"This is my art," Kim says.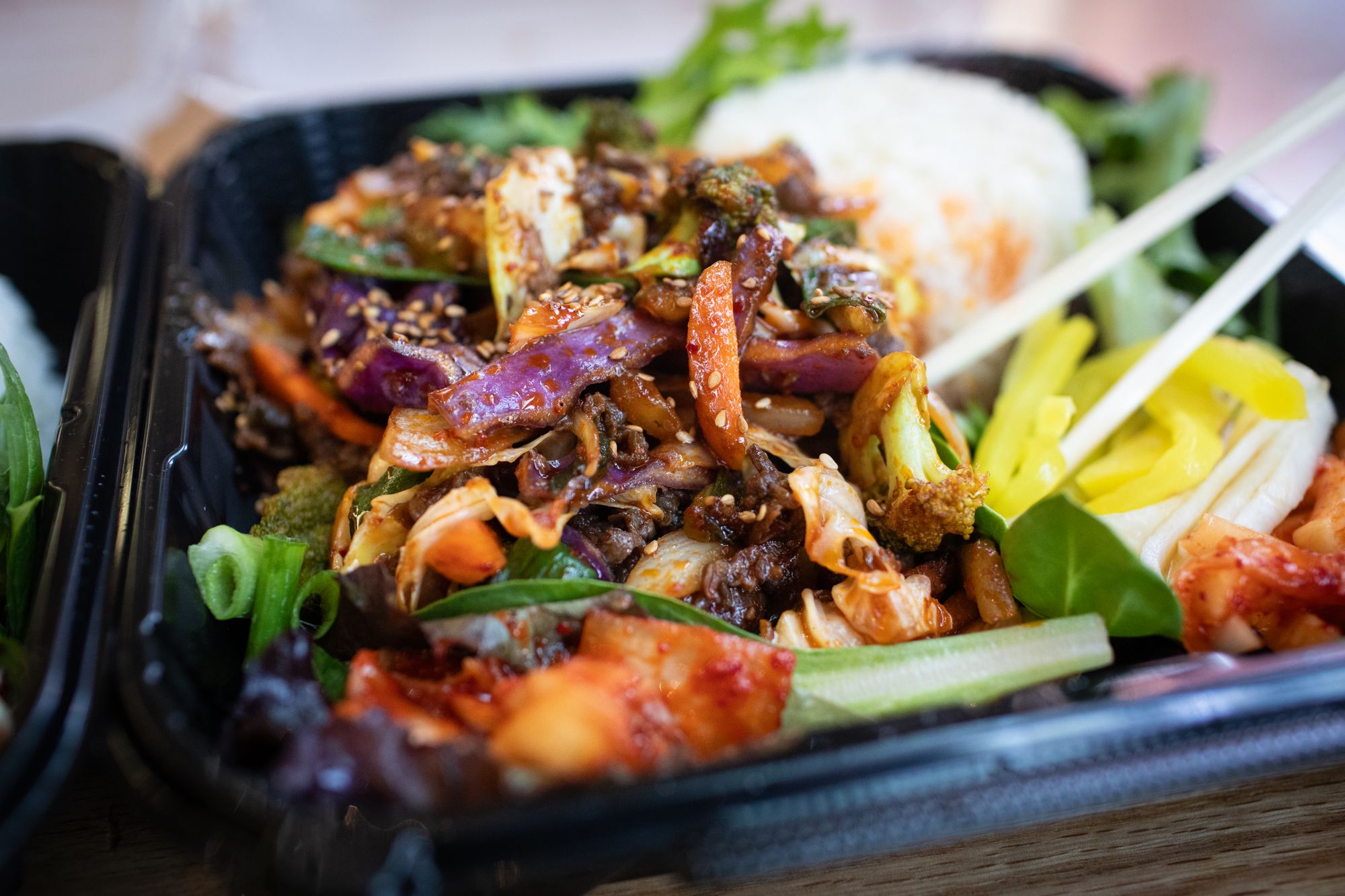 In addition to the Bulgogi, she also recommends her Bibimbap, a Korean rice bowl made with carrots, yellow radish, red radish, cucumber, kimchi, bean sprouts, romaine lettuce, broccoli, zucchini, gochujang sauce, and topped with a fried egg as well as your choice of protein. (It uses Kim's special sauce, too.)
Looking for something lighter? Kim says customers also enjoy her Kimbap Korean-style sushi, made with fully cooked imitation crab and pickled radishes wrapped in seaweed and seasoned with sesame oil. ("Kim" means "seaweed," and "bap" means "rice.")
Seoul Garden's kimchi is another popular item, which comes in two forms: Homestyle and restaurant-style.
"Homestyle kimchi means made at home, with a mommy's heart, using whole ingredients," Kim says. "It is fresher and crunchier. Restaurant-style is chopped, but still very good for health."
In all that she makes, Kim hopes to pay homage to her own mother and father, who are both deceased in South Korea.
"Right now, recipes for everything at the restaurant I created for myself, by myself, in memory of my mom," she says.
As Seoul Garden continues to grow, her ultimate goal is to open a second location someday that's a stand-alone restaurant again—and to expand her profits to the point that she can keep sharing her motherly cooking and hospitality with anyone in need.
"My last dream is to have a bigger restaurant someday to make a mommy's place and maybe even play some music," Kim says. "After I make enough money, I want to be able to give food away to the poor or sick and elderly. People often say, 'Sophia does not talk too much.' But they know I am talking with my music, with my food, with my smiling face. My food is my service to you. It says: 'You are special; you are comforted.'"
Try it!
This month, we're teaming up with Seoul Garden to bring all paid subscribers to The Local a BOGO deal. (Buy one menu item, and get one item of equal or lesser value free!) Simply show proof of your paid membership to The Local at the counter of Seoul Garden to claim your offer. Details here.
Not a paid subscriber yet? It's a great month to join! As an added bonus, Seoul Garden is offering a free dumpling to anyone who visits their stall at Union Street Market and uses a QR code there to become a paid subscriber on the spot. Visit them to claim your freebie today!