Fort Wayne artist Matt Plett shares the story behind four of his murals at Electric Works
"Overall, something I really loved about this mural was that it pushed me to use more muted colors." By The Local Fort Wayne.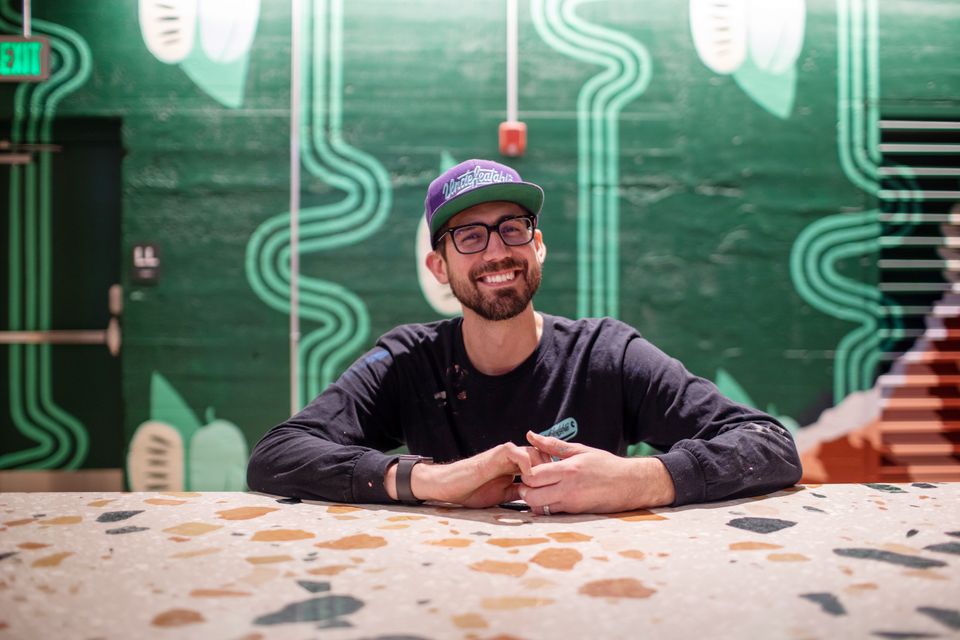 Electric Works is full of public art—from a mural by Theopolis Smith III (aka Phresh Laundry) leading you under the railroad overpass into Union Street Market to colorful murals by nine local artists that adorn the food hall's walls.
Inside Building 19, known as the Forum, you'll find a series of murals by Fort Wayne artist Matt Plett.
On a recent visit to Carr Workplaces, a new coworking space in the lower level of Building 19, I ran into Plett at work, painting one of his four murals in the space so far, and I couldn't resist asking him to give me a quick rundown of his vision for each piece.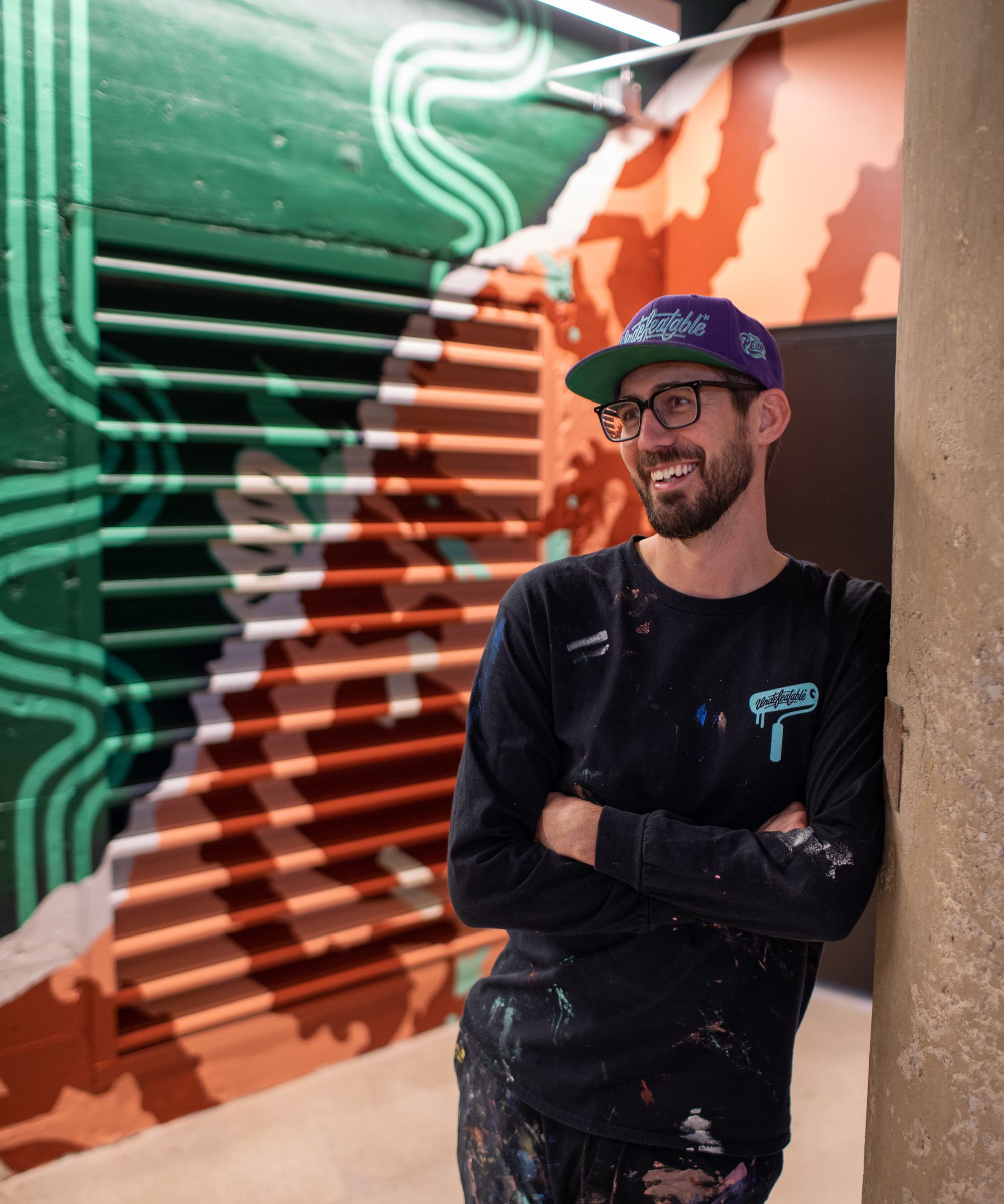 Modest, as always, Plett reluctantly obliged. He says he was contracted by the developers of Electric Works to pitch concepts for the space. They wanted to pay homage to the history of the sprawling General Electric campus, while also giving a nod to its use by a new generation, in a new time.
One of his main challenges with this task was rifling through the 100-year-old history of the company and its culture, which doesn't always age well with modern audiences. In the process of his research, Plett learned that General Electric (which underwent several name changes) put out weekly newsletters to its employees, which he was able to access to learn about a few elements of its history that sparked his imagination.
As the son of a women's college basketball coach (in Colorado), one thing that sets Plett apart as an artist is his passion for sports, and his minimal, modern take on athlete portraits. When he learned there was a women's basketball club at General Electric, dating back to 1916, known as the Elex (Latin for "Electric"), he couldn't resist sharing their story visually somehow.
"To my understanding, there were a few big employers in Fort Wayne during that time period, like General Electric and Harvester, and each industry had its own sports teams of employees who would play against other teams in the city," Plett says.
Though the basketball team disbanded, some of its members formed the GE Employees Girls' Club. Its slogan "United, We Build," inspired Plett's mural in the library of Carr Workplaces. The mural features a minimal take on the basketball team's 1916 group portrait. (You can find a copy of the original portrait within the coworking space for comparison, too!)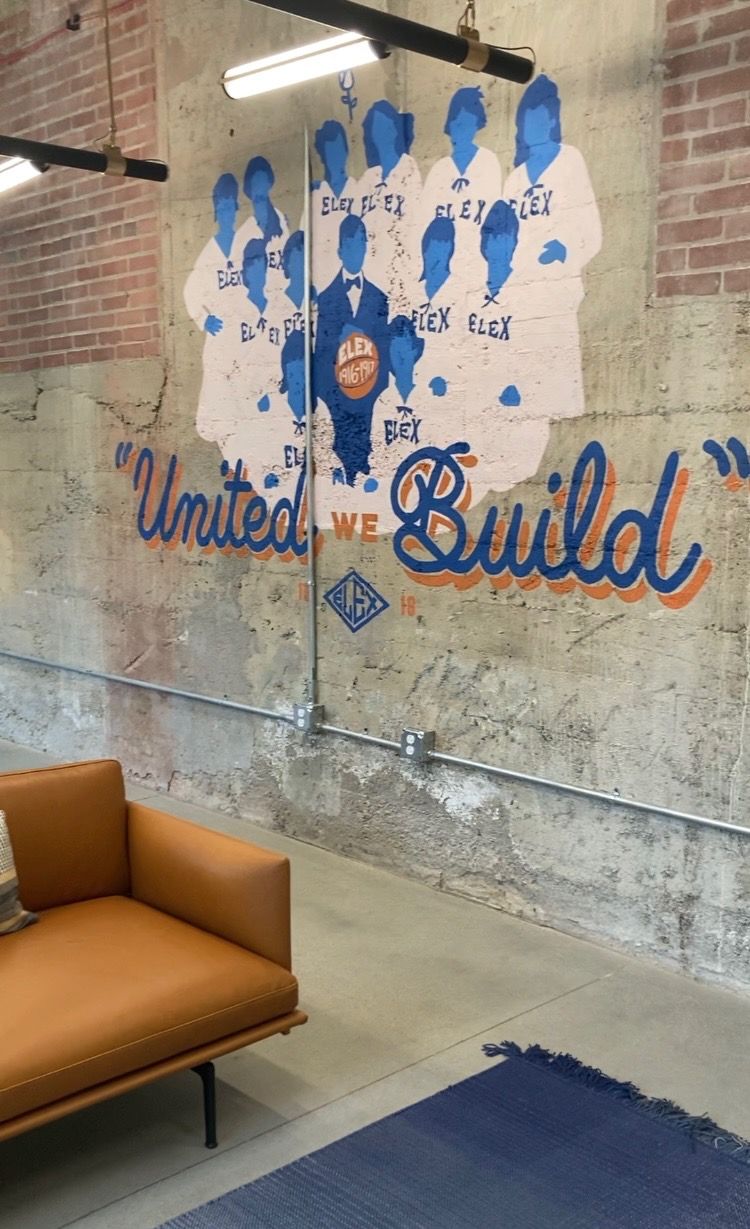 Plett's other mural in Carr's space pays homage to its use for coworking and features his signature bright colors with a mishmash of abstract shapes and patterns. Plett says he intentionally designed one of the repeating shapes to resemble a flower, as well as a four-fingered hand, signifying growth and community. He hopes the mural is abstract enough to inspire its own interpretations from onlookers, too.
"I don't like limiting it," he says. "It is what it is, and it has lots of interesting textures and brush strokes and colors."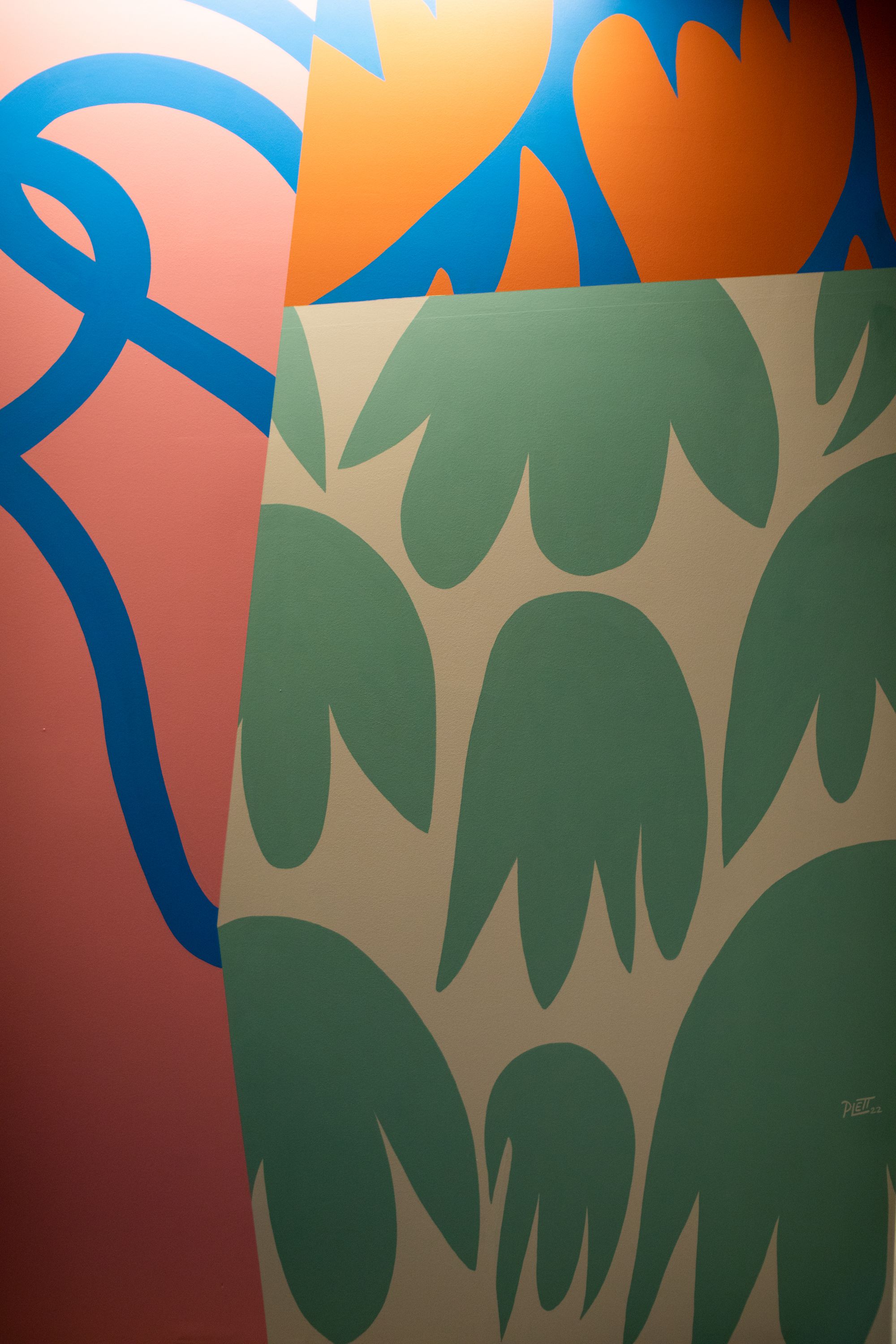 On the main level of Building 19, leading down the stairs into Carr's space, Plett has a series of two, larger and corresponding murals, which have elements that relate to GE's history. These murals are intended to resemble vintage wallpaper playful ripped away and divided into four separate sections. The first design features a muted green pattern with three lines representing Fort Wayne's three rivers and repeated paw-paw seeds, which are native to Indiana.
The second section of the mural features a circulating dragon fan, created by GE (then Fort Wayne Electric Works), and used in its phone booths on campus.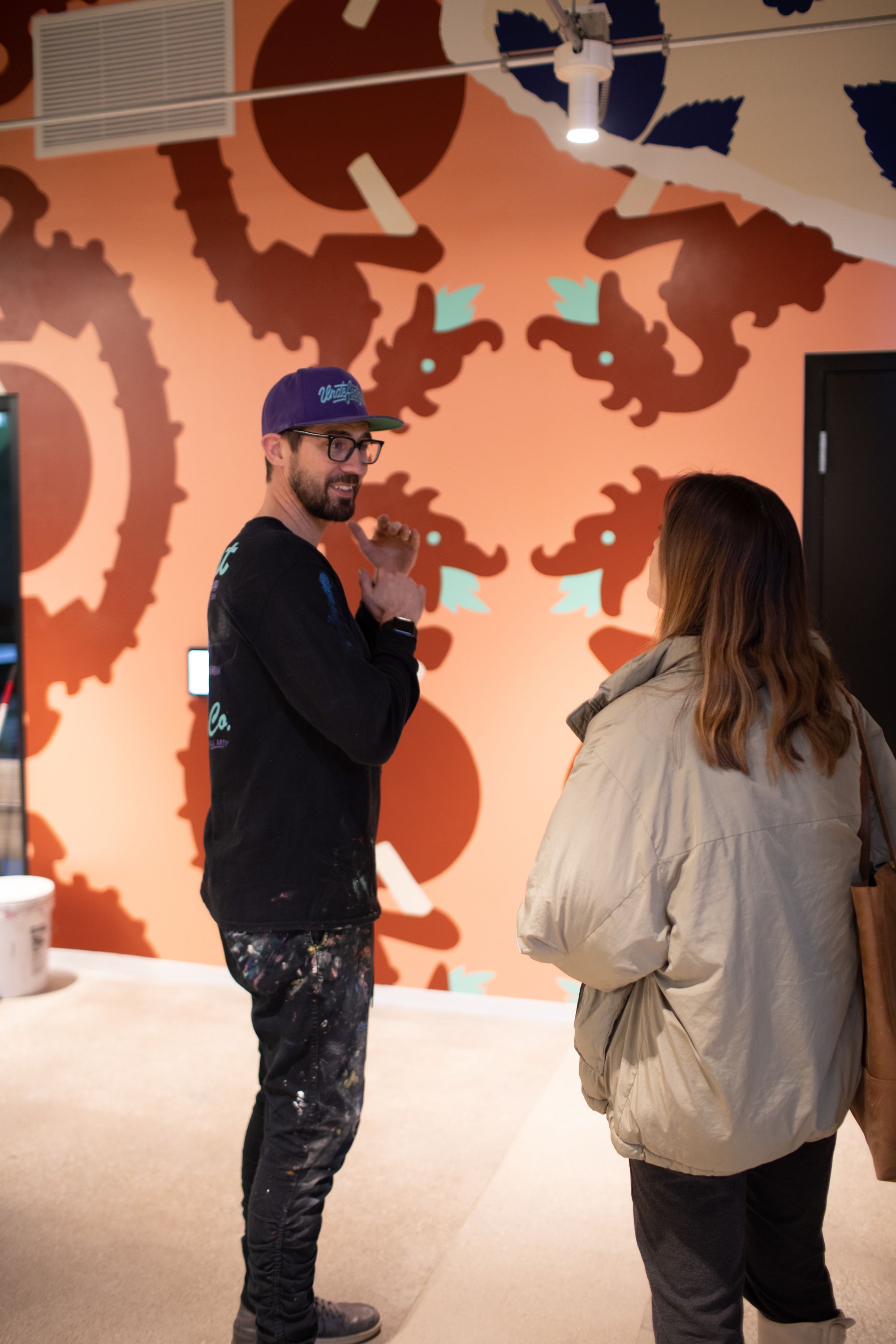 "I thought the dragon's design was a very cool and unique artistic element," Plett says. "So I turned it into a pattern. You can find one of these original fans on display at the Fort Wayne History Center."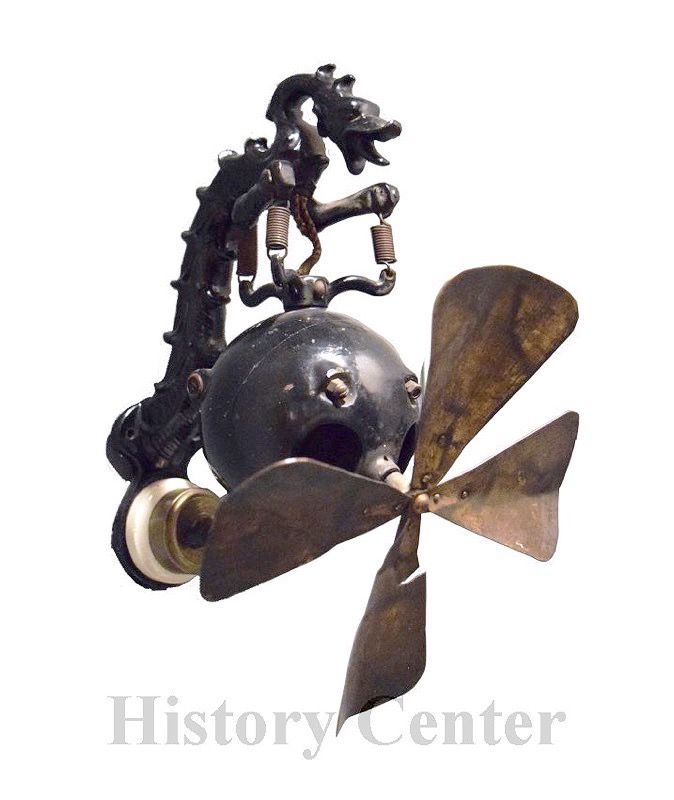 The next pattern is purple with repeated blackberries, intentionally referencing the native Miyaami tribe. Kekionga means "Blackberry Bush," Plett explains. "So it's historical, not just to Electric Works, but to the local area."
The final section, stretching around the corner of the wall toward Carr, features a Fort Wayne Electric Works logo and one of the company's jet turbines, as well as an antique braided electric cord and plug, drawing attention to how the space sparks new connections.
"Overall, something I really loved about this mural was that it pushed me to use more muted colors," Plett says. "It's not technically 'muted,' but for me, it's different in a good way, and I think it's working out really well for the space."
Outside of his murals at Electric Works, Plett says he's working on a few more commissioned projects around town, and still fighting to make time for his own "Undefeatable" designs as often as he can between juggling his art with his duties as a full-time dad to two teenagers.
He happened to be donning his signature t-shirt and hat the day I ran into him. Learn more about his work by visiting his website, shop, or following him on Instagram at @dattmattmatt.
Catch his own post about the murals here:
---
The Local's free stories are made possible by our weekly newsletter subscribers. Want to support more stories like this? Consider becoming a member.