Blog: Want to work at Electric Works? Check out Fort Wayne's newest coworking space
We check out Fort Wayne's newest coworking space, Carr Workplaces. By The Local Fort Wayne.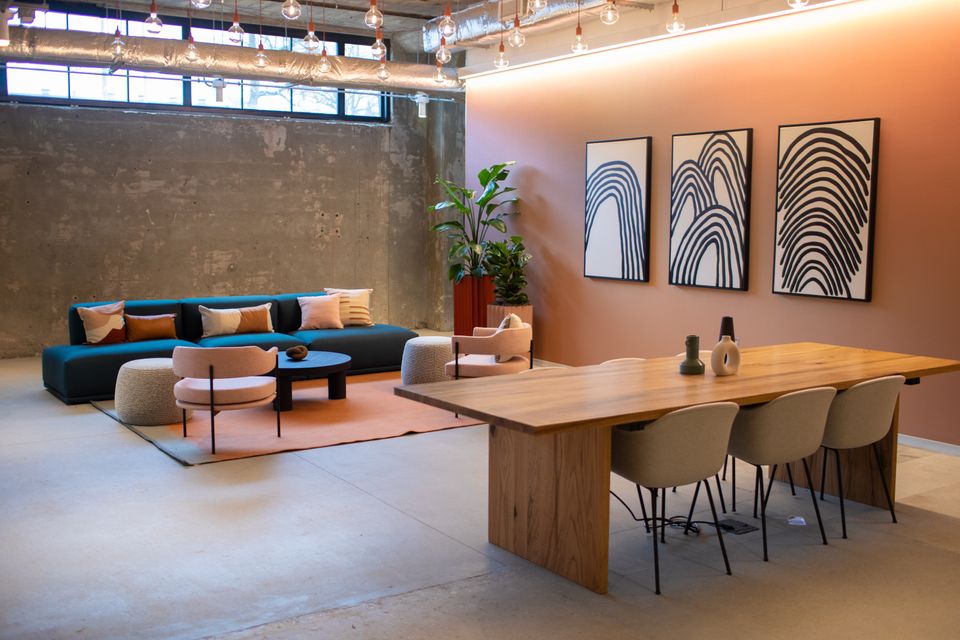 As a remote worker in Fort Wayne (even pre-pandemic), I've often toyed with the idea of renting an office or joining a coworking space around town. But I haven't made the move to actually do it.
For one, I enjoy the solitude of working from home; it allows me to focus on writing and get stuff done. If I'm ever in need of a friendly distraction, Fort Wayne has plenty of local coffee shops with spacious work areas where I can meet friends and colleagues, too.
But when I found out there was going to be a new coworking space at Electric Works (near my home in the '07), and memberships start at $45 per month, I was intrigued to learn more. I was also surprised to hear: The space is already open to the public!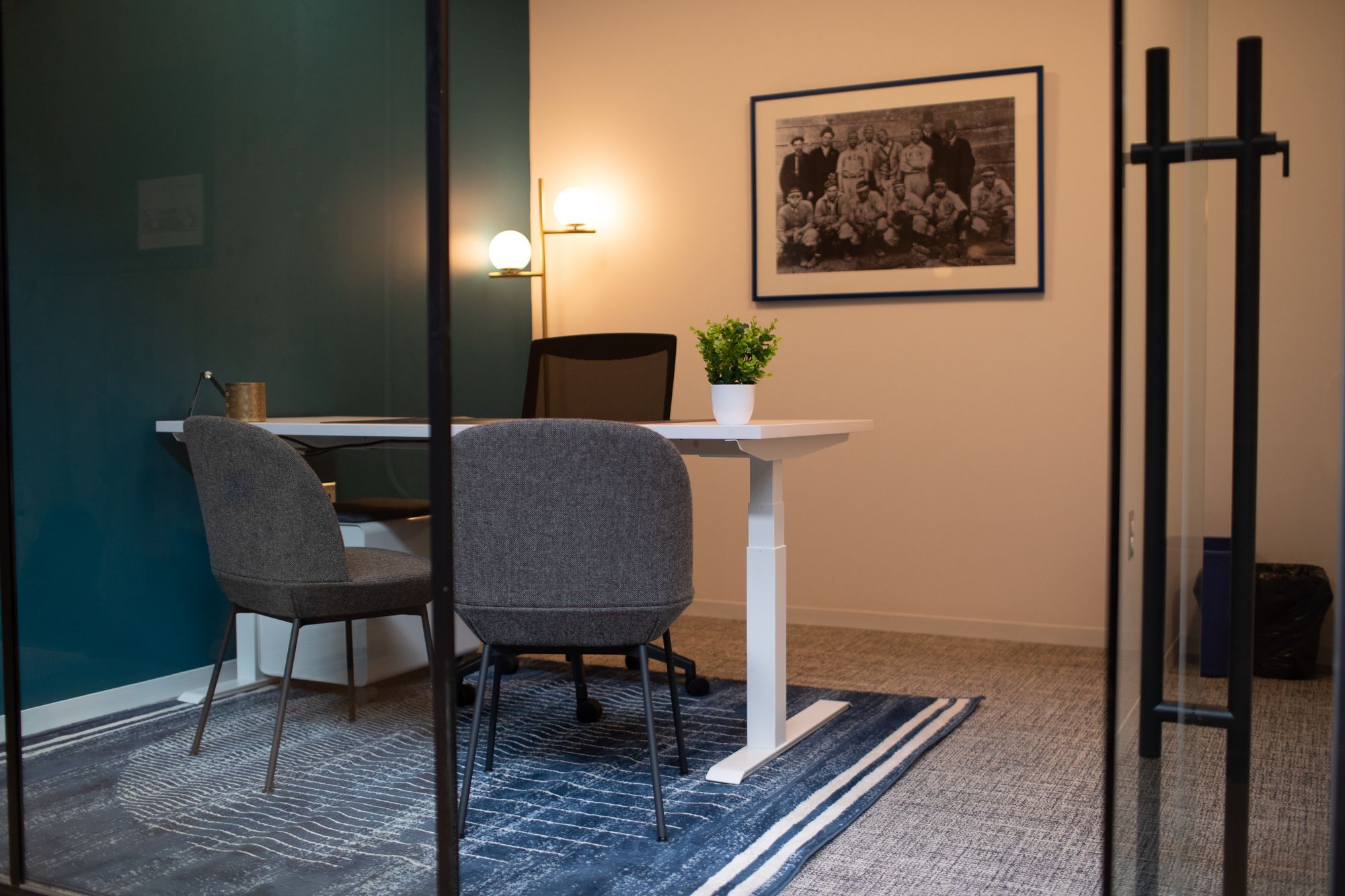 While you might have visited Electric Works over the holidays for the splashy debut of its Union Street Market, you might have missed the grand opening of its coworking space on campus just a short walk across the street down Dynamo Alley. To reach the campus from the road, route your GPS to Carr Workplaces at 1690 Broadway St., and step inside Building 19, known as the Forum (near Amp Lab).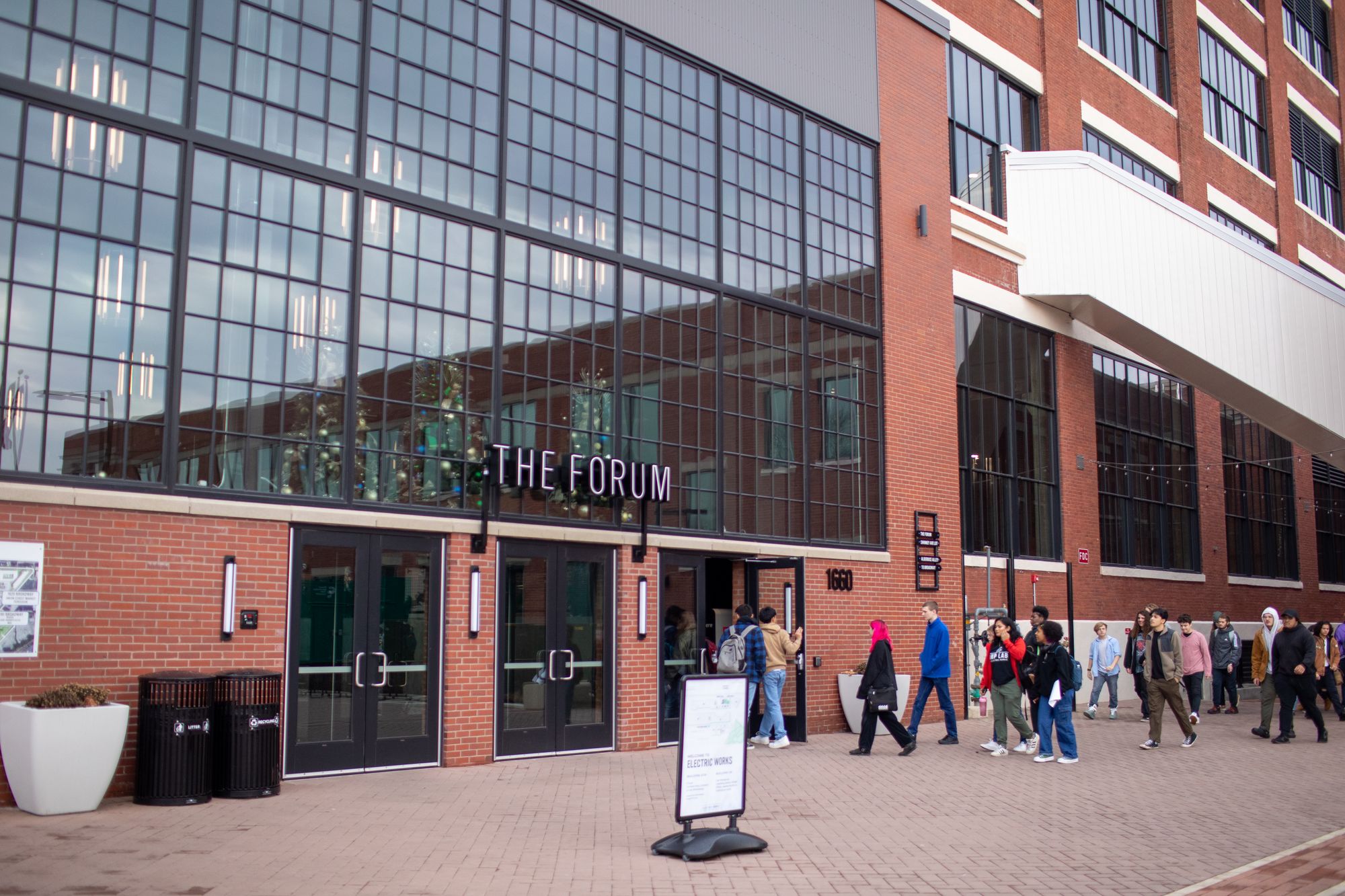 Here, down a flight of stairs, you'll find a colorful mural by local artist Matt Plett, leading you into a sprawling underground workspace of more than 32,000 square feet, including 85 private offices, a full kitchen, and three large meeting rooms.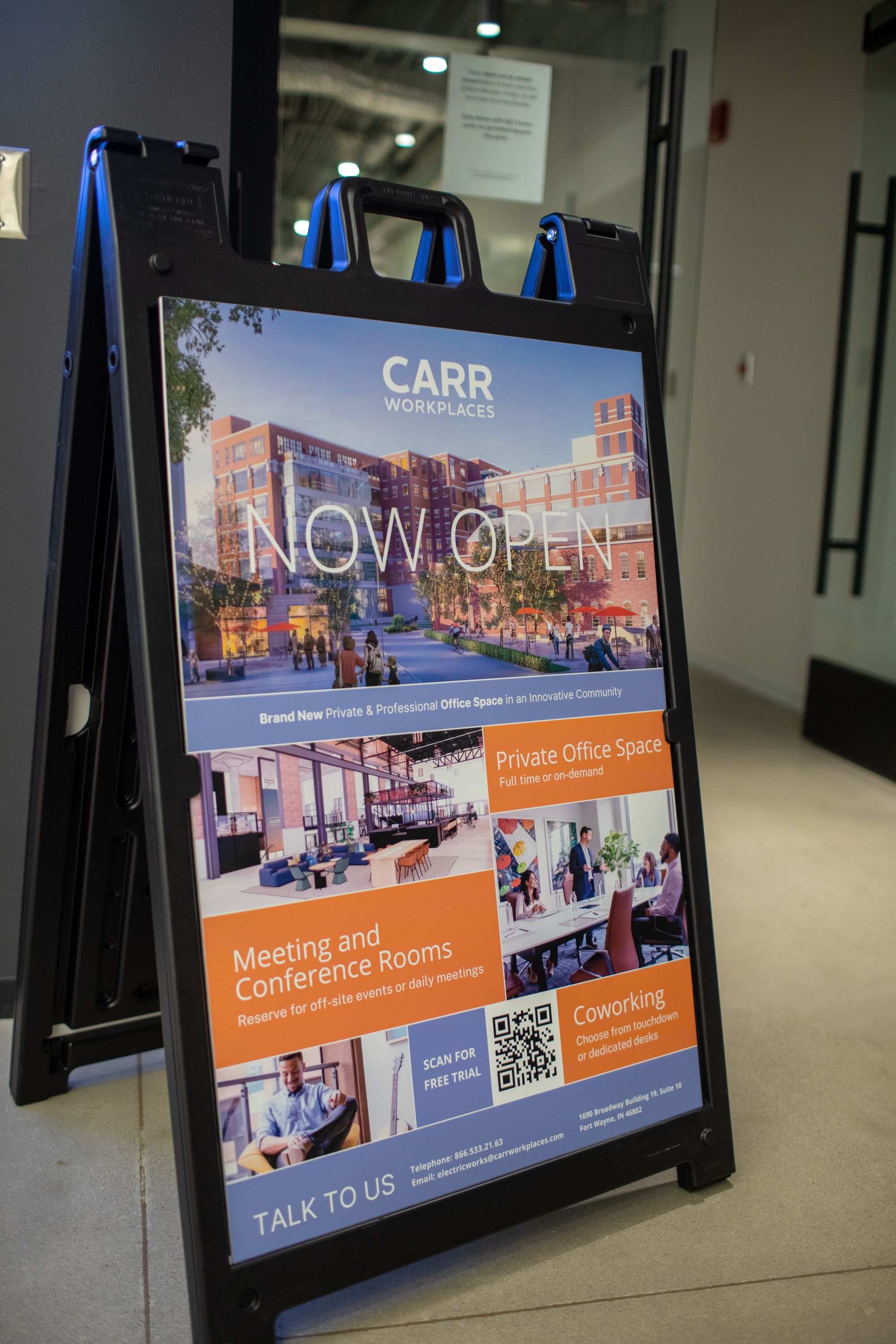 Manning the front desk is Rachel Hoger, a Community Manager for the space, who is a lifelong resident of Fort Wayne and previously worked as a Program Manager for Junior Achievement. She joined Carr Workplace's team of three Fort Wayne staff in October, just before the space opened Nov. 7.
"Carr is based in Washington, D.C., and it has 28 locations across the U.S.," Hoger says. "I'm really excited to be here and to be part of everything that's happening on campus."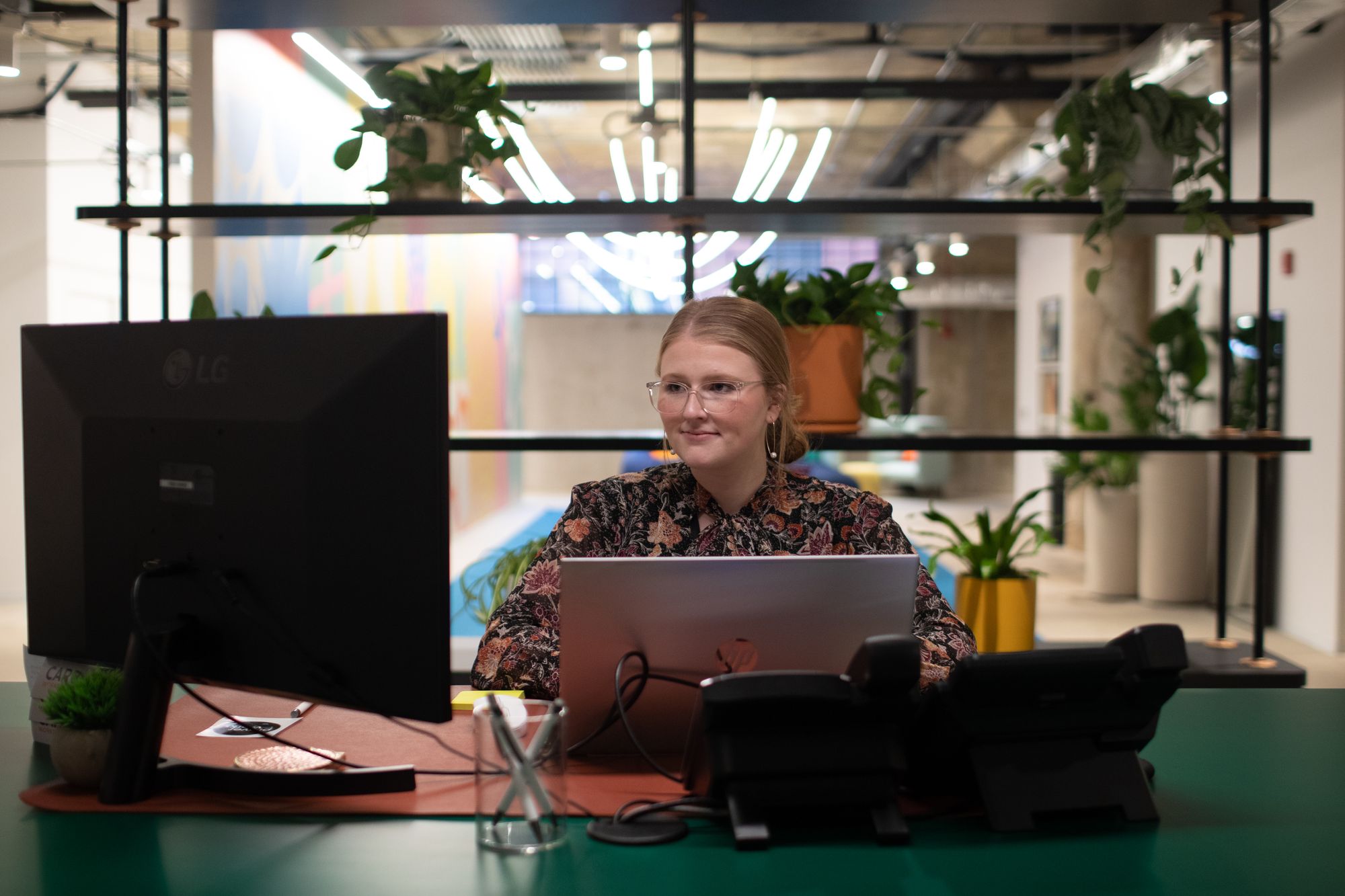 If you visit Carr's website and request a tour of its space at Electric Works, you'll be contacted by its HQ team, who can assist you in scheduling a virtual or in-person tour of the space and assessing your office or event needs. After a quick exchange of emails, they'll put you in touch with Hoger or another member of her staff for a tour.
My tour was in-person, and I found it helpful to get a feel for the atmosphere. Like most of the Electric Works campus, Carr has a modern, industrial vibe with enough corporate comforts to make you feel like you're in a real office. Though it's currently at about 18 percent occupancy for its All-Inclusive Office memberships, the common areas already seem relatively lively on my first visit. Clients chat softly behind the closed glass doors of meeting rooms or work quietly at their computers near the kitchen.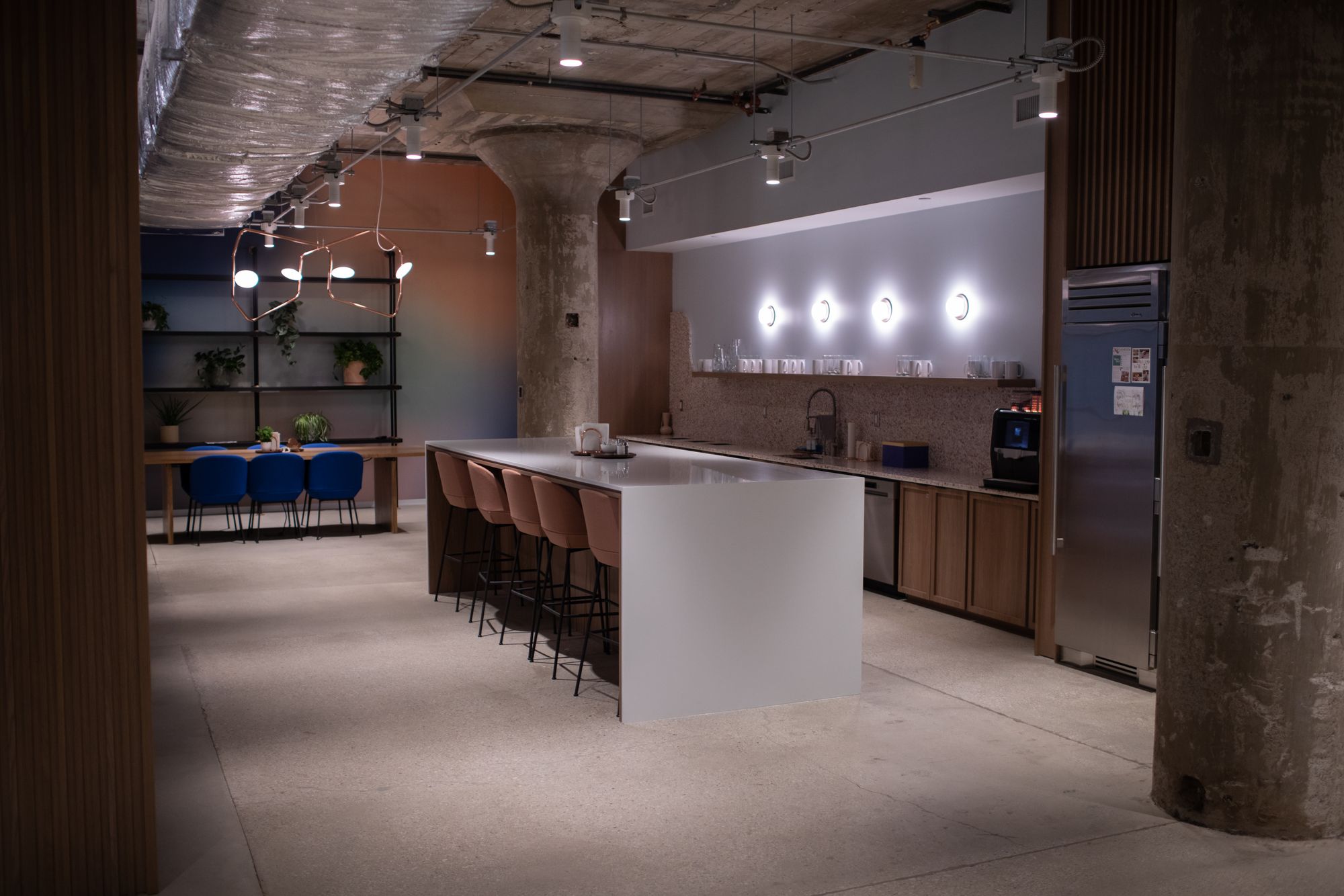 Hoger says the $45 per month membership I'm interested in is known as the Cafe Plan, which grants you access to up to three hours of workspace per day in Carr's "soft seating areas" outside of its private offices. You also get coffee and kitchen access and free wifi. (For now, Hoger says they're brewing Starbucks in the kitchen machine, but she's hoping to source coffee from a local vendor in coming months.)
If you become a Cafe Plan member, you can access Carr's space anytime during regular work hours from 8:30 a.m. to 5 p.m. But if you become an All-Inclusive Office member for a higher price, you'll get 24/7 access.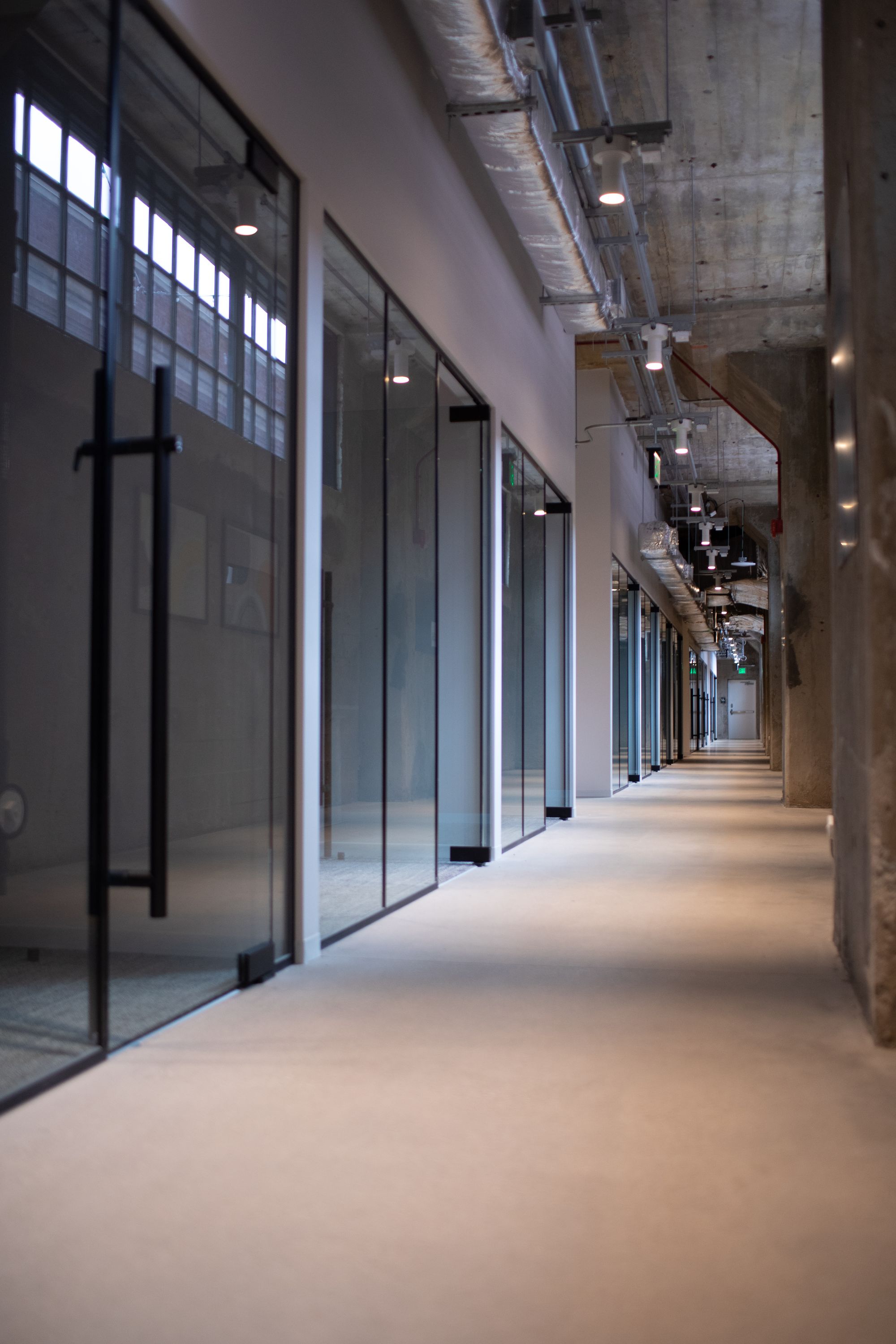 Carr offers a full range of coworking plans, from its month-to-month "Touchdown Desks" to its "Dedicated Desks" that function more like private offices. It even offers spaces rentable by the hour or day, ideal for daytrippers who want to drop in, or need last-minute private space for meetings.
All pricing is based on each room's square footage and intended use, Hoger says, and anyone can inquire on Carr's website. She explains that Carr's All-Inclusive memberships grant you discounted rates for its three group meeting rooms, too, which can hold six, 10, or 12 people. Meeting rooms are also rentable by the general public—member or not. (Check Carr's website for deals and trials.)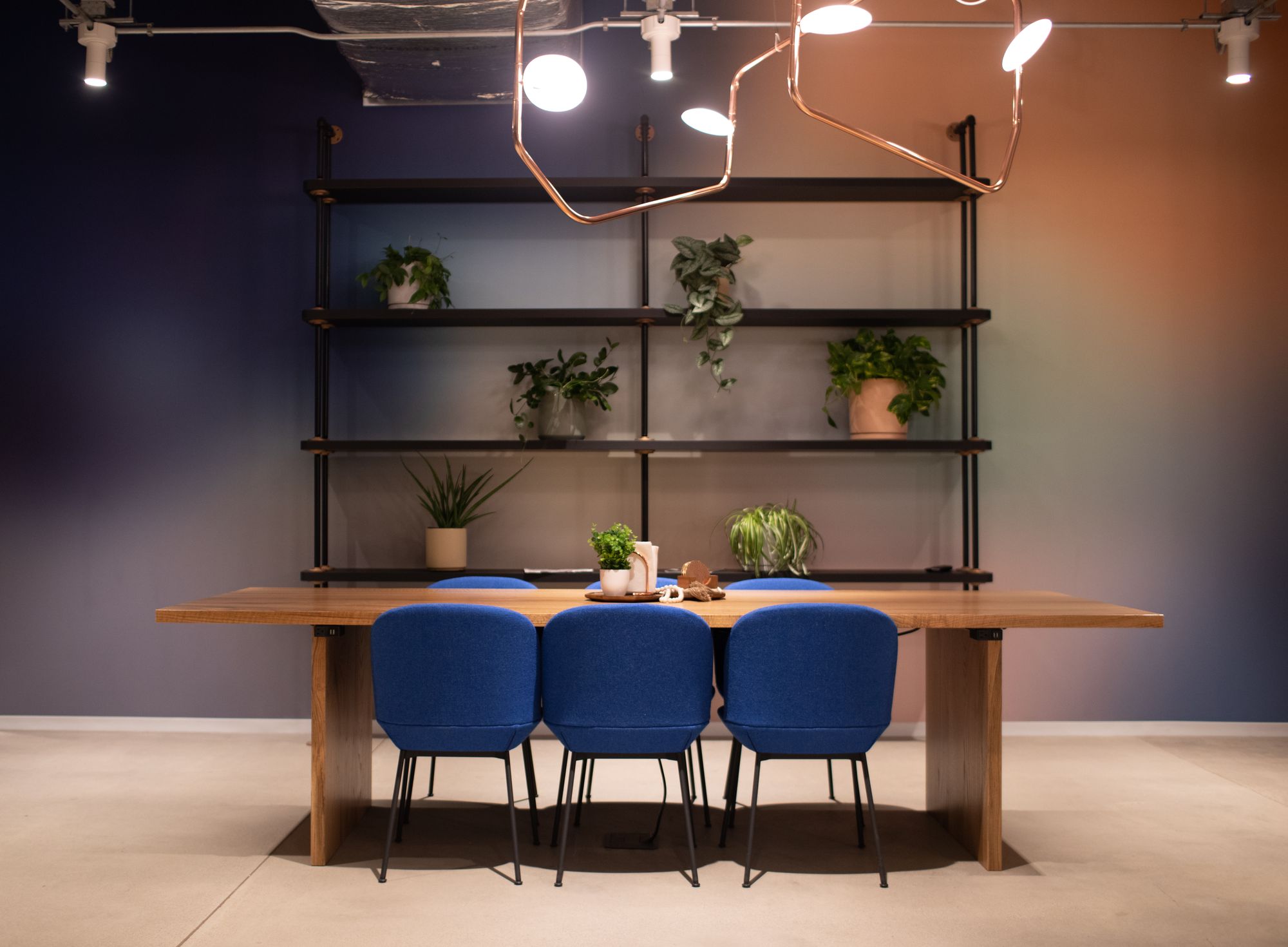 Throughout Carr's maze of offices and coworking rooms, you'll find two murals by Matt Plett (in addition to two more murals he's done in Building 19's common areas). These and other art on the walls at Carr pay homage to the history of General Electric—as well as the future of Electric Works, Hoger says. (Learn more in my full interview with Plett here.)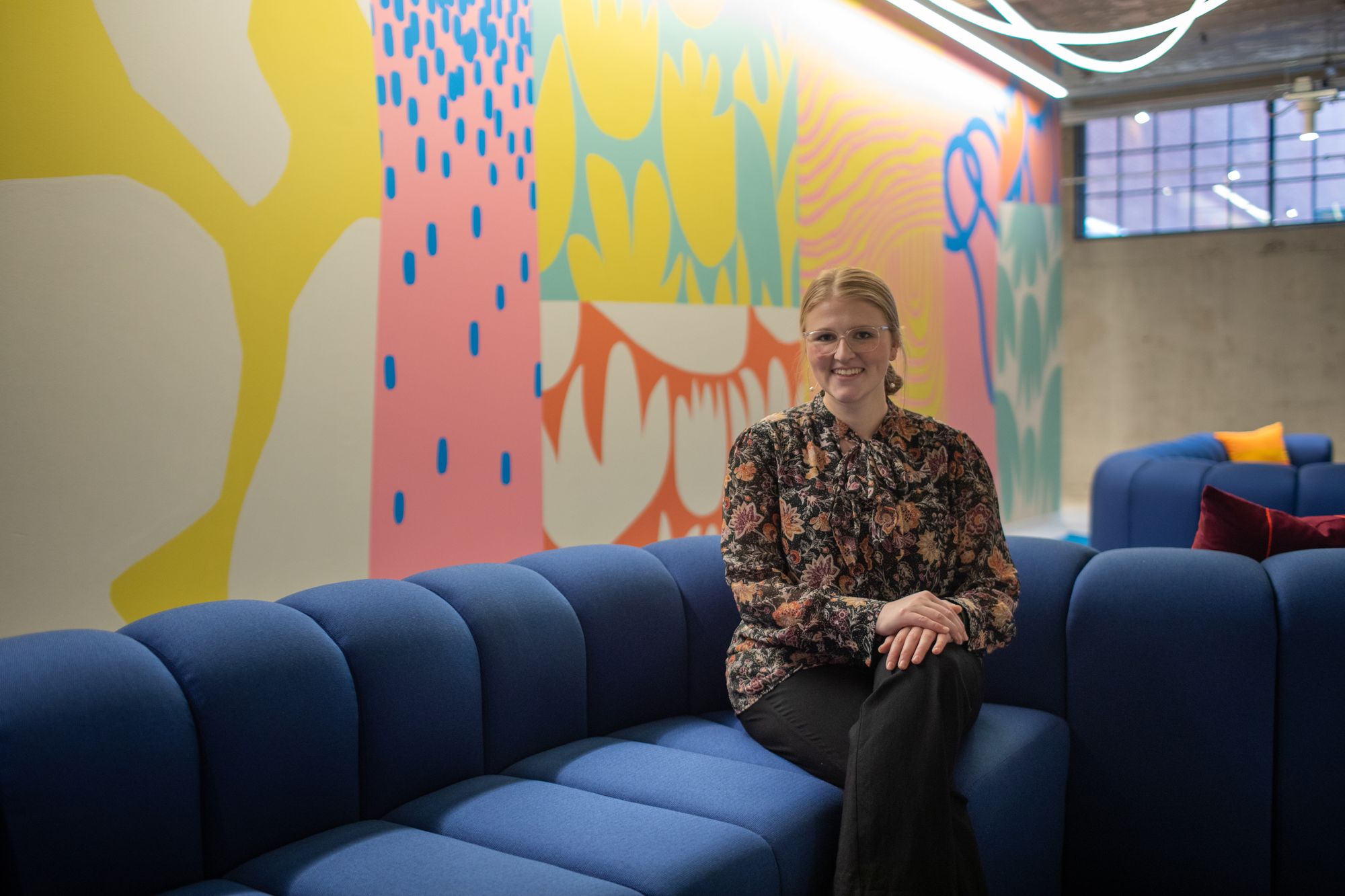 Beyond Carr's physical space, perhaps the best test of any coworking environment is whether you can reliably expect to encounter a few friendly (or new) faces there. To help members meet each, they're hosting monthly mixers and events for its clients, like charcuterie meet and greets.
By the end of my tour, I've run into a friend and colleague of my own, working at a booth near the kitchen: Steve Vorderman of Vorderman Photography. An '07 resident like me, Vorderman says he started coming to Carr about a month ago as another place to get work done outside of his home and studio space, which he shares with PUNCH Films near Wells Street.
"I come here a few times a week—sometimes for an hour, sometimes for more than that," he says. "It's another place to hang out with people, find some solitude, or enjoy the feng shui and all that goes with it. It's a nice space to shoot portraits, too. Sometimes, I even do a meditation in the back corner."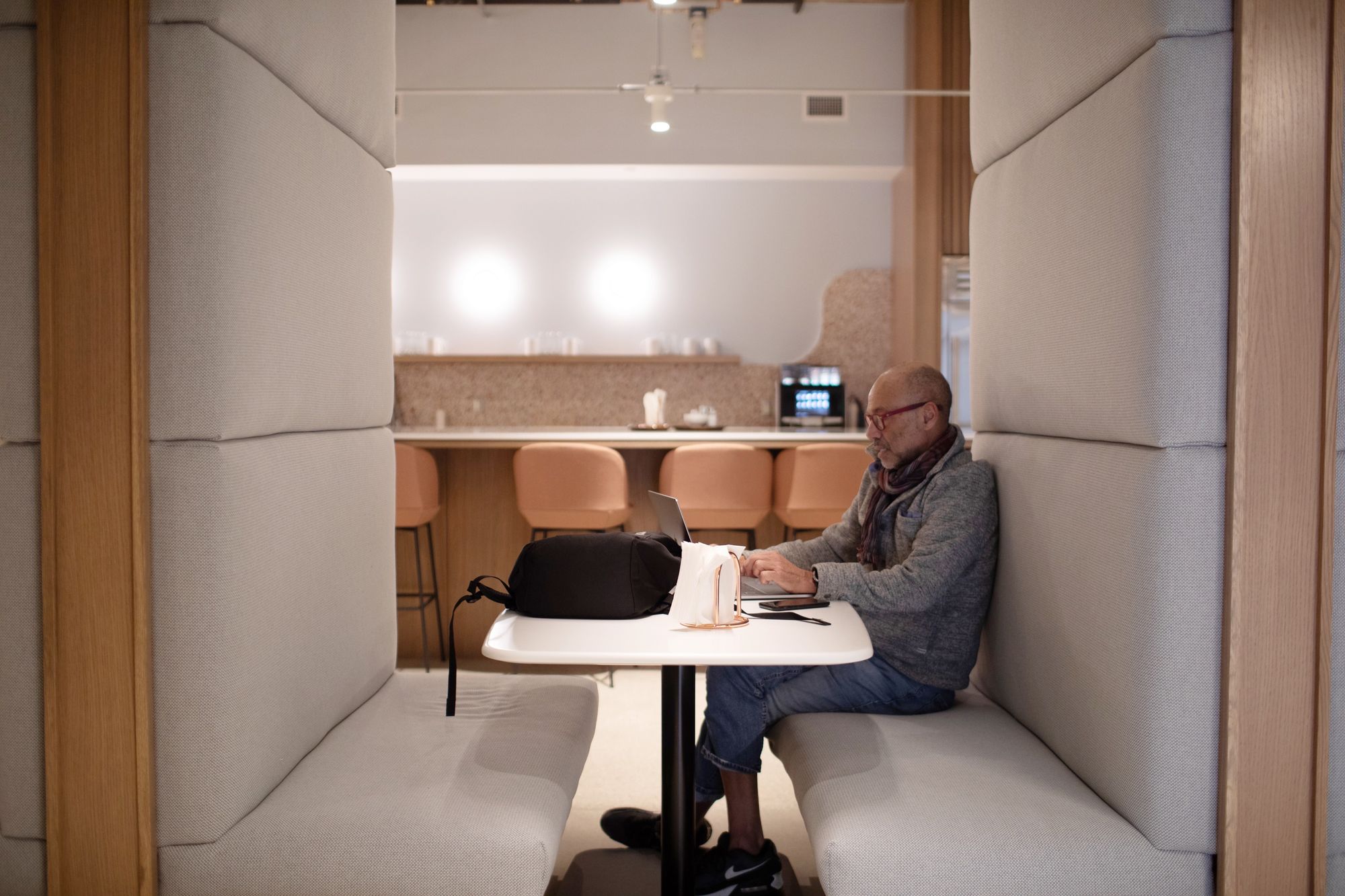 As more people work remotely in Fort Wayne, and as Electric Works increases its occupancy, it will be interesting to see the community that develops at Carr.

---
The Local's free stories are made possible by our weekly newsletter subscribers. Want to support more stories like this? Consider becoming a member.