Free trees for schools! Why the Tree Canopy Growth Fund is planting hundreds of trees at Allen County schools
"People who design schools are the same people who design jails. And if our schools are like jails, how do we expect the children to behave inside?"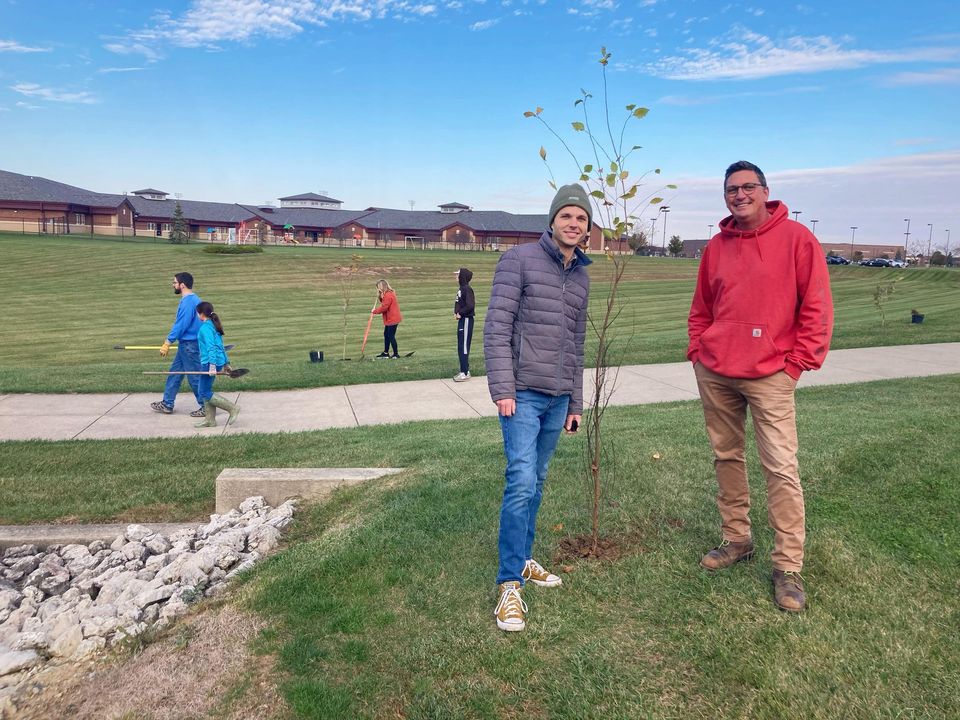 While there are many benefits to Fort Wayne's growth and development in recent years, one drawback is loss of the city's tree coverage.
In fact, Fort Wayne has lost six percent of its urban tree canopy coverage during the past decade due to development, disease and other natural causes. As a result, community advocate Kody Tinnel teamed up with Derek Veit, Superintendent of Urban Forestry for the City of Fort Wayne, to launch the city's Tree Canopy Growth Fund (TCGF) in 2022.
The fund fosters community health and well-being through tree planting and advocacy around town, inspired by similar regional groups, like Root Nashville and Keep Indianapolis Beautiful. This fall, the TCGF launched its inaugural Shading Our Children Project in partnership with Southwest Allen County Schools (SACS), where it hopes to plant hundreds of trees on school campuses in the coming years.
"Ultimately, our goal for this project is to bring more trees to school campuses where they can provide a variety of benefits, including shading and cooling outdoor spaces, enhancing mental health, and building pride in our local schools, among many others," Tinnel says. "Many of our school properties have the available planting space and maintenance staff needed to support long-lasting tree health as we work to grow the overall canopy in the community. This is also a great opportunity to educate students and the school communities about the many benefits of planting trees."
The first tree planting took place on the morning of Saturday, Nov. 4, at Covington Elementary School at 2430 W Hamilton Rd. where about 20-30 community volunteers planted 30 native trees, ranging from river birch trees, redbuds, elms, and catalpas. The planting was made possible by funding and support from General Dynamics Mission Systems and Regan + Ferguson Group Realty, alongside the SACS board.
We sat down with Veit and Tinnel to learn more about the project and how more schools, sponsors and volunteers can get involved.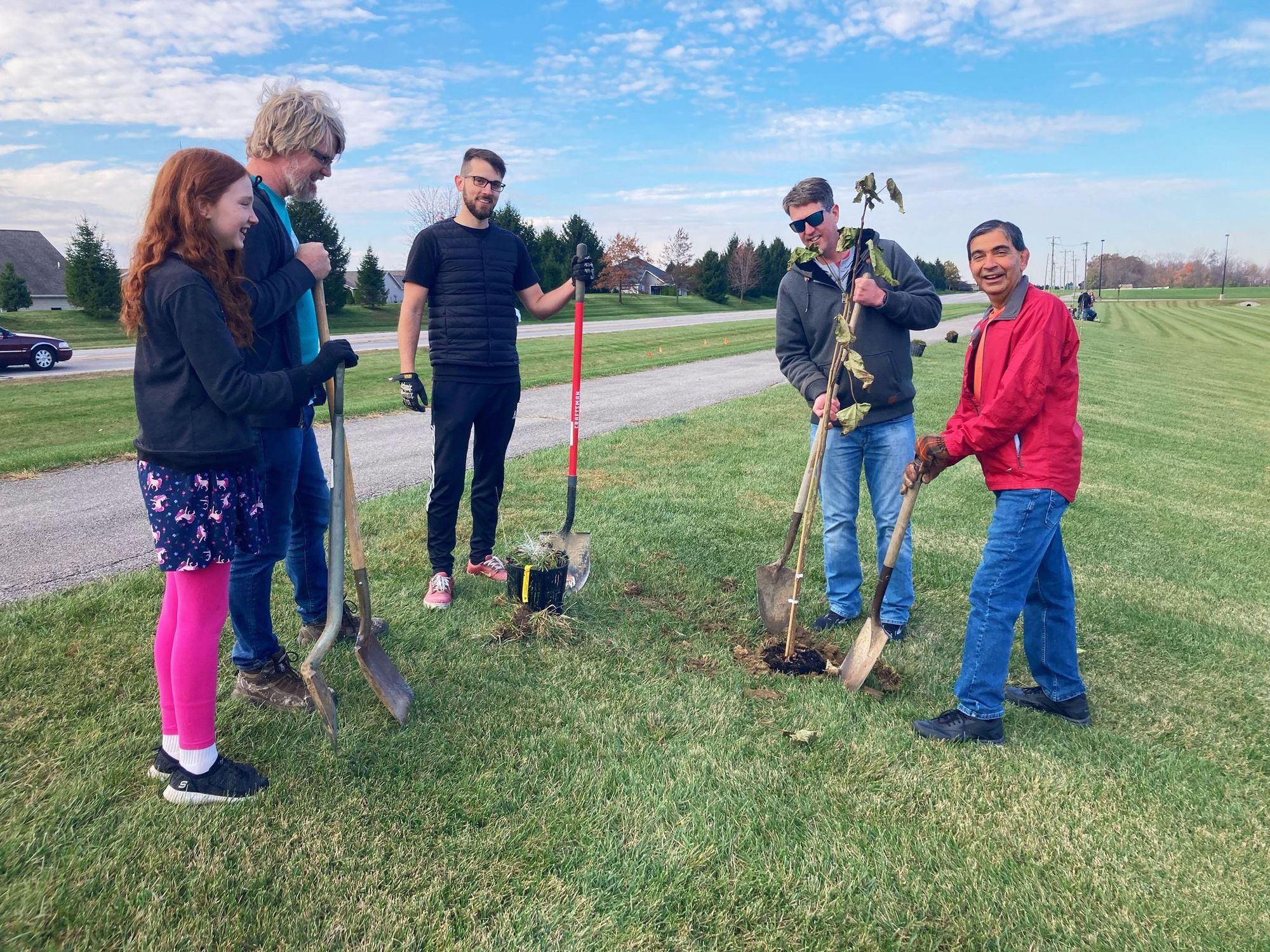 How did this program start, and why did you partner with SACS?
DV: One of the challenges we face with the TCGF in giving away free trees in Fort Wayne is that they all end up going to the neighborhoods that already prioritize tree coverage, like the 05, the 07 and West Central. While we want more trees everywhere in the city, these areas might not be the places around town that need them the most. So partnering with schools that lack adequate tree coverage is our big goal with this program, and since my wife is on the school board at Southwest Allen County Schools and many of their newer school buildings lack trees, we thought these schools would be a good place to start.
We also reached out to the SACS maintenance folks to get them on board, which I think is a key part of this project, and we were glad to hear they were all for it. One of the comments school maintenance workers have made to me is that the people who design schools are the same people who design jails. And if our schools are like jails, how do we expect the children to behave inside? So they were very eager to beautify their properties with trees and be responsible for taking care of a nicer work and learning environment for everyone.
Tell us more about the first tree planting on Nov. 4 and how your sponsors got involved.
KT: We had three groups of volunteers assisting us from our project sponsors: General Dynamics Mission Systems, Regan + Ferguson Group Realty, and Southwest Allen County Schools. GD Mission Systems reached out prior to planning this specific event because they wanted to find a local organization to support with volunteer time. This seemed like a great approach, so we also drafted the Regan + Ferguson Group to help based on my prior relationship to them and their ongoing interest in giving back to the community.
We anticipate engaging with other businesses and volunteer groups in the future to support this project with time and financial investments.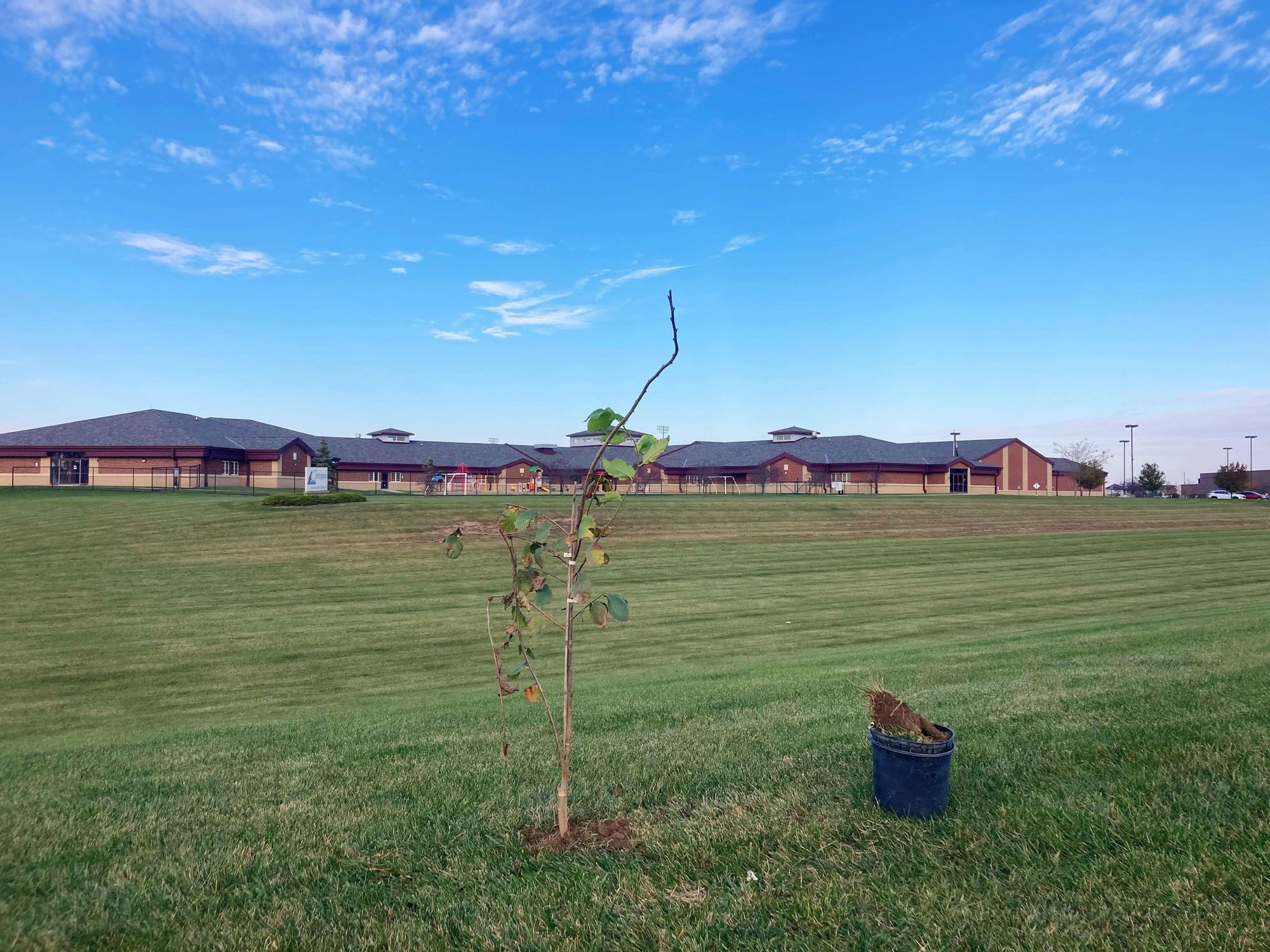 Do you have more similar events on the horizon, and how can schools or other groups get involved? Do they need any special skills or requirements to participate?
KT: This is our pilot project for a school setting, but we absolutely want to scale this to include more trees, more volunteers, more school campuses, and more school districts. The next round of similar events is planned for sometime in 2024, and we plan to keep it rolling from that point forward as much as our capacity allows.
Participation in these planting events is easy, and no prior experience or knowledge of planting trees is needed. We show volunteers the basics of planting trees then help during the event to ensure every tree is set up for success.
How can people learn more about the TCGF and support its work?
KT: The best ways to learn about our work are to visit our website, tcgfund.org, and follow us on Facebook. As an all-volunteer, relatively new entity we are still refining our strategies, but we have had great initial success and are eager to partner with anyone with an interest in growing our tree canopy.
Trees are critical infrastructure that support high quality of life. As Fort Wayne continues to grow, we want to make sure our tree canopy grows with it.