Event: Check out Fort Wayne author Sharon Tubbs's book 'They Got Daddy' & get it signed
By The Local Fort Wayne.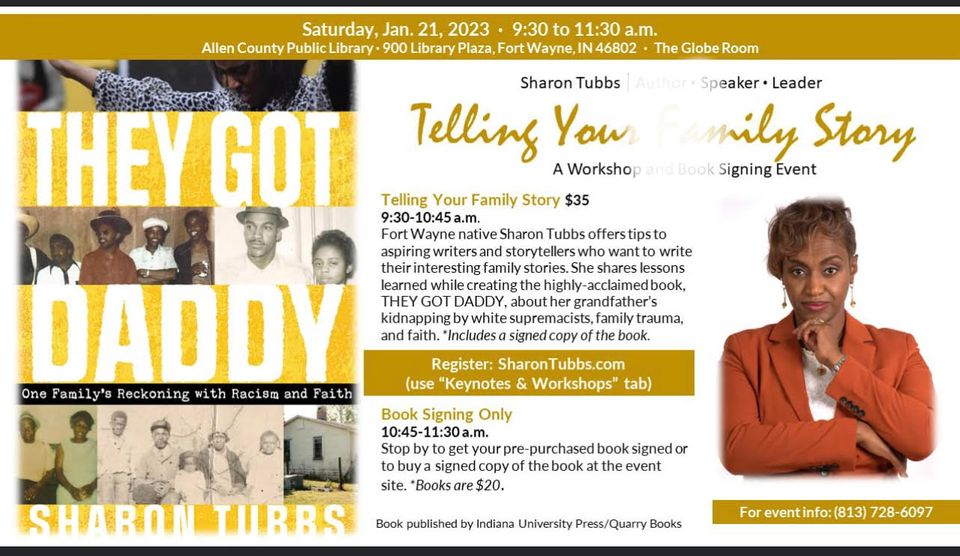 What's happening? Fort Wayne's own Sharon Tubbs, Founder of Move Forward Communications and Director of HealthVisions Midwest of Fort Wayne,  published a highly acclaimed book in January about her family's history amidst racially charged segregation in America.
Her book, THEY GOT DADDY: One Family's Reckoning with Racism and Faith, is part family memoir, part journalistic crusade, following Tubbs "on her moving journey from Fort Wayne, Indiana, to the back roads and rural churches of Alabama," as she wades through decades of cultural trauma and its ongoing impacts.
It is available for $20 via multiple shops, including Amazon.
Learn more about the book in Tubbs's own words in an article she wrote for Salon magazine.
This week: Tubbs is offering tips to aspiring writers and signing copies of her book for locals at the Allen County Public Library's Downtown Branch.
When? Saturday, Jan. 21, from 10:45-11:30 a.m. (At 9:30 a.m., the event starts with a workshop on Telling Your Family Story for $35. But registration is closed, as of Jan. 18.)
That said, you can still buy a copy of the book for $20 and get it signed Saturday morning, anytime from 10:45-11:30 a.m. You can pre-purchase copies online, or buy them on-site at the event.
Where? Allen County Public Library's Globe Room at 900 Library Plaza in Downtown Fort Wayne.
What are people saying so far? Eric Deggans, National Public Radio, TV Critic and Media Analyst, says: "Lots of writers have tackled America's historic abuses of Black people and Black families. But few handle the subject as deftly as Sharon Tubbs, whose They Got Daddy connects the trauma which reverberated through her own family history when her grandfather was abused by powerful white people, to the larger history of Black America's attempts to survive similar oppression. Her story is poignant and carefully told, filled with telling details and powerful writing, making the case that such injustices never stay in the past, but are passed through a family's DNA in a way that makes the trauma a living thing to be coped with every day. They Got Daddy provides important lessons on how to understand — and hopefully come to terms with — a legacy of oppression, which remains a potent force in America to this day." Read more praise here.
Learn more about Tubbs and her work as an author, speaker, and leader on her website. Follow her on Instagram at @sharontubbs.