Meet 4 Fort Wayne artists behind the murals at Union Street Market
We catch up with a few muralists to talk about their designs and what's next for them.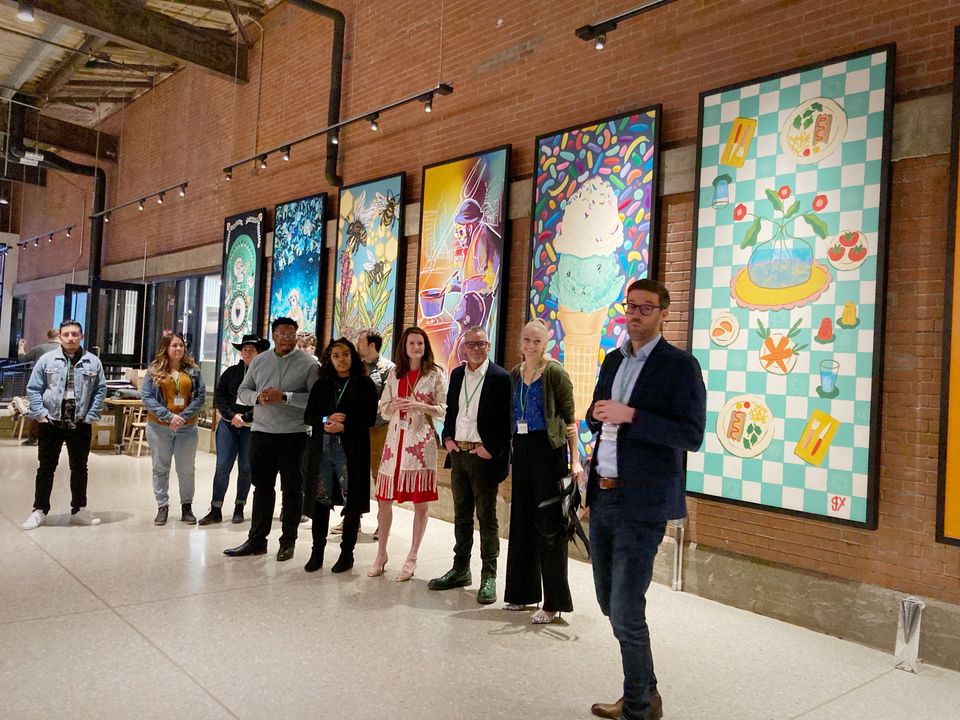 Last week, we attended an Artist Reception at Union Street Market on the Electric Works campus.
You might have seen: A series of nine murals on panels in the entryway of the market. These were done by various Fort Wayne artists, each loosely representing a different local business within the market.
We caught up with four of the muralists to talk about their designs and what they're working on next.
---
1. Theopolis Smith III
His mural represents: Brooks BBQ & Chicken (@officialbrooksbbq)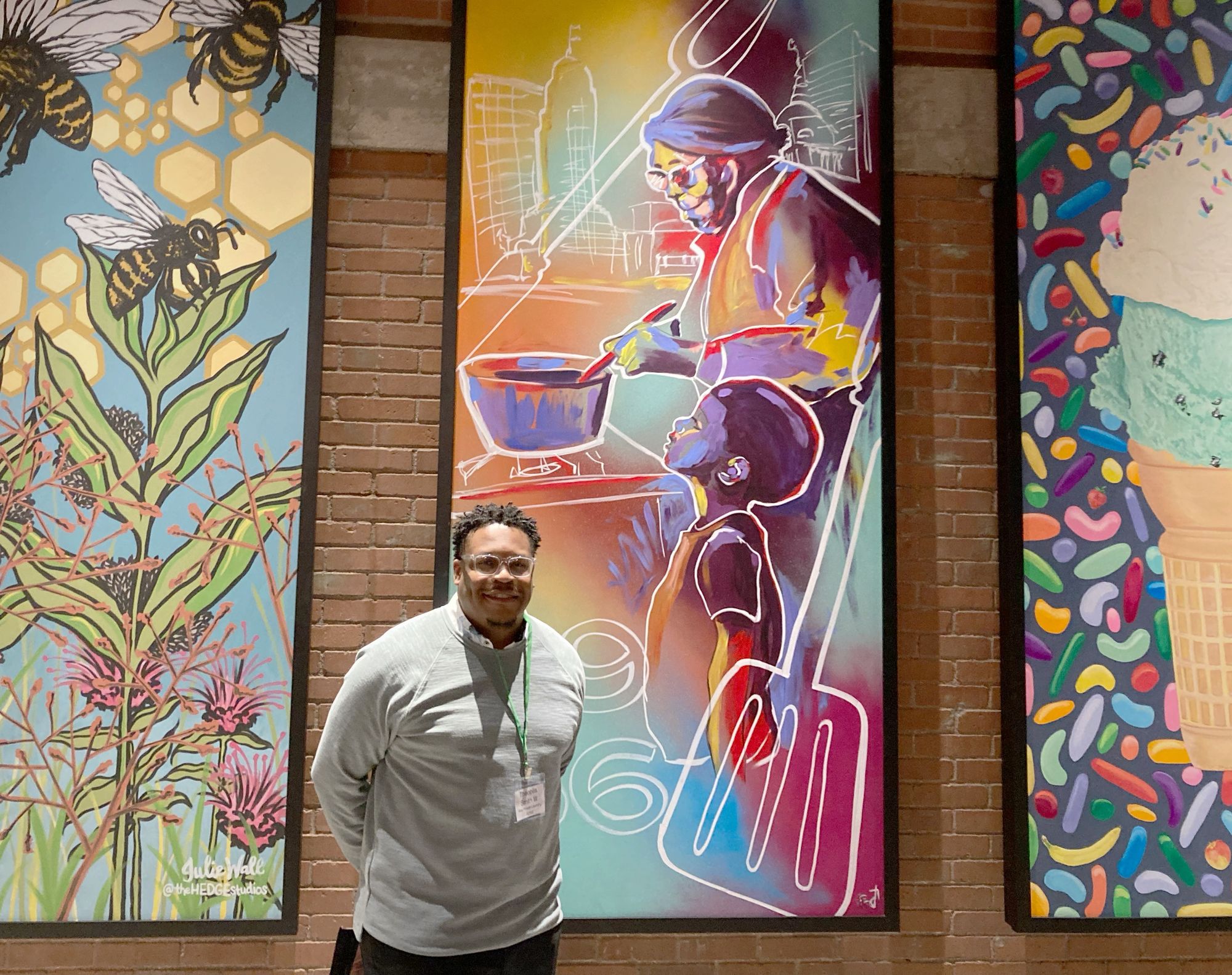 You might know him as: Phresh Laundry (@thatlaundry)
Previously: Theo has done multiple murals around town (including one in the railroad underpass leading into Union Street Market). He became one of the most prominent local artists in Fort Wayne in the 2010s, doing live paintings at events and producing powerful portraiture that blends realism with pop culture and organic forms.
Smith's work has received national recognition and been purchased by the likes of Oscar-winning filmmaker Spike Lee. During the pandemic, he also received a special note from the sister of George Floyd, Bridgett Floyd, after painting and posting a portrait of George online.
Reflecting on the experience, Smith says: "It shows you what the power of what art can be. It shows you that if you put things out into the atmosphere, you never know who will resonate with them, whether it's Bridgett Floyd or Spike Lee or the person who lives next door to you. You never know who you might impact."
About his mural at the market: It features a child watching a family member cook, intended to represent the origin story of Brooks BBQ & Chicken. Cameron Brooks is a fourth-generation owner of the restaurant, which features recipes handed down by his family, including a special barbecue sauce made by his great grandmother, "Big Ma," who moved from Mississippi to Fort Wayne in 1965. Her sauce is still on the menu.
What's next for him? Smith is working on more murals around town and on letting his fans know more about who he is behind the scenes. "I'm explaining more about my art and why I do it," he says. "I think it's important for people not only to see my art, but also to see my heart behind it."
His hopes for Fort Wayne? "I'd love to see an art boom in Fort Wayne," he says. "You've seen how Detroit is, how Harlem is, how Texas and the West Coast are. We could have that here, if more leaders let the arts off its rope. Fort Wayne can be a conservative community; we don't need anybody's permission to be great, but we do need more people to say 'yes' to art. You can see the value of it here and what it can do in spaces like this where art is existing now. But this is only the forefront; this is the foundation. Let art into places you don't think art should go…. You're going to need us."
Who he's watching in the local art scene: Bonnie "She's on fire," Smith says. "She calls me an 'OG,' so I feel super old now. But on the same token, she's my cohort here."
---
2. Artist: Bonnie 'Bonjo' Andrews
Her mural represents: Bragg-A-Lot Sweets & Drinks (@bragg_alot_sweets_and_drinks)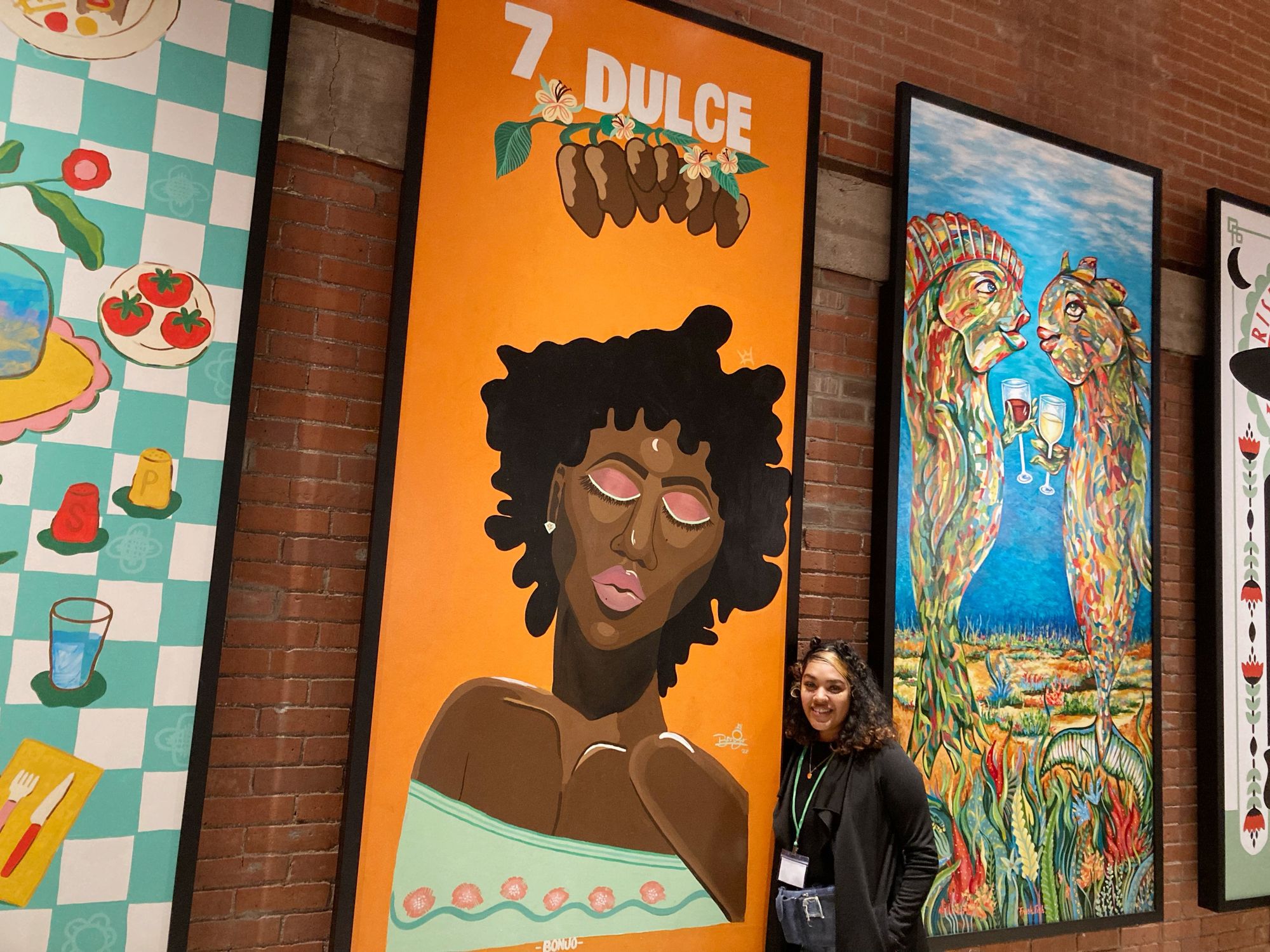 You might know her as: Bonjo (@bonjo3x)
Become a FREE member to continue reading.
Get access to all of our original stories and newsletter by subscribing below.