Q&A with Brooks BBQ at Electric Works: Its family roots and what's next
"Little did I know the dream I had planned wasn't the plan God had for me."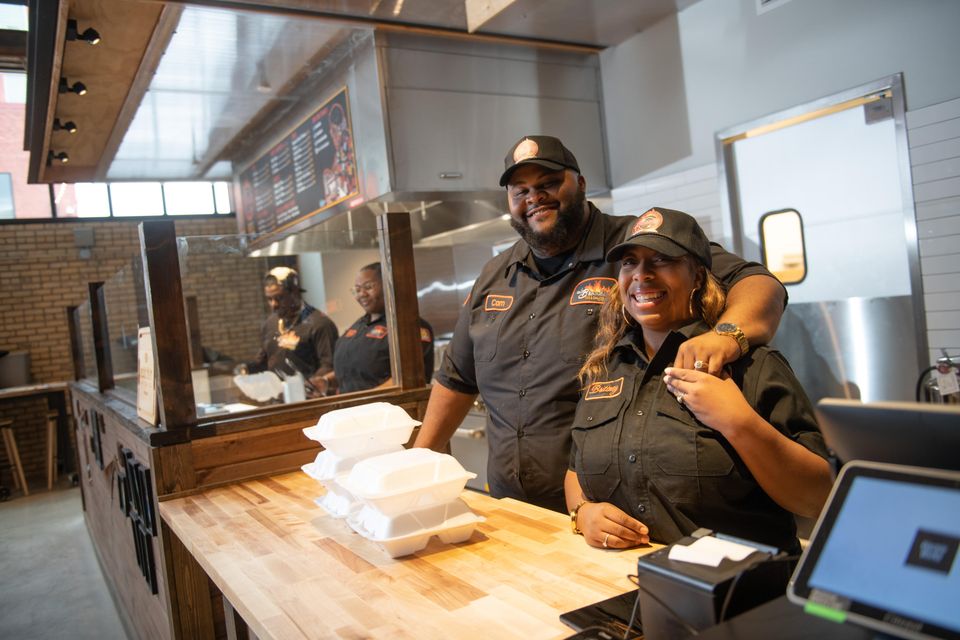 You might assume Cameron Brooks was born to BBQ. A fourth-generation chef, his great-grandmother, Epsie Brooks, founded Fort Wayne's first black-owned barbecue restaurant in 1966 called Brooks BBQ and Chicken at 1402 Winter St.
Brooks himself flipped his first ribs there while sitting on his grandmother's knee when he was only six years old. But he didn't plan on taking over the family business growing up. Instead, he wanted to be a singer and began "chasing a music dream as a gospel and solo R&B artist."
Sadly, while he was in high school, his father's health started declining, so he stepped up at the restaurant more, and in 2010, his family had to close their beloved BBQ joint while he was in college.
---
Did you know? Each week we sift through Fort Wayne's news for you and break down the top things you need to know in a simple, time-saving newsletter. Subscribe for free!
---
But when Brooks graduated and returned to Fort Wayne, his gospel singing group needed to fundraise for a tour, so he began selling dinners from his house, using his family's special sauce. And the community responded.
"As soon as people saw we were using Brooks special vinegar sauce on our dinners, our post on Facebook went crazy, and we got more than 200 shares in an hour," Brooks says.
By 2017, his music career was taking off, and he made it all the way to ABC's "American Idol," where he got a chance to audition — and cook his famous BBQ ribs — for the show's all-star cast: Ryan Seacrest, Luke Bryant, Lionel Richie and Katy Perry.
"Ryan Seacrest is an avid vegetarian, but I got him to eat my ribs on camera, and he liked them," Brooks says. "That's one of my proudest accomplishments."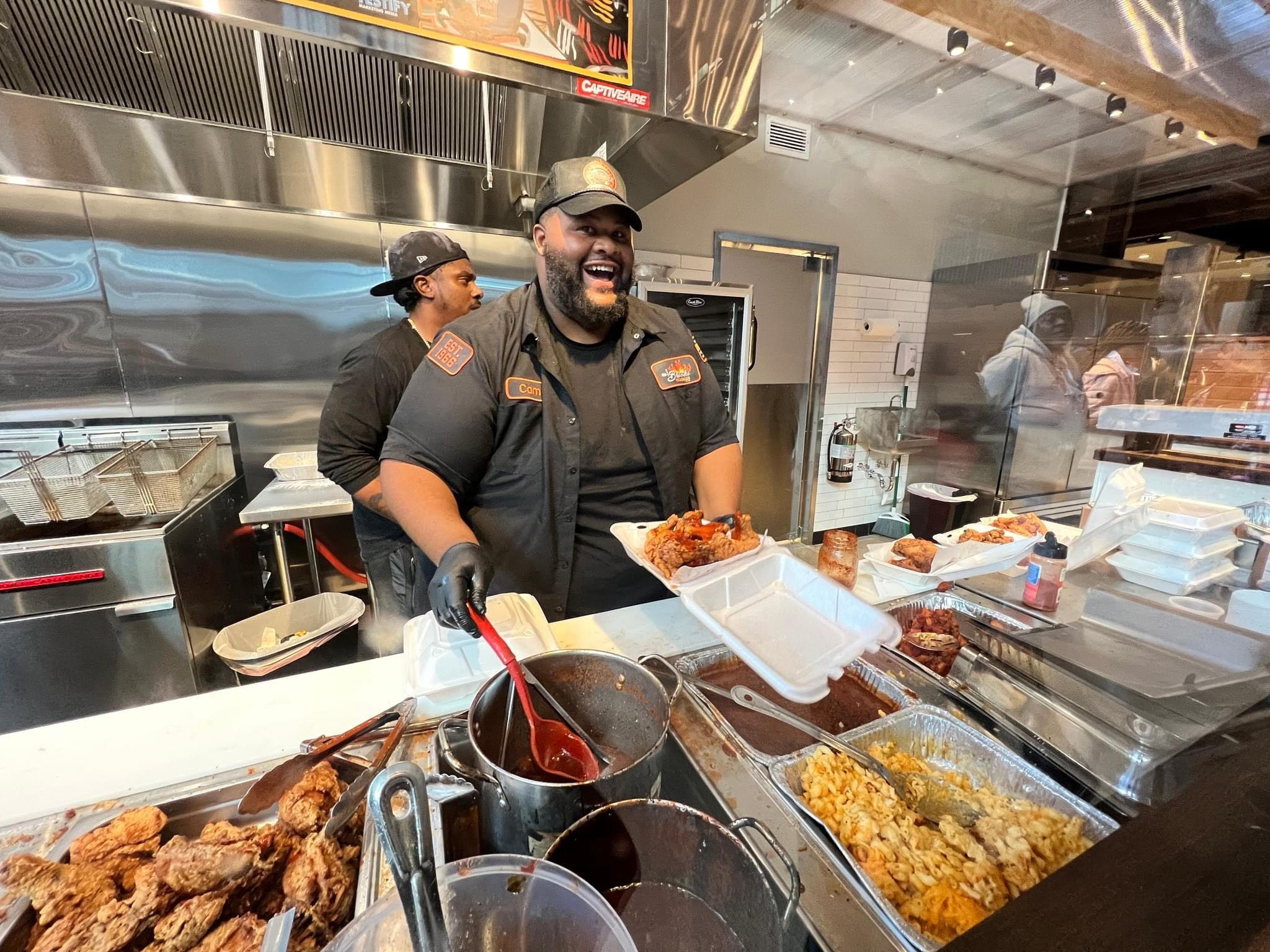 While he didn't progress in the singing competition, he returned to Fort Wayne with a passion to fire up the grill again and make BBQ a bigger part of his life.
"When I got on 'American Idol,' I thought I was finally going to live my dream in music," Brooks says. "But little did I know the dream I had planned wasn't the plan God had for me."
Back in Fort Wayne, he started selling so many BBQ meals out of his house that he got into some trouble with his landlord and the City of Fort Wayne. Eventually, with the encouragement of fellow food entrepreneurs, like Charles and Audi Law of One Love Food Truck and Ziffles Zip N Go, Brooks decided to make his business official and invest in a food truck for it just after the COVID-19 pandemic.
"That was a big turning point," Brooks says. "A lot of people were looking for safe ways to get food after the pandemic, so we started to get corporate gigs about once a month and sell at special events. But we built the bulk of our business selling at a gas station parking lot at Lima and Ludwig roads near Sam's Club."
When he saw a post about the city's Union Street Market food hall opening at Electric Works and seeking food entrepreneurs, he applied and was accepted as one of the market's first vendors. Today, Brooks continues to operate his food truck about twice a week for events and spends the majority of his time building his business at Electric Works, where his great-grandmother's legacy began.
We sat down with Brooks to learn more about his business, what's next for him and his favorite things about Fort Wayne's local food and culture.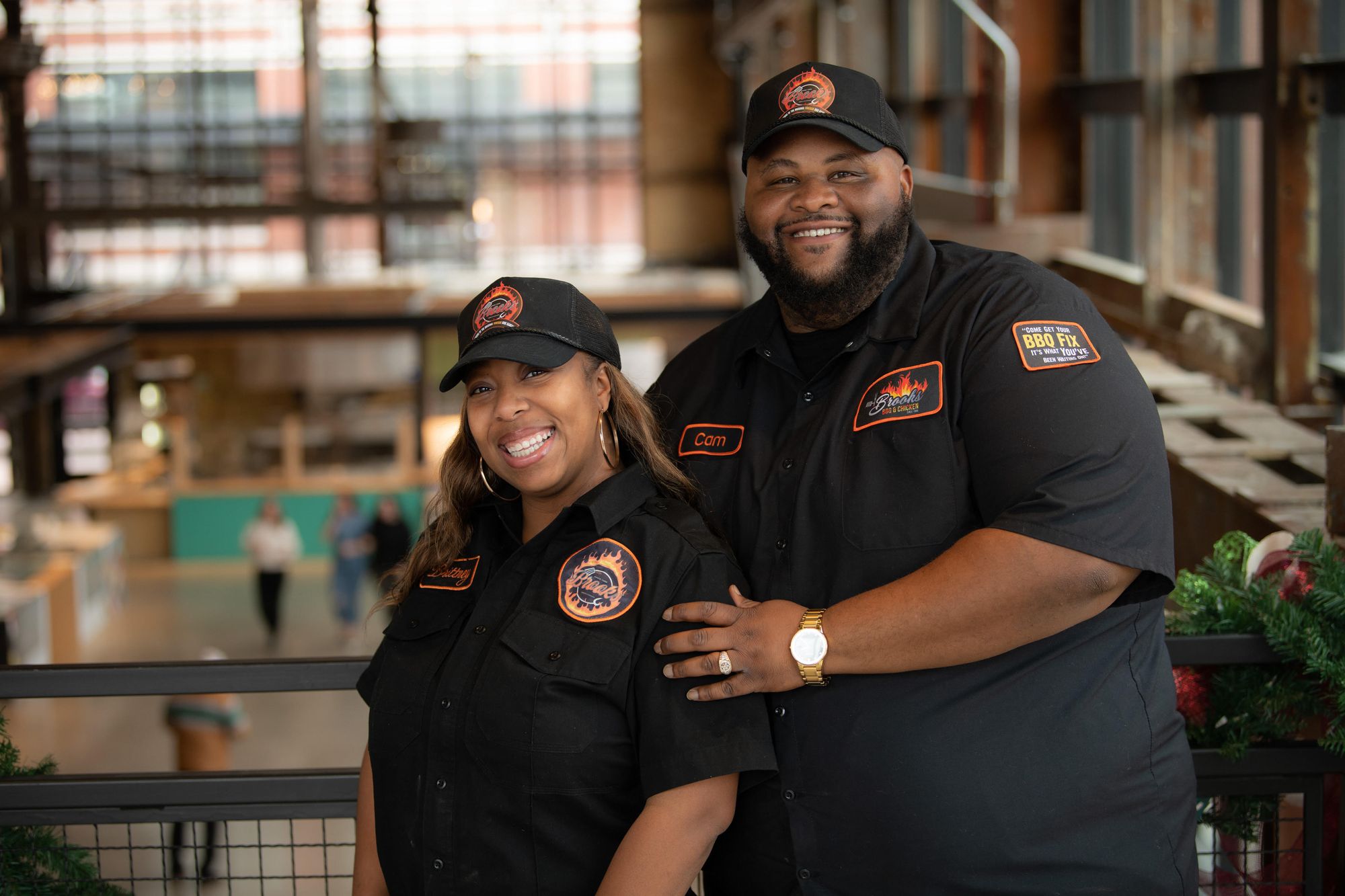 ---
In some ways, Brooks BBQ is back to its roots at Electric Works. Tell us more about your family's history with the campus.
CB: When my grandmother started the family restaurant on Winter Street in 1966, it was a laundromat, and she turned it into an ice cream parlor first. Then sometime between her selling ice cream and sandwiches, she started selling meals to local factory workers, and Harvester and GE were both big clients of hers. So she would come here to the GE campus to sell sandwiches and cookies to people working on their lunch breaks. Then one day, she had a BBQ, and everyone told her: You should sell this instead, and so she did, and it went crazy.
In that way, you might say the concept for Brooks started here, and I'm just honored to be back and to be part of the future of Electric Works. The Union Street Market food hall started with a lot of excitement, and as many people know, we've faced challenges with foot traffic on campus, as the project is still developing.
But we're thankful still able to be successful and to offer something people gravitate toward. It's been reassuring to know that we have fans, a following and a product that people desire enough to come out and get it. We have more than 10,000 followers on Facebook, and I really appreciate our community there. Our Instagram following is gaining traction, too.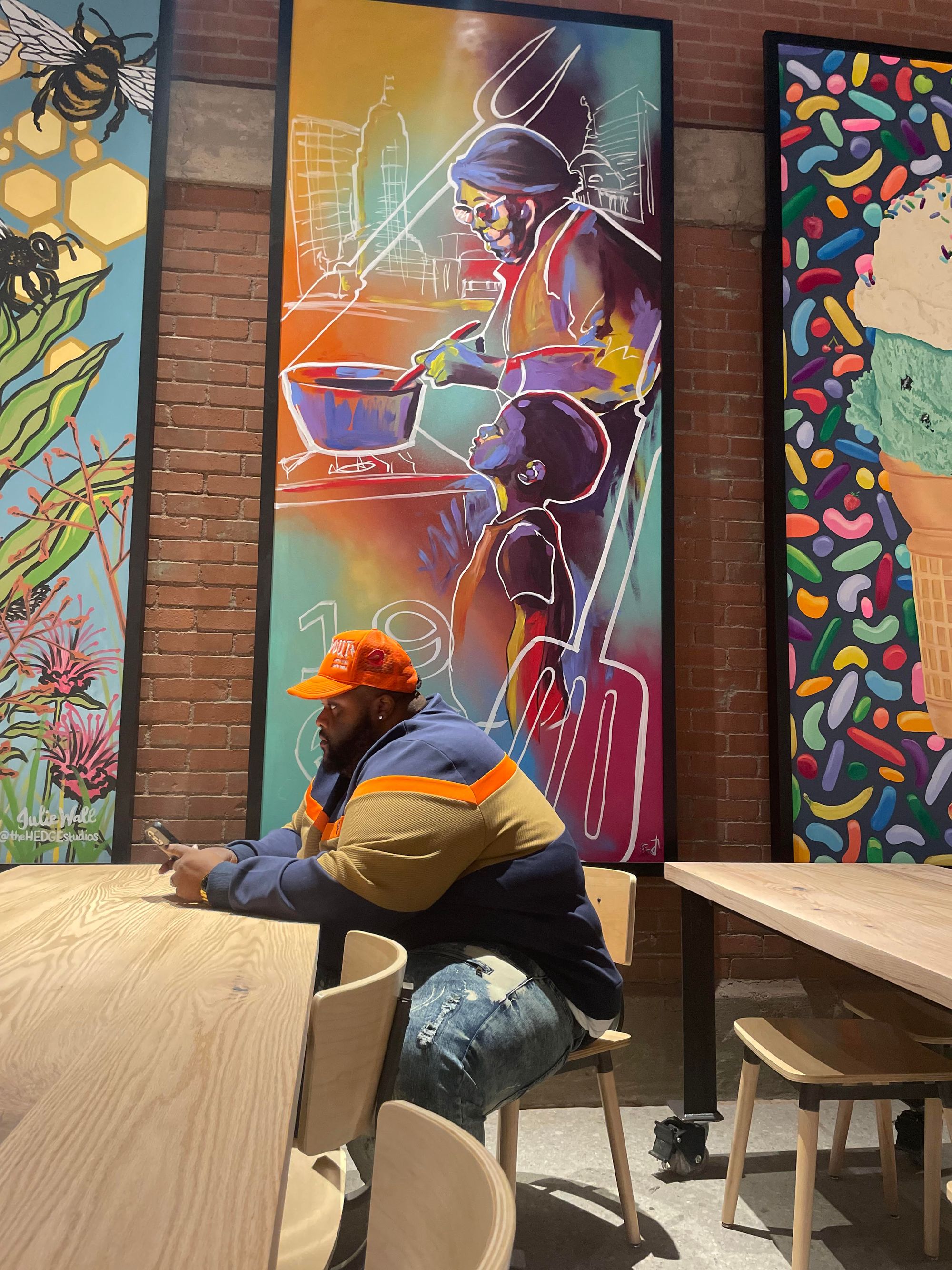 What would you say to people who are skeptical about Union Street Market or Electric Works?
CB: The thing people need to understand is that Electric Works can't happen and become what's meant to be without their support. A lot of people might say "Electric Works isn't what it's supposed to be," or "it's a glorified food hall," but I think people need to give it a chance, or it's a self-fulling prophecy, and it will never work.
My wife and I sponsor an annual Truck-or-Treat event, and we did it at Electric Works in Dynamo Alley last weekend. About 3,000 people came out! In December, we're doing a toy drive for Christmas, too, so we're investing, and we've got a lot of good things going on here. We see a lot of opportunity for this space to be something great for the community, and we hope other people do, too.
What challenges and opportunities have you faced in small business ownership?
CB: One of the biggest challenges in business is getting people to know the real you and get past that surface layer. For me, being a bigger Black guy, a lot of times people will look at me and be intimidated, not knowing I'm the nicest, coolest, teddy bear out there. I've been told I have this look like: I mean business, but I don't feel that way inside. I'm very conservative when it comes to speaking out about things, and it's hard for me to be outgoing unless I'm very comfortable with people. And when you're quiet, people can take that the wrong way.
The biggest opportunity I see is that I have a product people are looking for and not only that, but I have an opportunity to change the standard of what people think when they see someone who looks like me. I have braids now, and if you saw my hair, you might not think I was a serious business owner. But I like that I'm able to be myself, and people respect me for that.
The biggest opportunity is showing people they can do the same thing I'm doing and just be themselves. You don't have to be super special to accomplish big things. You've just got to grind, lay the groundwork and not quit when things get hard. I have drive and vision and goals, and I'm not going to stop until I reach them.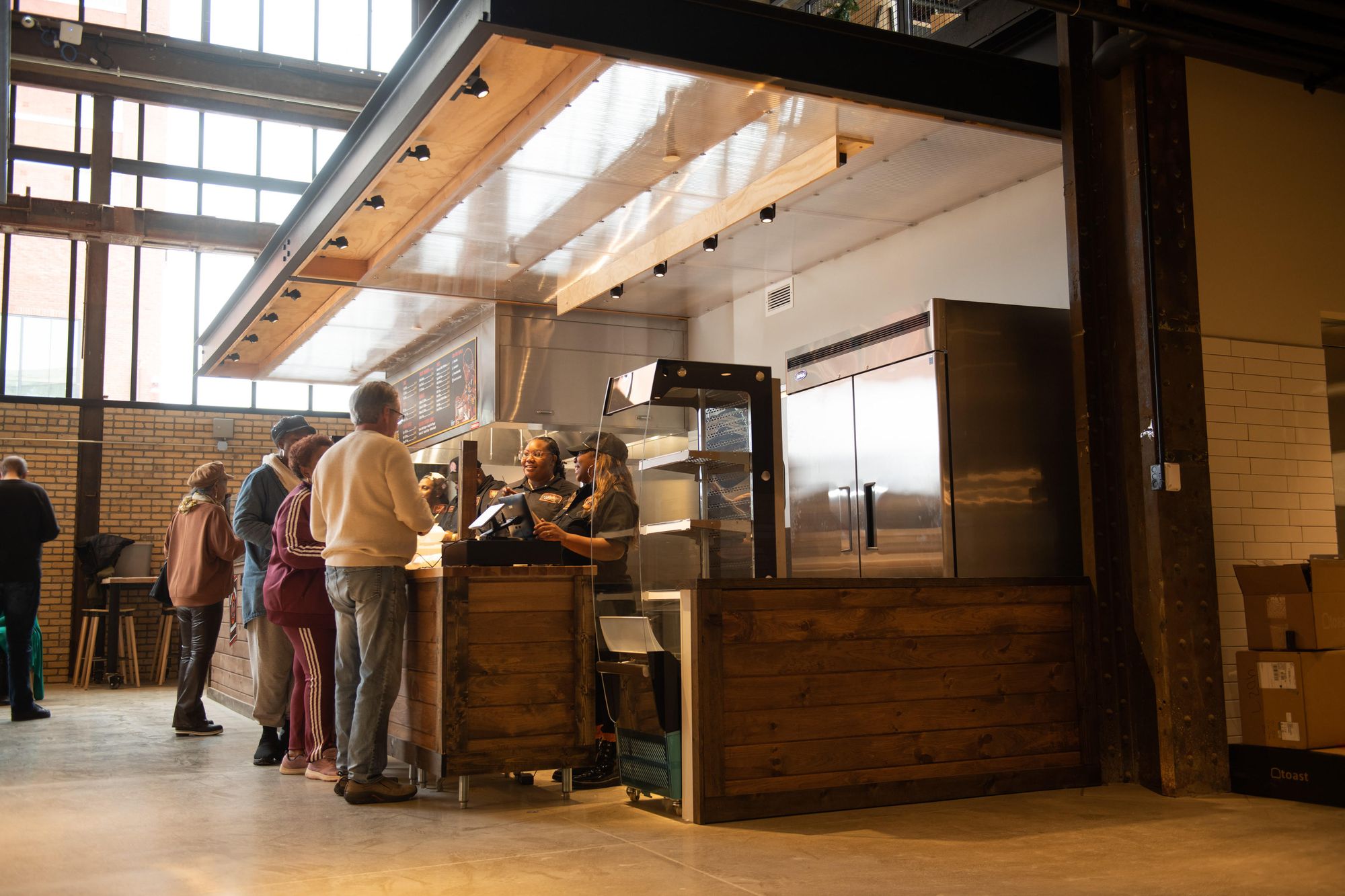 If people are coming to Brooks BBQ for the first time, what would you recommend to them?
CB: If there's a day of the week you have to pick to come to our location at Union Street Market, I would suggest Sundays. That's the day we go crazy in the kitchen, for lack of better words. We do Soul Food Sundays where we pull out all the stops — greens, turkey dressing, fried corn, and a special meat that's sometimes a pot roast, a pork chop or a roasted chicken. Then of course we have our normal Momma's Mac 'N Cheese, our candied yams and potato salad.
Any day of the week, you can't go wrong with our rib tips with our Brooks special sauces. My Momma's Mac 'N Cheese is one of kind, too. It's simple, but it's complex at the same time, and extra creamy and cheesy.
For our special sauces, we offer a vinegar-based BBQ sauce, similar to a North Carolina sauce crossed with a Mississippi vinegar sauce. We have both Hot and Mild versions of that and a Sweet 'n Sour version, which is our take on traditional BBQ.
Our most popular sauce by far is our Brooks Mild. These days, since Electric Works, it's the Brooks 2.0 sauce we're known for. That's my grandma's original mild, mixed with the Sweet 'n Sour on top. You can also get that made with Brooks Hot, and that's my favorite sauce personally.
We also have a Buffalo Ranch and B's Sweet Heat sauce, which is a blend of all of our sauces together.
What's next for you and Brooks BBQ?
CB: I want to continue growing at Electric Works and keep the food truck rolling. I definitely have plans for another restaurant concept, and I'm actively looking for spaces for that. I want to get going on it ASAP, and it's not a BBQ business; it's something fresh people will love, so if anybody knows of a good space for a restaurant that's available, please let me know.
What do you think about how Fort Wayne's food scene has evolved in recent years?
CB: I love where it's going. Coming from a guy who grew up on the East side where all we had was McDonald's, Taco Bell and Rally's and the occasional rib tips from King Gyros, now we have all these quality, local options. I love the Landing; I love Electric Works; I love all the entrepreneurs doing cool stuff here. Fort Wayne is an entrepreneurial city, and I believe there's opportunity for anybody who tries something and believes in themselves enough to keep going when things get hard. I love where it's going.
What other local restaurants and entrepreneurs inspire you?
CB: Bravas and Mercado are my top to favorite local restaurants. At Bravas, I love the cheeseburgers, and at Mercado, I love their fresh takes on a lot of traditional dishes, like those Cali AF tacos.
I'm also inspired by entrepreneurs like Lacy Curry from Neighborhood Smoke House. He's my godfather, and since we both own BBQ spots, people sometimes try to pit us against each other because they don't know we talk a lot. We always joke about that, and I can honestly say a lot of my knowledge about BBQ I've gotten from him and my dad. I call Lacy many times when I have questions, and he always available.
Another person who's a huge inspiration to me would be Theopolis Smith of Phresh Laundry. I've known Theo for about 10 years, and to see how his career has evolved is really a true testament to my main belief that you can do what you want to do in your career if you believe in yourself. Theo created a lane for himself in the art world, and I feel like he's made art cool again in Fort Wayne. Seeing the opportunities he's getting and the things happening for him locally and nationally is an inspiration to me.
What are some of your favorite things to do in the city?
CB: I love Music Lovers Lounge events with DJ Polaris and DJ Barrage. I also love trivia nights with Aaron Montgomery of AM2Funny and comedy by Kam Coleman, Who Got Snacks. They're all my friends, and they're doing great things in the city that people might not know about.
I feel like the reason why a lot of things don't take off the way they could in Fort Wayne is because people don't know they're happening. I'm trying to get the word out.
Are you a paid subscriber to The Local? This month, we're teaming up with Brooks BBQ to bring all paid subscribers a special deal. Buy any rib or chicken tips at their Union Street Market location, and get a FREE side dish! Become a paid subscriber now for just $3 to claim your offer!