June 6, 2023 | Changes are coming to the Broadway Corridor...

Hey Locals,
This week, we're talking about a public meeting tomorrow night to discuss the future of the Broadway and Taylor intersection near Electric Works. We also spotlight Lunar Infusions, Fort Wayne's first kombucha and wellness bar, and we introduce a new "Classifieds" section of the newsletter, where you can list your events and announcements with us.
Want a sweet deal? This month, we're teaming up with Lunar Infusions kombucha and wellness bar to bring all paid subscribers to The Local a FREE 16 oz. kombucha or craft soda at Union Street Market. Join us, and become a paid subscriber now for only $3 to claim your free drink!
Now, let's get started!
---
Talk of the Week
The top story we're following.
Now that Electric Works is open, changes are coming to Broadway & Taylor Street.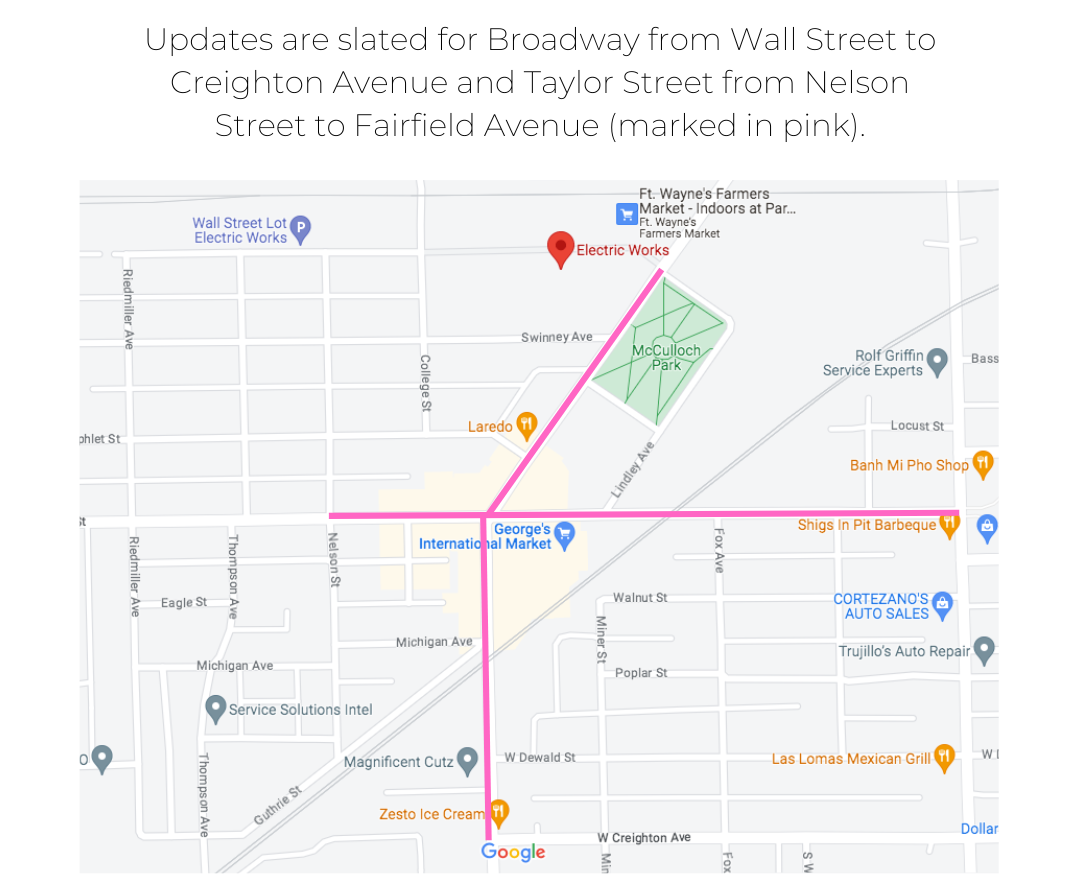 What's happening?
The City of Fort Wayne is inviting residents to attend a public meeting for possible street changes coming to the intersection of Broadway and Taylor near Electric Works, including a new single-lane roundabout, improved pedestrian facilities, traffic calming features, new lighting, new road surface, and landscaping.
Currently: American Structurepoint, a firm based in Indianapolis with a Fort Wayne Design Center, is completing a study on the project. Eventually, the City plans to apply for federal funding to help complete the project, a press release says. Tomorrow's meeting will outline plans and offer time for public questions and input.
When and where? Wednesday, from 6-7 p.m., at Electric Works in Building 19's Paddock Room at 1690 Broadway. (Free parking for two hours is available at the Union Street Market garage or surface lot South of the building.)
Why it matters?
Broadway and Taylor are already key arteries on the South side, connecting the booming neighborhoods of Downtown and the '07. These corridors are also home to many local businesses, art experiences, and amenities, like McCulloch Park. As Electric Works brings more housing and businesses to the area, increased traffic is likely to require infrastructure adjustments of some kind.
So how effective are roundabouts, and what are locals saying about the plans? We break it down in our premium newsletter.
Become a FREE member to continue reading.
Get access to all of our original stories and newsletter by subscribing below.