GK Baked Goods shares details on its new cafe and grocery market in Downtown Fort Wayne
Get a sneak peek inside the new GK Cafe & Provisions, and hear about it from Grace Kelly May herself. By The Local Fort Wayne.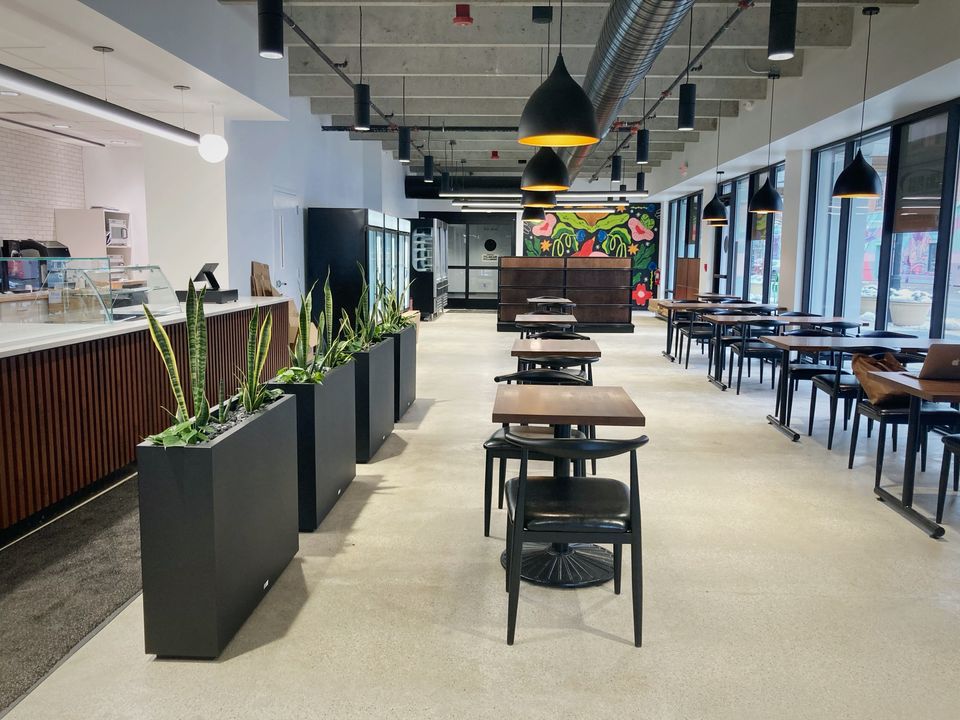 Step inside the new GK Cafe & Provisions at the corner of Harrison and Berry streets, and you'll feel like you're in a sleek big-city bakery with white subway tiles, black pendulum lamps, and clean, minimal aesthetics.
That's exactly the vibe Chef and Owner Grace Kelly (GK) May is going for. Born and raised in Fort Wayne, May is a classically trained pastry chef who studied in Chicago and has worked and managed kitchens across the U.S.—starting as young as age 23.
Now in her 30s, after years of building her brand locally at Junk Ditch Brewing Co., where her ooey gooey cinnamon rolls are the quintessential brunch accessory, May is opening a long-awaited storefront of her own.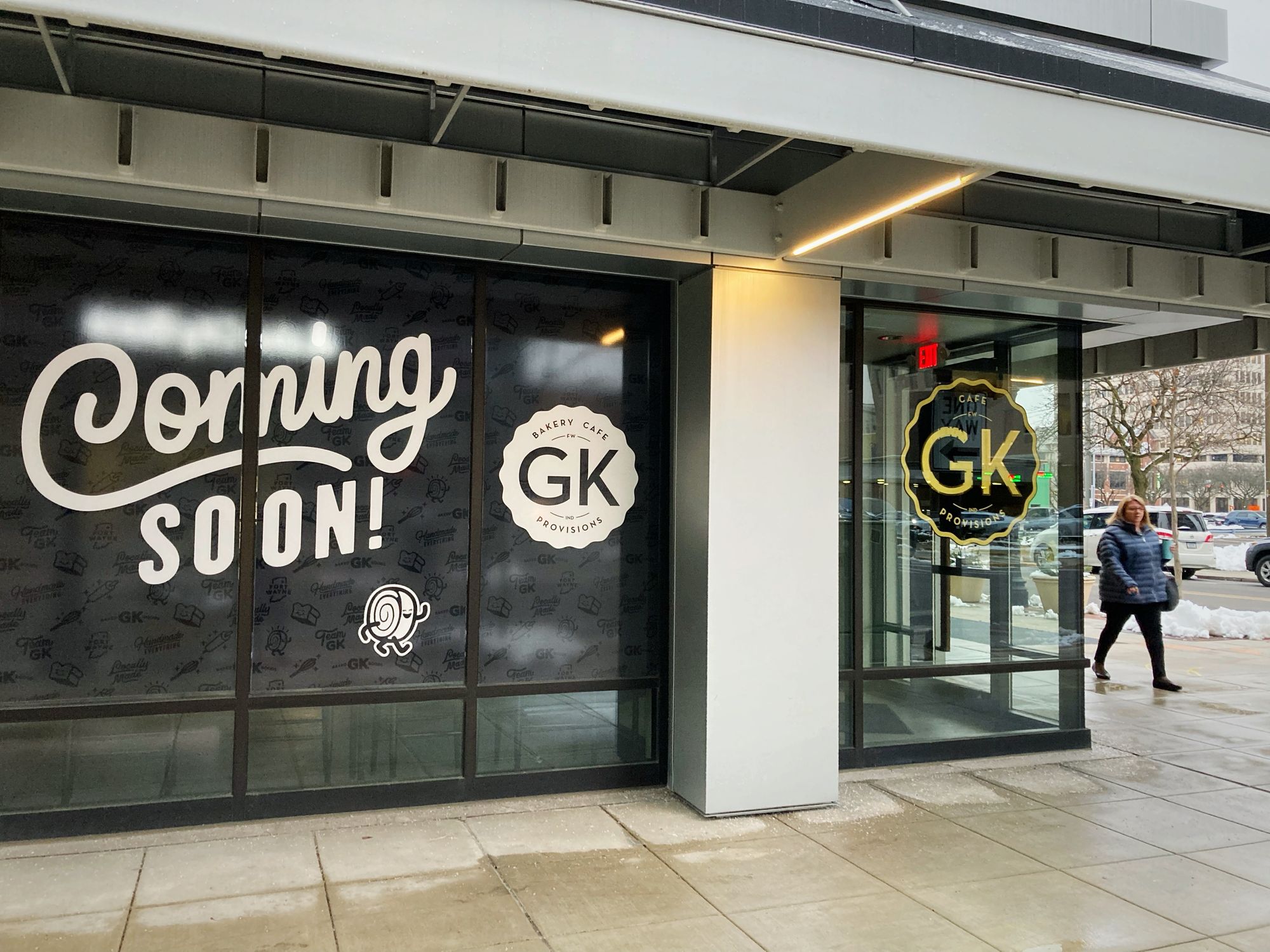 But while she hopes GK's cafe—which doubles as a small grocery market Downtown—will give locals a taste of metropolitan pâtisserie culture, one element of the experience you won't find in her display case are the exclusively high prices.
"We want this space to be as accessible as possible, so you're not going to spend $15 on a croissant here," May says. "But we'll still have macarons and all of the good stuff you find at big city bakeries."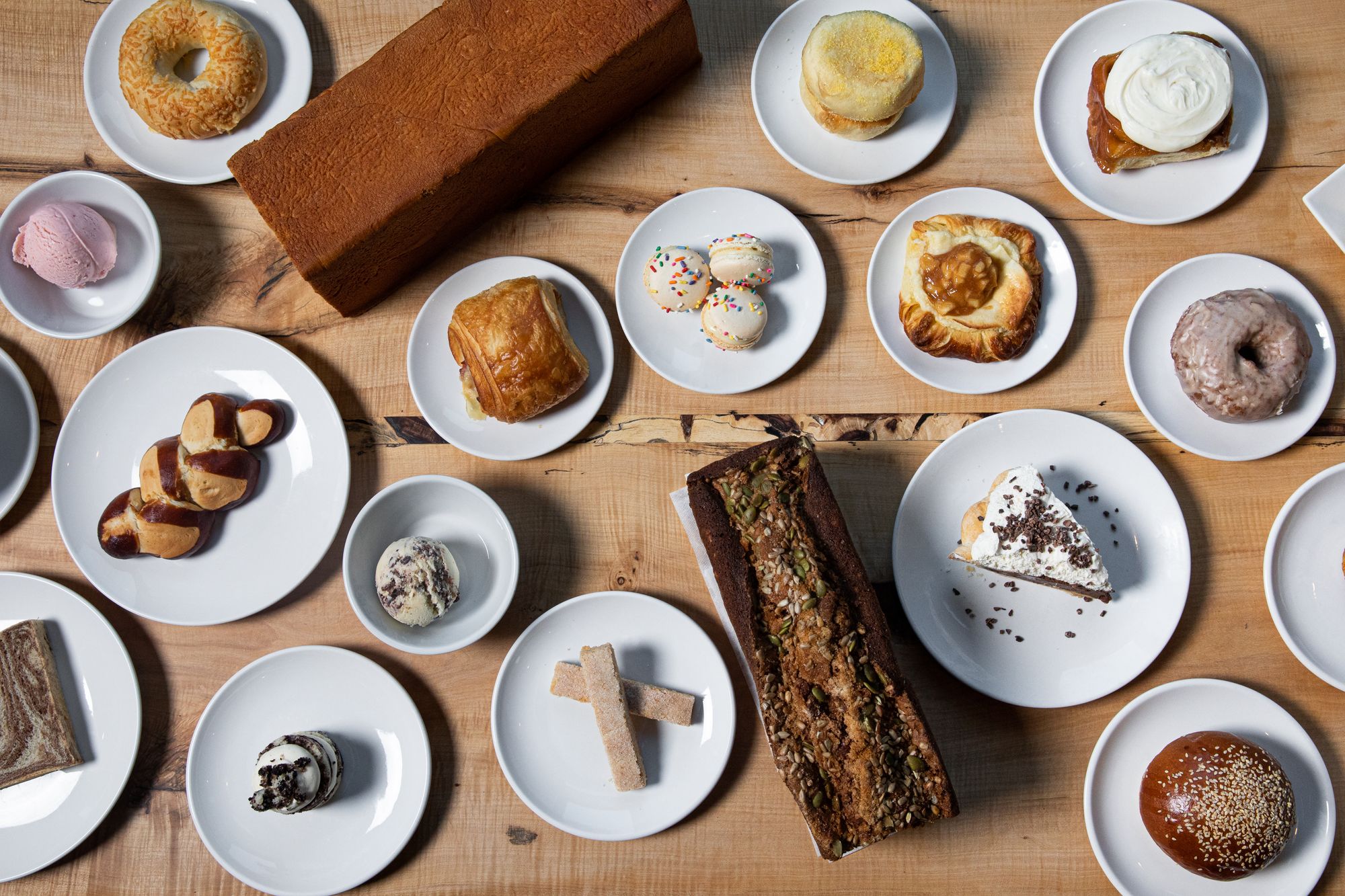 While May plans to carry some specialty products, including farm-raised produce and meat at the market, she and her team are working carefully to keep prices inclusive and fill gaps in Fort Wayne, starting with a Downtown grocery, of sorts.
For years, Downtown residents and visitors have asked for a grocery, only to watch many projects start and stall. The "provisions" side of GK's cafe will offer a few shelves of farmers market goods, grab-and-go items, and even some overnight essentials, so you won't have to leave Downtown to grab a gallon of milk or a roll of paper towels.
Ultimately, May says it's about supporting Fort Wayne's community any way she can.
"Community is the most important thing to all of us at Affiné," May says.
GK is a member of the Affiné Hospitality family of businesses, which started with the Affiné Food Truck and grew into Junk Ditch Brewing Co. May's husband, Jack May, was one of the founding members of Affiné, and when his team needed a bun baker, she initially declined.
Feeling burnt out by big-city baking culture, May left the industry for a stint to work in health insurance sales and as a server. But eventually, she found herself back in the kitchen, baking for Affiné and later Junk Ditch.
"I started producing breads for them and then for Bravas, too, and people started asking: Hey, where'd you get this bun from?" May recalls. "My goal wasn't necessarily to go out and start a bakery. But it turned out that way."
Today, GK Baked Goods makes an extensive line of products, ranging from sourdoughs to scones, croissants, cinnamon rolls, and ice creams. She and her team of about 15 employees work out of Junk Ditch's kitchen (where they will remain as HQ). They sell out of the GK Pastry Truck at local farmers markets and events. You can also find their products at several Fort Wayne grocery stores and coffee shops.
Their new cafe at 202 W. Berry St., Suite 120, will be their first self-owned location. But it's only the beginning of what they have in store for the city.
We sat down with May to get details on her menu, space, and more!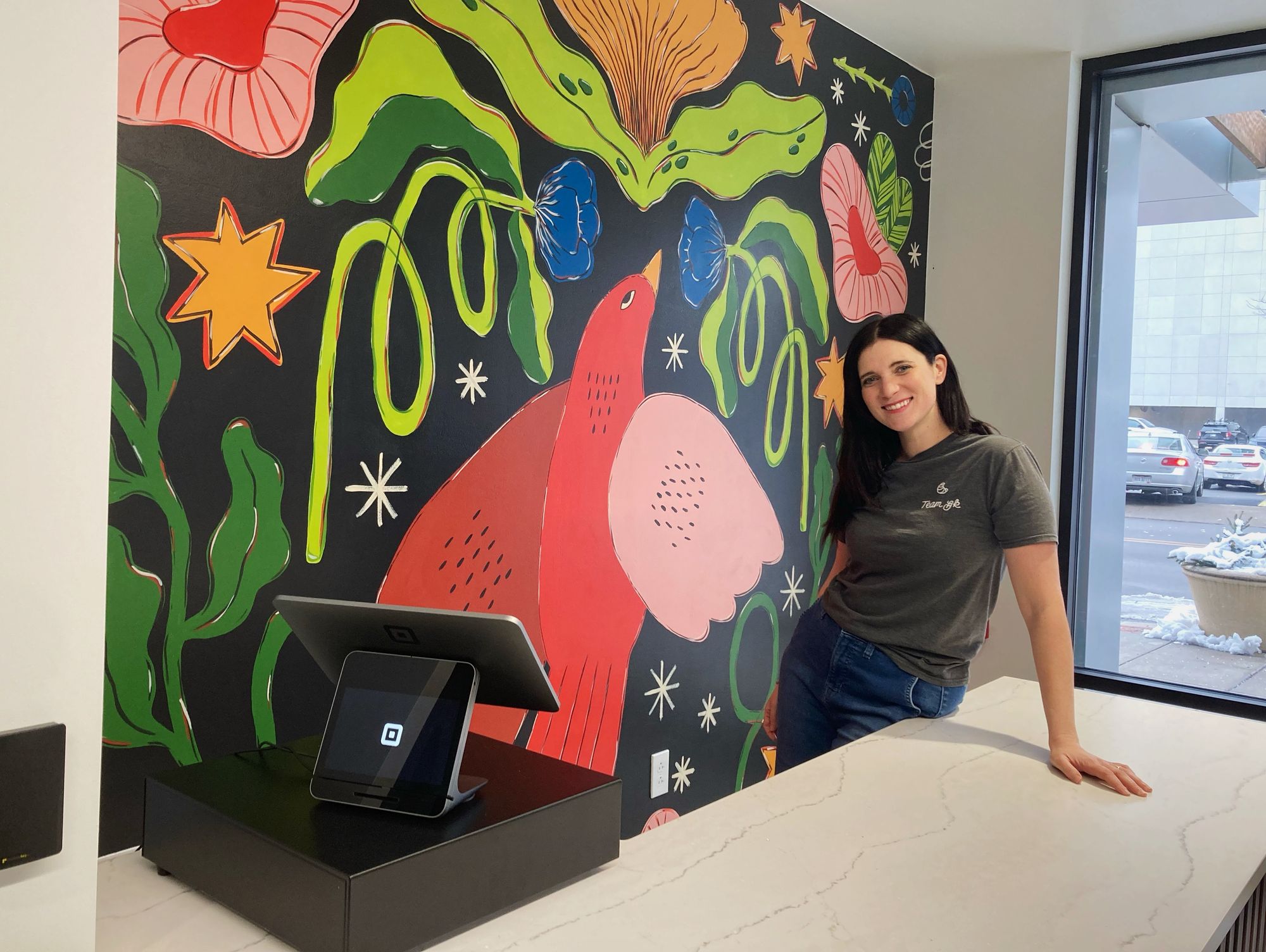 First and foremost, the question on everyone's mind: What will be on your menu at the new cafe?
GK: Pretty much everything you find when you visit us at the farmers market. We'll have our breads and sourdoughs, English muffins and pretzels. We're going to have a full pastry case with specialty croissants, cinnamon rolls, muffins, danishes, and macarons. We'll have our ice cream line, sorbet, and frozen yogurt. (We'll have pints in the freezer you can take home, too.) We'll also have all our handcrafted lattes and drinks with our housemade syrups. We're going to have a nitro cold brew, our house kombucha, house root beer, and I'm thinking about having our housemade lemonade on draft. So lots of cold drinks. Overall, it will be the favorites you know and love, and some specialty stuff from time to time.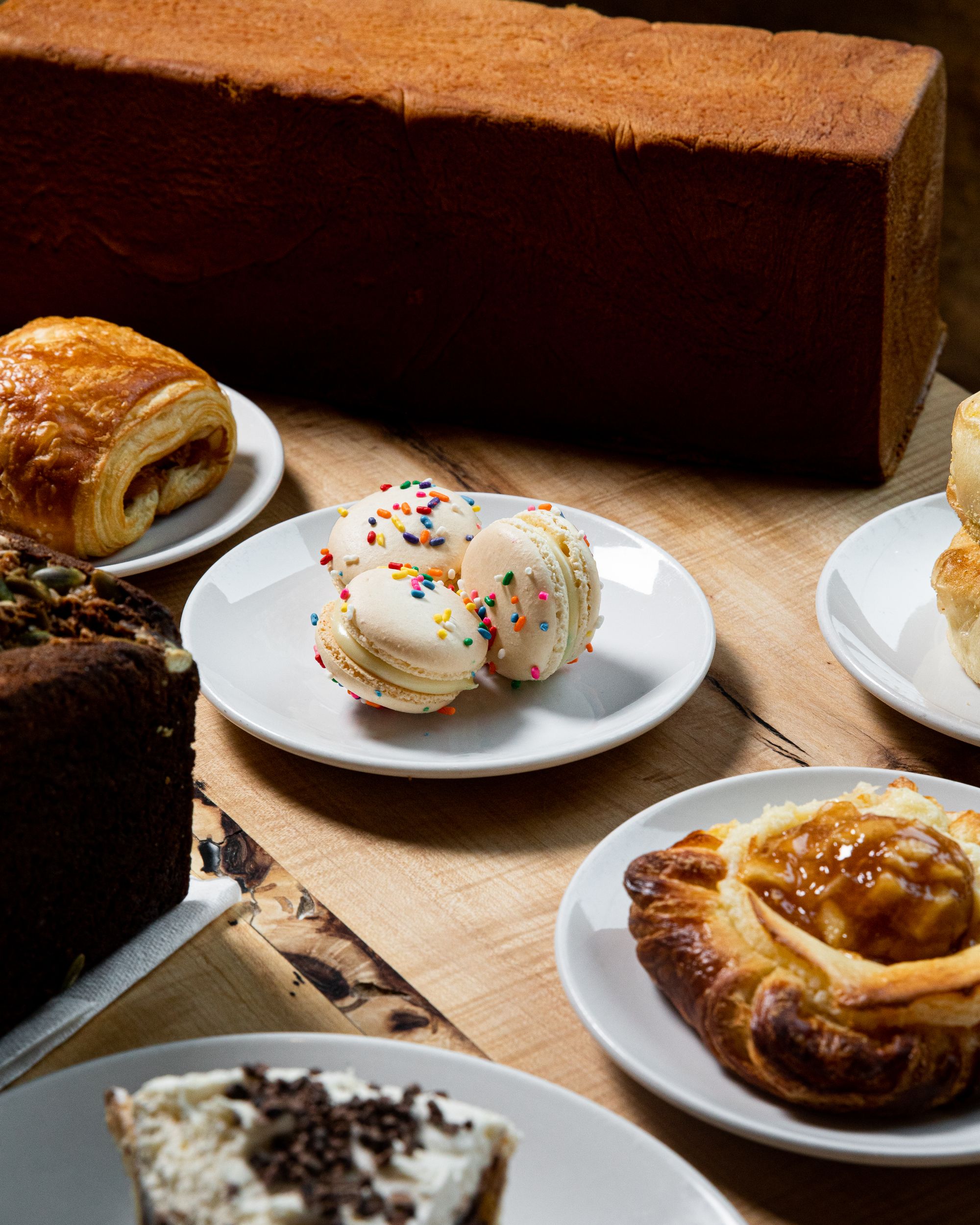 Any new products?
GK: Maybe! We've been testing a couple of ideas and thought about bringing back some of the stuff we've had in the past but discontinued. I've been getting wish lists from people, too.
What are your most popular items?
GK: We're most known for our cinnamon rolls. We even have a little cartoon cinnamon roll, designed by Matt Plett, on our window. I would say our almond croissant is the most popular after that. Those are the two products people will talk to me about for hours.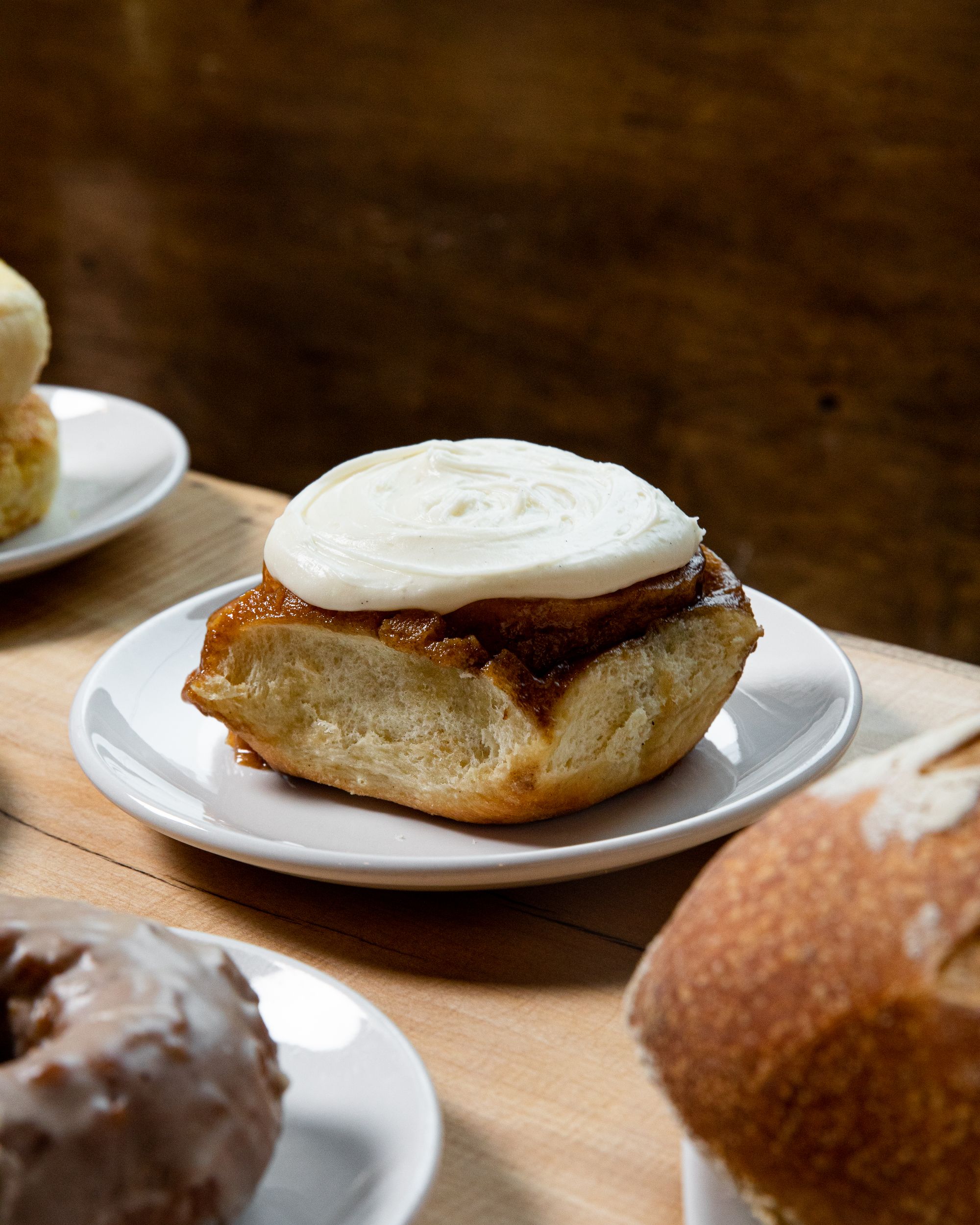 How did you come up with your amazing cinnamon rolls?
GK: We started doing brunch at Junk Ditch (back when we were serving it at the Green Frog), and I was coming up with new pastries each week. I was thinking of a cinnamon roll and a sticky bun, and was like: What's the best of both of these qualities? So I married them together.
People will email me for the nutritional information on those rolls, and I'm like: Please don't make me look! That's what makes them so good, though. It's that full-fat flavor. I have a very artisanal, handcrafted French side of what I do, and then, I also have the grandma, southern-style of baking that's just ridiculously over the top.
Does anyone inspire you, baking or business-wise?
GK: My mom, Sherry, has always been a mentor to me. She was a single mom who had her own hair salon when I was growing up in Waynedale. Seeing the drive she had as a business owner really instilled that work ethic in me. On the weekends, we would go to her salon and clean the floors together as a family. My sister would sweep; my mom would mop; and they would strap towels to my feet so I could dry the floors. I hated doing that. But it made me appreciate hard work and what it takes to have a small business—the sacrifices, the drive, all of that.
My mom also makes the best chocolate chip cookies ever! If it was a snow day, she was baking cookies, and even now, when I try to make them, I can't touch her quality. It does not taste the same!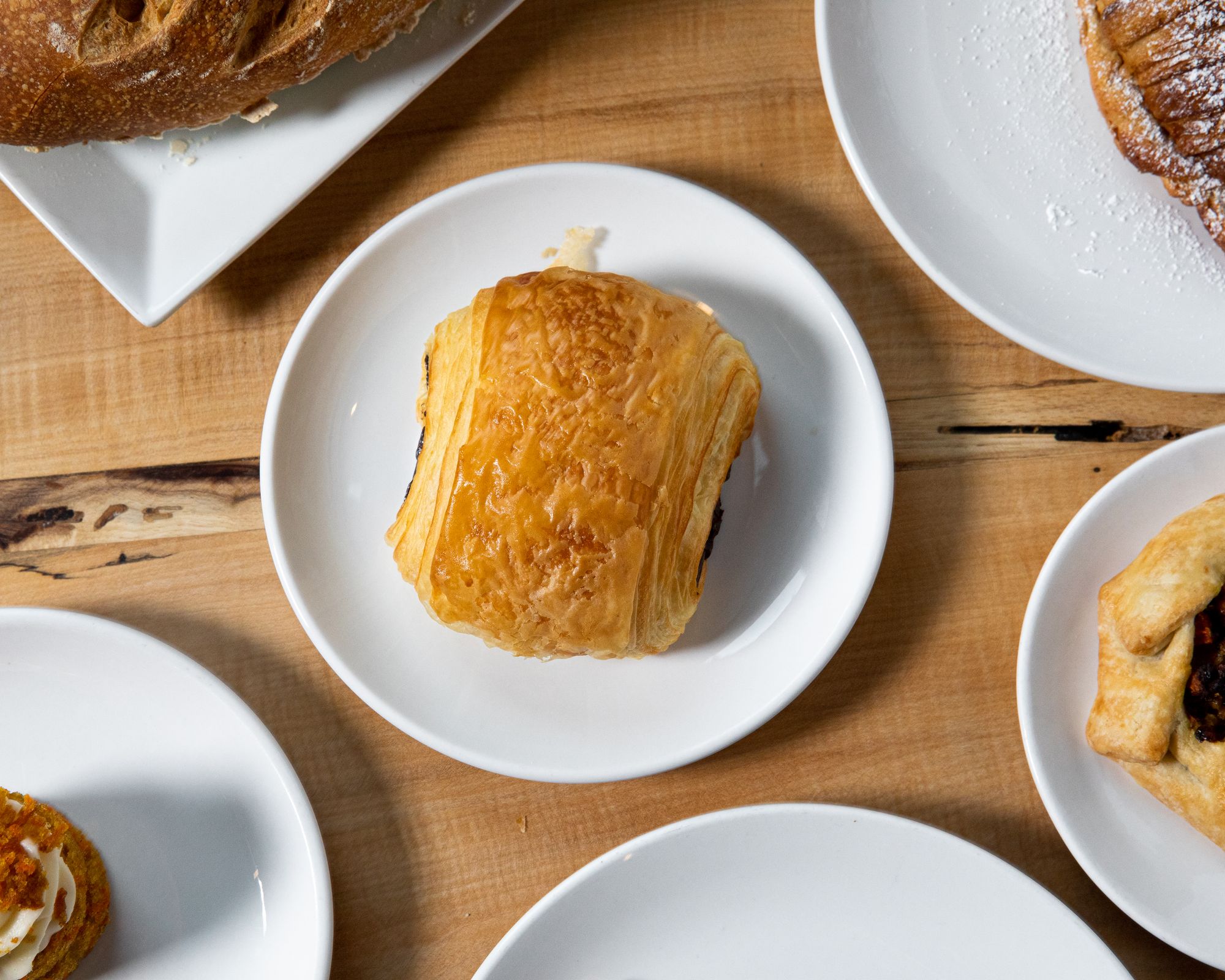 Tell us more about the "provisions" or grocery side of your new cafe.
GK: We wanted to have food and toiletries available for Downtown residents and visitors staying at hotels nearby, like The Bradley. But having a market did make me slightly worried because we've never really done it before. That said, we do have a lot of great relationships with local farmers through Affiné, and we've done a CSA program with Junk Ditch.
Part of what we love about the grocery element is how it can serve the community and bring up other small businesses that want shelf space, but don't have a retail store of their own yet. I've been calling it a "curated grocery" where we're not going to have 10 of any one thing, but we'll still have some of those toiletries and grocery essentials, and we'll highlight local stuff as much as we can.
What are some of your favorite products you've curated so far?
GK: I'm most excited to have another avenue to create a farmers market vibe Downtown and provide stability for our local farmers, giving them another place to sell. We'll have Wood Farms beef and pork. We'll have farm-fresh eggs, and hopefully, some local cheeses, milk, and butter. We'll have some basic, commodity items, too, like peanut butter and cereal. I even found some fun stuff, like dino-shaped chicken nuggets and pizza bagels, so it's not all serious!
We haven't finalized our grab-and-go section yet, but there will be options, like sandwiches or salads, too.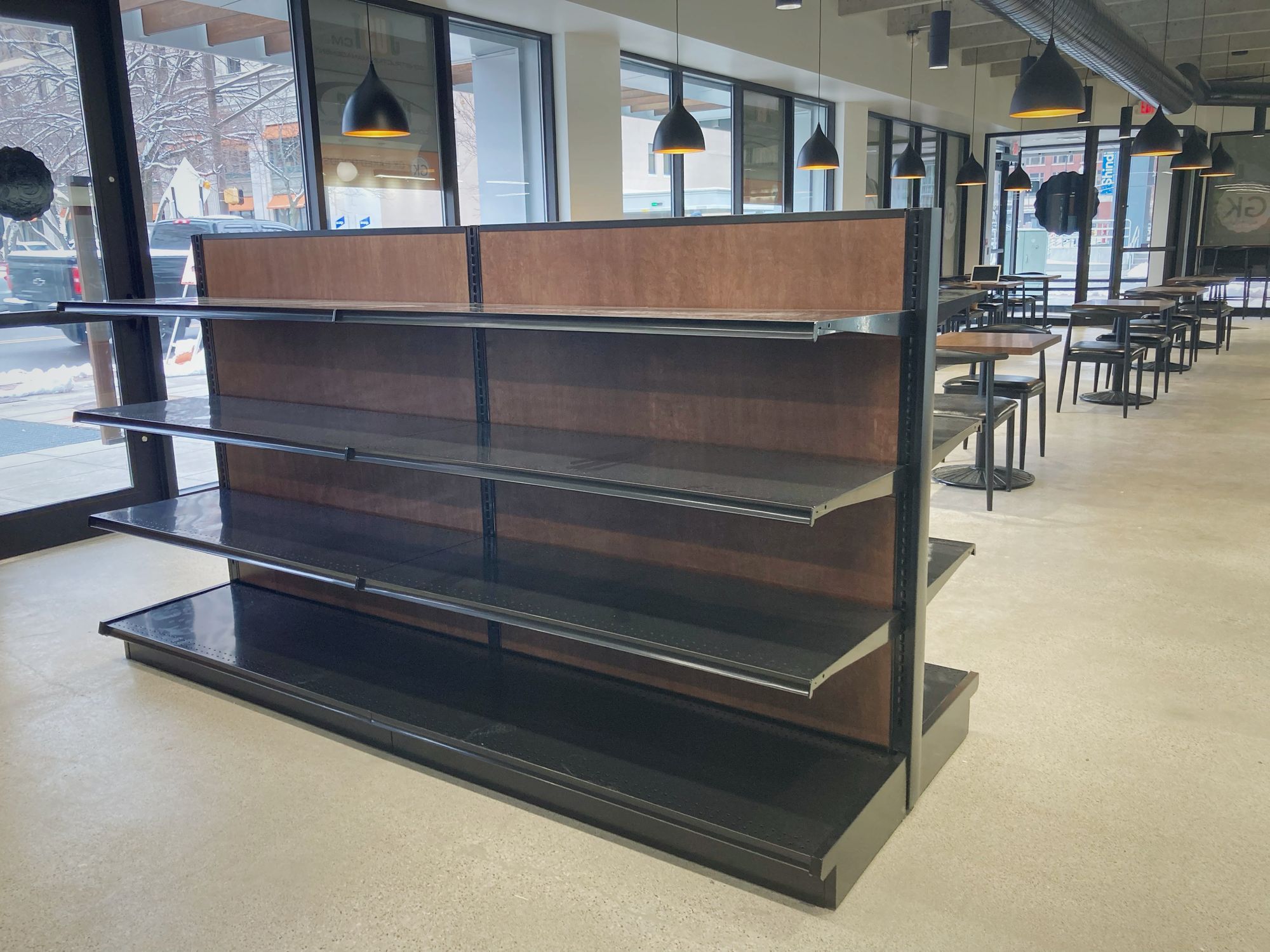 Since the before the pandemic, we've seen signs at Harrison and Berry, advertising for your bakery. Tell us about the long process of making this space a reality.
GK: It's been over two years! We've built up a lot of excitement (and probably aggression) for taking so long. But we are so ready!
When we initially toured the space with (Affiné), we were looking for a spot for a new restaurant Downtown, but we realized: This would be better for a bakery. So we talked with the Ashberry Group, which owned the space, and we initially tried to align our opening with the grand opening of The Bradley.
At the time, it was the middle of the pandemic, and I was pregnant with my daughter, so I was doing lots of meetings with architects over the phone to avoid personal contact. But since we had to fully renovate the space, it just ended up taking much longer than we anticipated. (Our espresso machine alone took nine months to get.) Overall, I think it worked out how it was supposed to. I feel much more ready to open this year than if it was two years ago. It was a scary time for restaurants then, during the pandemic. Now, we're in a great place.
Tell us more about your space.
GK: There are so many offices nearby, so we've designed it for you to come in and grab a quick pastry and coffee, or sit down, and hold your meetings here if you want. We have lots of USB ports and outlets because we wanted to make sure people could work remotely here.
It's a fun space just to hang out, too, because there are huge windows that make for great people-watching. I left here the other night, and it was kind of late. I walked out, looked up, and I saw the Lincoln Tower lit up. I felt like I was in Chicago again. Downtown is bustling now, and it's really cool to be part of the culinary scene's revitalization. I want to bring more big-city vibes to our hometown, so you don't need to go to Chicago or New York or Atlanta to get that experience.
Tell us about some of the local artists and makers who have contributed to your space.
Grace Yencer painted a mural on the provisions side of our cafe. She was awesome to work with. She accommodated my minimal style and brought some color into the mix that really attracts the eye.
Justin Lim from Old 5 and Dime Sign Co. was our signmaker, and he did an amazing job. We love how he hand-painted our signs with gold to give the space a big-city feel.
We also had Jerod Witte from Jeff's Gard-n Yard add some live plants near the checkout line that really warmed up the space and bring it to life.
Matt Plett, who designed our logo, will be designing our chalkboard menus at the cafe, too!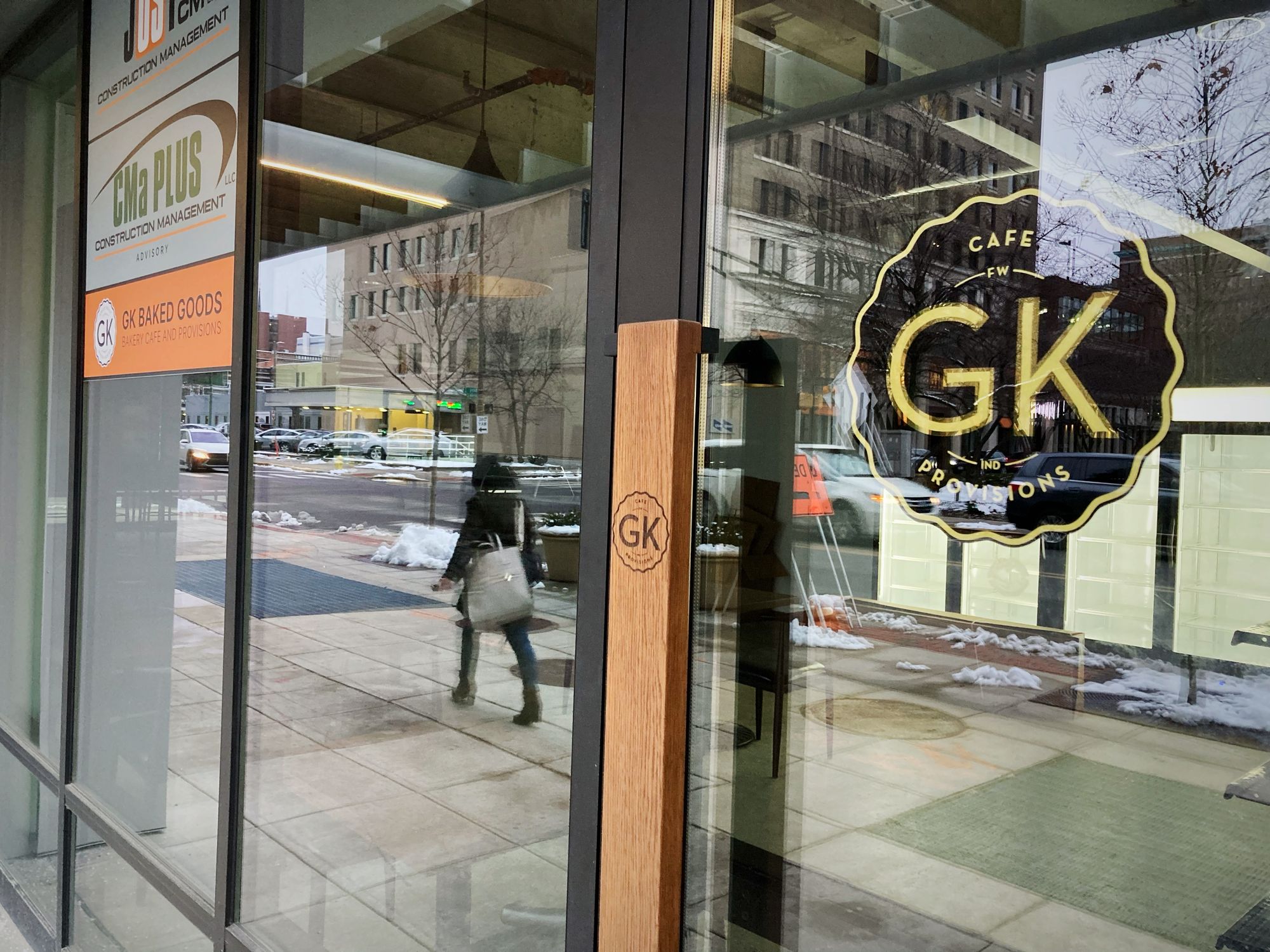 What days and hours will you be open?
GK: The exact opening date will be announced on our social media, so follow @gkcafeandprovisions on Instagram and Facebook for updates! Our hours will be Monday-Saturday 7 a.m.-7 p.m., and Sundays 7 a.m.-4 p.m.
Any pro tips on where to park Downtown?
GK: Street meters or the Skyline Garage. The garage is free for the first 15 minutes, and then, it's a dollar an hour, so it costs the same as the meters, and if you use the garage, then you don't have to feed the meter.
What's next for your team overall, as GK Baked Goods?
GK: We don't have a kitchen here, so eventually, we will build GK Kitchens with a small retail space at a new location. Originally, we were going to put a whole kitchen Downtown, but it was going to cost way too much. So stay tuned for what's next!
Who are some of your favorite local bakers in Fort Wayne?
GK: I love Hetty Arts Pastry and the work of Melody Wang at Fortezza. She does amazing pastries there.
I love Brooklyn Pints Microcreamery, too! They do ice cream, cookies, and beignets. Trisha, the Owner there, briefly worked for me, and when she was testing her beignets, she asked me to try them. They were so good! I crave their stuff.
There's so much good happening in Fort Wayne right now. Something our local restaurants and bakeries can do is support each other. When one of us does well, we all do well. There's enough room for all of us here, and creating more spaces, like this cafe, provides more of a drive for people to come Downtown and engage with that mindset of supporting local.
---
The Local's free stories are made possible by our weekly newsletter subscribers. Want to support more stories like this? Consider becoming a member.