The Deeper Dive: What to know about DOMO Development's $1.5 billion plans for North River
Details on the grandiose Riverfront Planning Urban District project pitched for Fort Wayne's North River.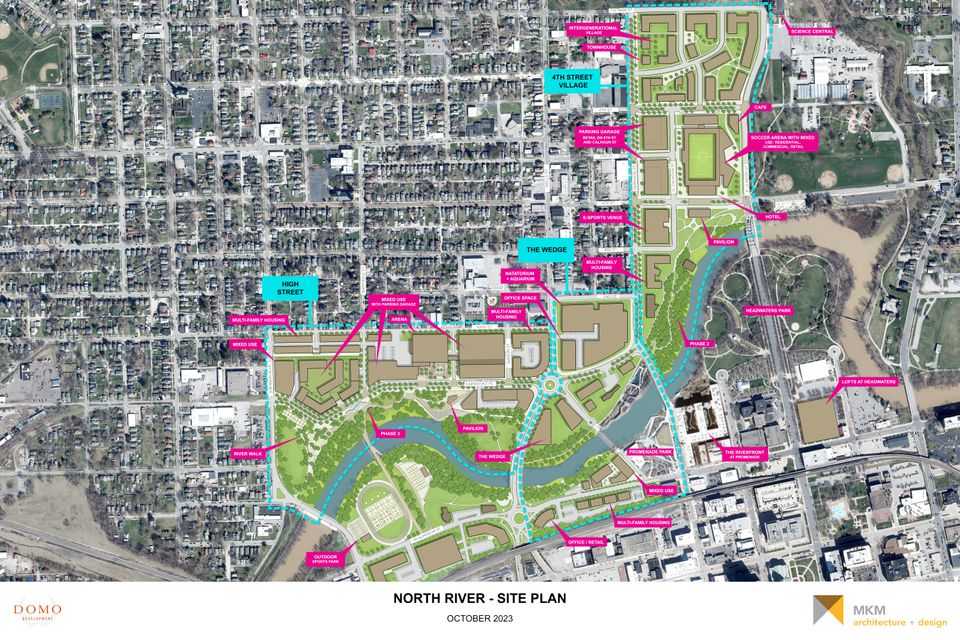 You've heard...
DOMO Development Company, co-founded by Fort Wayne businessman Eric Doden (who happens to be running for Indiana governor in 2024), is pitching a grandiose Riverfront Planning Urban District project for the Bloomingdale neighborhood, the former Pepsi site and the city's North River property. If selected, it would be "one of the largest urban development programs in the Midwest to date," totaling $1.5 billion on nearly 60 acres.
How did this happen? The City of Fort Wayne acquired the former Pepsi Warehouse property on North River as part of riverfront development (near the Wells Street Corridor). In August, it put out an RFQ (request for qualifications) to developers for the roughly seven-acre Pepsi site, seeking to create an engaging mixed-use center of activity "at the heart of the Riverfront District."
Yesterday: One of eight development groups vying for the property held a splashy press conference Downtown for its $1.5 billion "comprehensive plan" — not just for the Pepsi property, but for nearly 60 contiguous acres of land in the Bloomingdale neighborhood along High Street and the North River. "The RFQ was just for the Pepsi site, but we believe it should be the whole site," says Doden.
So what did they pitch? DOMO and a team of seven local and national partners shared early renderings of a sprawling, campus-like design, primarily focused on housing and youth sports, including a 5K-seat multi-use arena and event venue, a 5K-seat outdoor soccer stadium connected to a boutique hotel, a natatorium with an Olympic-sized swimming pool, athletic fields and basketball courts, "The Wedge" mixed use development, a mixed use high-rise building with parking, a multi-generational residential village with housing for "all ages and abilities," and expanded riverwalk spaces. See a video of proposed developments here.
👉
Did you know?
Each week we sift through Fort Wayne's news for you and break down the top things you need to know in a time-saving newsletter.
Subscribe for free!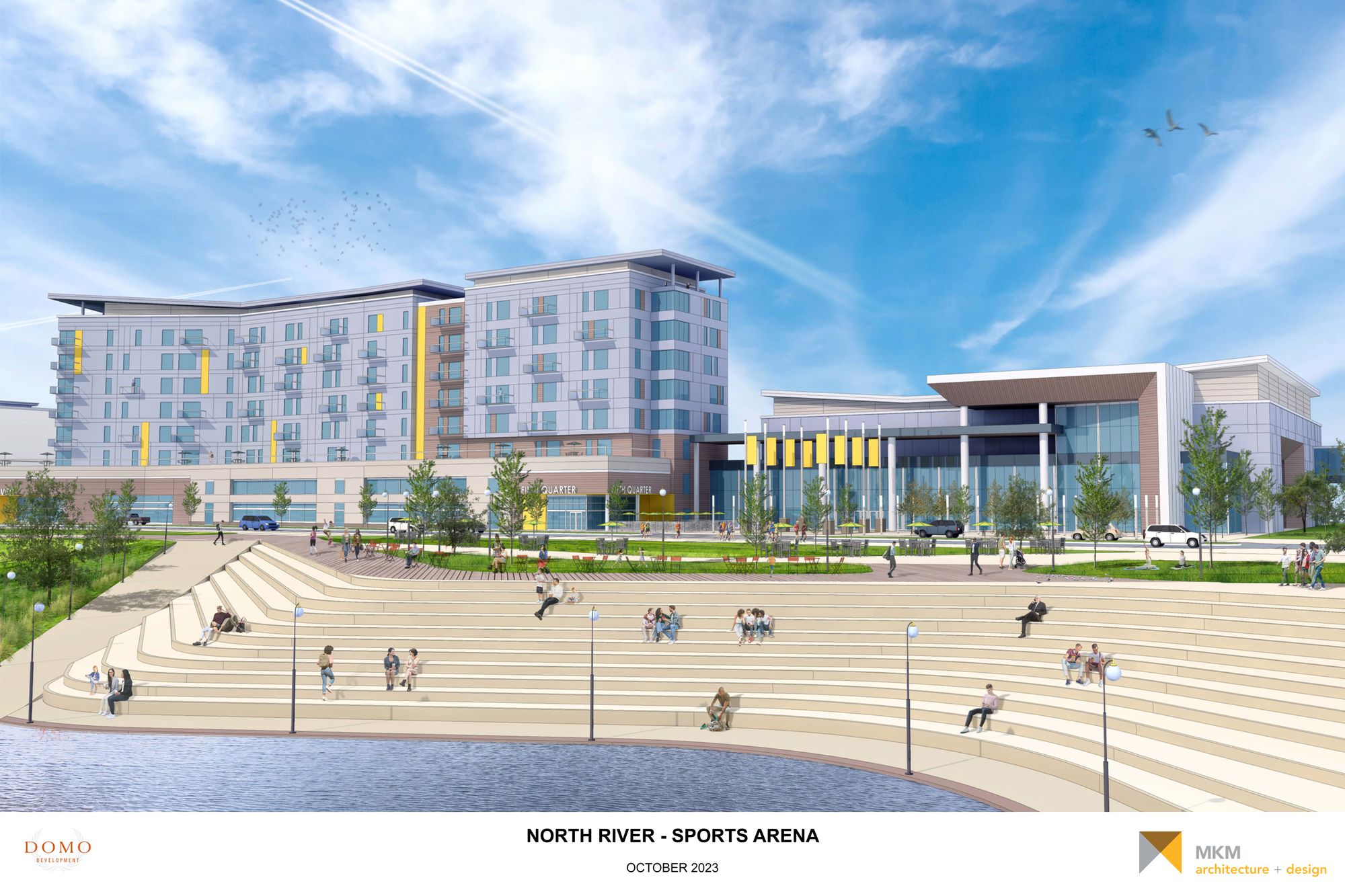 It's important to note...
This is only one of several pitches vying for the property.
So far, DOMO has acquired about 12 acres of the land along High Street between Wells Street and Sherman Boulevard. The remaining 40 acres are owned by the city or private parties (including the Pepsi property and North River).
The City of Fort Wayne tells WANE-TV: "The project will be reviewed, along with eight other proposals that have been brought forward by other development teams to possibly invest along the riverfront. The City's immediate focus is on the construction of Riverfront Phase IIb Public Open Space that started last month and will take the next 24 months to complete. We continue to be encouraged by the ongoing popularity of our riverfront development efforts and the successful public-private partnerships we've experienced to date."
So what's next? The city is going through the RFP process and will determine a project for the site. Timelines are TBA. If DOMO's project is selected, it would take shape over the next 10 years.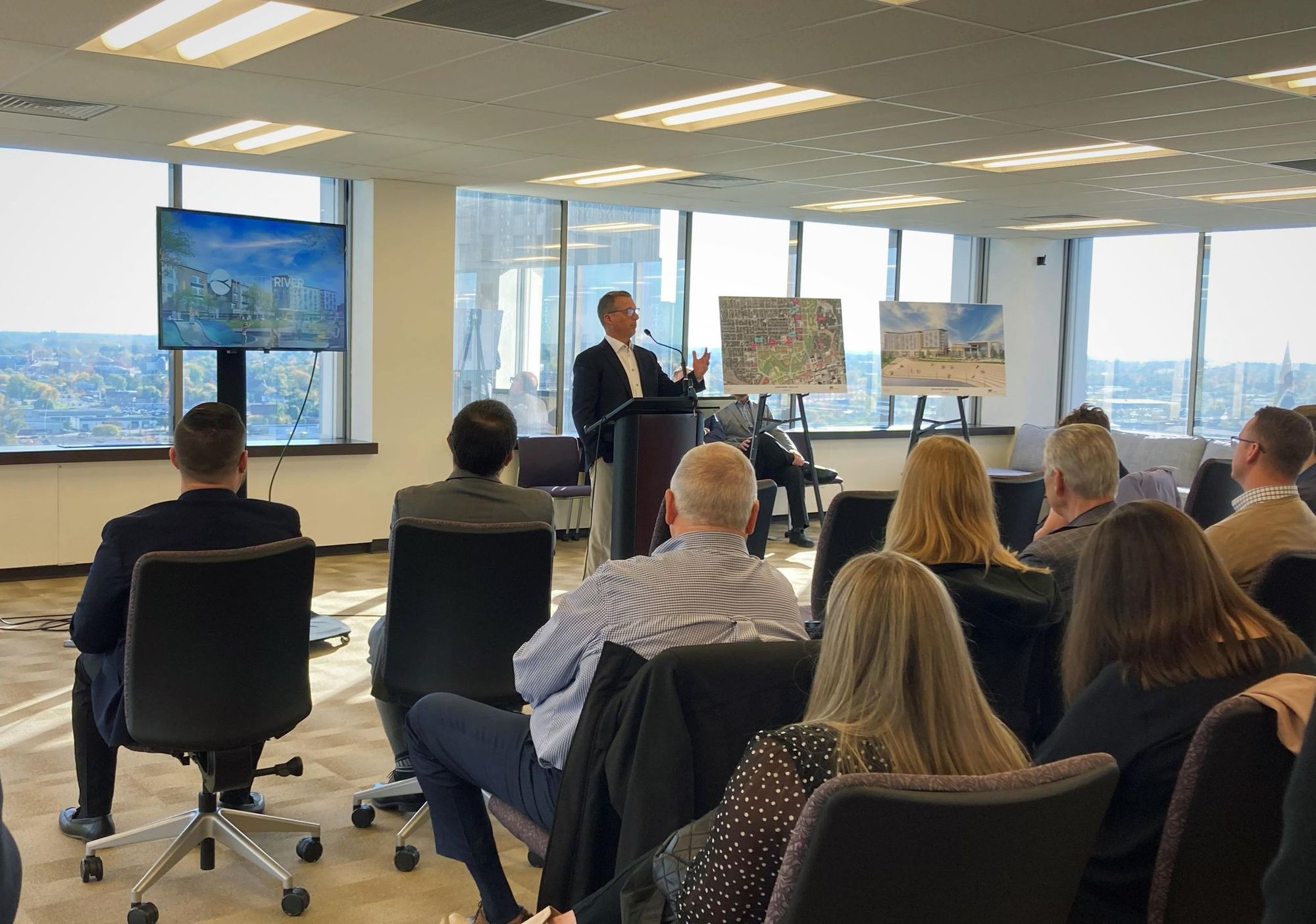 For more background…
DOMO Development formed in 2012 and began acquiring property along High Street about four years ago in 2019.
In the past: It has primarily made high-end multi-family and commercial properties, across the Midwest and is currently working on projects in Fort Wayne, Bloomington, and Lafayette, Ind., as well as Grand Rapids and Lansing, Mich.
In Fort Wayne: DOMO has done Steeplechase at Parkview luxury apartments (2014) near the Regional Medical Center, Cityscape Flats (2017) near the TinCaps Stadium Downtown, Bonterra garden-style apartments (2018) in Northwest Allen County and Ventry luxury apartments (2020) in Southwest Fort Wayne.
DOMO's partners on the riverfront project include Brown Capital Group, Card & Associates, Cityscape Residential, Grove Holdings, Thompson Thrift, Weigand Construction, and MKM Architecture, which created renderings for the development.
You might remember...
We recently published a story on Bloomingdale Gardens along High Street. If this project is selected, it will likely affect the gardens and surrounding area.
Doden says: homeowners in the area would have the option to remain in place if they choose, and DOMO would work their plans around existing houses.
However: some of the neighbors we met at the press conference seemed skeptical that this would be an option — or a very attractive one, to say the least. "Gutted" was the term one resident used in reference to seeing plans slated for their block. A few business owners in the area also told WANE-TV this is the second time they weren't approached before a proposal that included their land was released to the public.
We're meeting with neighborhood leaders, the city and partners on the project this week to learn more, and we'll report back!